---
"I press on toward the goal to win the prize for which God has
called me heavenward in Christ Jesus."
– Philippians 3:14
---
PIMPLES AND MINISKIRTS
By Bo Sanchez
 When I was lying in my bed, yellow as a taxicab and afflicted with hepatitis, not a few incredulously asked why I was sick. They were shocked that I, "who's so close to God," could actually still get ill.
Wow.
Listen: Before any other ideas come to your minds, I'm going to straighten things out for you.
I'm human.
Would you believe I get pimples on my face? I have six molars that are filled and two already root-canalled. No, not supernaturally by some angelic beings with laser beams, but by my wonderful neighbor dentist who always gives me a wonderful discount.
I'm dirty when I arrive home at night. The Lord does not cover me with an invisible shield throughout the day that repels dust, grime, smoke and mosquitoes.
Like many, I love (adore, worship and venerate) pizza, sushi, sashimi, and A&W rootbeer floats. No, not some heavenly manna sent to me by God that suddenly appears at my breakfast table with holy water from a holy rock under the kitchen sink. And for crying out loud, I don't fast eight days a week.
Like the rest of you, I fall in love, get hurt and cry.
I sin. I get tempted when I see girls in miniskirts. I feel pride well up within me when people applaud what I do. I get envious when someone drives a car that's better than the one I drive (or push, which is often). I get lazy, jealous, greedy, ambitious, insensitive, selfish…
I'm human.
And so are you.
P.S. Super saints. That's what you and I will be in heaven. In God's glorious home, I'm not going to have pimples. And from what I hear, everyone will be wearing very long, white, flowing gowns.
Excerpt from How to be Really, Really, Really Happy by Bo Sanchez
Photo credit: http://500px.com/photo/68730701/moïse-!-by-nicolas-decoopman
---

CAN GOD BE UNDERSTOOD?
TODAY, more tha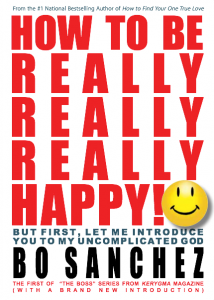 n ever before, there is a deep hunger for God in the hearts of people everywhere. But the question is, will they find Him?
In How to Be Really, Really, Really Happy!, an amazingly humorous book that suddenly seizes its readers with its depth, warmth and wisdom, Bo Sanchez tells us that God is just around the corner. Because He wants to be understood.
Visit www.KerygmaBooks.com to order your copies now. Go digital and download a copy of this book straight into your gadget. Visit www.KerygmaBooks.com/ebooks to get an e-book version now!
---
Nurture your soul by reading more inspirational articles written by Bo Sanchez and other bestselling authors at Live a Fantastic Life E-Magazine. Visit www.blog.feastbooks.ph and be very blessed!
---

DOWNLOAD KERYGMA INTERACTIVE FOR FREE!
Do you want to listen to music while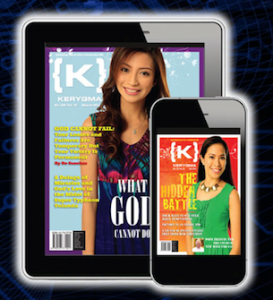 you read inspirational articles?
Do you want to watch amazing videos, testimonials and interviews?
Do you want to hear Bro. Bo pray for you?
Receive all that, and more in Kerygma Magazine's interactive edition.
Download it for FREE!
Simply visit Kerygma Online at www.shepherdsvoice.com.ph/kerygmamagazine and enter your name and email address so we can send you the download link FOR FREE!
Be very blessed!