In 1992, I was on duty in the emergency room of the University of the Philippines – Philippine General Hospital (UP-PGH) in Taft Avenue, Manila when a woman rushed in, cuddling a small baby wrapped in a blanket. I took the baby from her arms and placed him on the examination table. When I removed the blanket, I saw a very pale baby the size of a one-liter soda bottle gasping for breath. I gave oxygen support and inserted an intravenous line as I turned to the mother and asked, "What happened?" The mother explained that the baby has been coughing for a few days. That morning, his grandmother gave him ampalaya (bitter gourd) extract and he suddenly turned blue then pale and had a hard time breathing.  I made a swift inspection of the baby, stabilized him and did the necessary laboratory examinations and xrays. He was eventually transferred to the ward for better monitoring, further evaluation and management.  After a comprehensive work up, he was diagnosed to have glucose-6-phosphate dehydrogenase (G6PD) deficiency that resulted in the destruction of his red blood cells which was triggered by the infection and aggravated by the ampalaya.
The Newborn Screening (NBS) was not yet a mandatory test when the above incident happened. It was introduced in 1996 by a group of paediatrician and obstetricians and performed in 24 selected hospitals in Metro Manila. One of the tests included was for G6PD deficiency.
The NBS is a simple procedure that will check for the presence of an inborn error or pre-existing problem or defect in your baby, called congenital metabolic disorder. It should be done within 24 to 72 hours from birth. The heel of your baby is pricked and a few drops of blood are blotted on a filter paper and air-dried.
Six congenital diseases are routinely screened at present and covered by the Philippine Health Insurance. However, you can now avail of an expanded NBS to test for 28 congenital disorders with additional cost.
Some medical conditions are not apparent at birth so all babies should be screened, even if they look healthy. If they are not identified early and left untreated, the signs and symptom may appear later in life which by then may already be irreversible.
Imagine the cell as a mini factory or manufacturing plant. Inside the factory are different assembly lines for every product that corresponds to the different metabolic processes.  The substrates are the raw materials.  The enzymes are the workers. The energy sources are the electricity and other utilities that run the machines. The genes that dictate every trait or product can be likened to the managers and stockholders of the plant. If the raw materials are lacking or the workers are few, the products that will be produced will not be enough to cover the demand even if there is ample electricity. If the manager is incompetent or the stockholders are greedy for profit, the assembly line may be affected because the morale of the workers is low and not motivated to produce enough. Another factor to consider is the truck that transports the finished products to its final destination. If there are not enough vehicles to bring the items made, there might be port congestion.
Enzymes are necessary for certain life processes or metabolism of different substances like sugars, amino acids and fatty acids. If a deficiency or lack occurs and is not detected early, it may give rise to an accumulation of the substrates that can destroy the cells and cause other health problems later. Since inborn errors of metabolism cannot be diagnosed accurately based on the clinical signs and symptoms, the Philippine government has made NBS program a must by virtue of the Newborn Screening Act of 2004.
Babies delivered at home or in the lying-in-center may be brought to the nearest hospital or institution offering NBS. The results are available within seven to fourteen working days after the blood samples are received. They should be brought to and interpreted by a competent health practitioner who will then advise the parents on what to do next, especially if a confirmatory test is needed.
If you fail to do the NBS for your baby, you may be unable to avoid the consequence of depriving your baby of early detection. This may later lead to brain injury, organ damage, mental retardation, other chronic conditions and worse, even death. In case your baby survives the insult, he may require chronic care which would take a toll on the family, not just in terms of finances but would also put a strain on the relationship as well. Caring for a chronically ill child due to these anomalies will require a family effort. Everyone must have a big heart to sacrifice not just their time but also their treasure to cope with every difficulty that may arise.
"To screen or not to screen?" that is the question. Do you want to take that chance?
---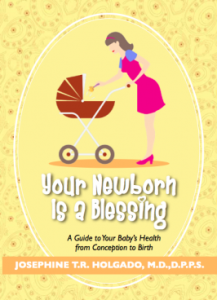 ARE YOU STILL SCARED OUT OF YOUR WITS, BUT STILL WANT TO BE HANDS-ON IN CARING FOR YOUR BABY?
Do you have the proper armor to face a battle with a crying baby? Don't worry! Be brave! This book will show you how you can:
Care for your newborn with the right skills, tools, and frame of mind
Determine the nuance of every act or expression that your baby makes
Find out the need to screen for the presence of congenital diseases to prevent complications like mental retardation and death
and many more!
Grab your copies now at http://www.kerygmabooks.com/shop/product/newbornisablessing/
FREE SHIPPING within Metro Manila for minimum orders worth P500.00.