7 Tips to Successful Breastfeeding for Working Moms
By: Doc Joy Holgado
If you are a working mom who would want to breastfeed your baby, how can you be successful in this endeavour?
Begin with the end in mind.
Prepare your body even before your baby is born. It is important that early on during your pregnancy, you already plan to breastfeed your baby even if there are temporary contraindications to doing it like retracted and oversized nipples. If you have an inverted nipple, you can use an improvised instrument like a plastic syringe to retract the nipple. If you have an oversized nipples, hold your breast with c configuration of your fingers and bring your baby's mouth towards your breast.
Relax your mind and body.
First time moms are usually inexperienced when it comes to breastfeeding. It is but natural for you to be uncomfortable and stressed out when your baby cries because no milk is coming out of your breasts. At times, breastfeeding can also hurt especially when your baby has a poor latch. The whole areola of your breast and not just the nipple must be inside your baby's mouth to establish good latching.
Find a position that will make you and your baby comfortable so that both of you will enjoy the experience. Put your mind at ease and let your body relax as your baby suckles your breast.
Eat and drink healthy.
A well balanced diet of pregnant and lactating mothers includes fresh fruits, grains and vegetables. Choose cereals that are high in fiber and low in sugar. Most processed and commercially prepared food usually contains excessive amounts of salt, so eat them sparingly or avoid them altogether.
Iron, folic acid, calcium, omega 3 fatty acid, vitamin C, choline and chromium are the essential nutrients for pregnant and lactating mothers that you can get from a variety of foods, preferably organic or those grown by biodynamic farming.
It is also important to drink lots of fluids so you won't feel drained or dehydrated after your baby has breastfed. About 3 liters of water and other fluids like fresh fruit juices rather than powdered or bottled drinks are recommended.
Intake of malunggay concentrate capsules has also been shown to increase the amount of milk produced based on scientific studies.
Ask  for help.
Mothers who are breastfeeding require assistance. You may not prepare the milk formula to feed your baby but you still need help. Ask your partner to take the time to wake up in the wee hours of the morning to bring your baby to you for nursing.  It is also the time to create a bond between the father and your baby.
Join a support group like La Leche League Philippines (http://www.llli.org/philippines.html) and Breastfeeding Philippines (http://www.breastfeedingphilippines.com where you can get guidance and encouragement from the members who may be in the same boat and has the same concerns and problems about breastfeeding like you do.
Store your milk.
If you cannot directly breastfeed your baby because you are away from home, the next best option is to give expressed breast milk (EBM). Breast milk can be expelled from the mother's breasts either manually using the fingers or through the use of a breast pump. EBM stored at room temperature may last for four hours if the room temperature is 25 C and below. Otherwise, it will only be good for an hour.
Milk stored in the lower chamber of the refrigerator may last from one to five days as long as it is placed at the back where the temperature is more stable. If breast milk is kept in the freezer, it may last for two to six weeks. Consume the old unexpired milk first by defrosting the stored milk in a bowl of warm water. Don't microwave or boil breast milk.
Teach others to feed your baby.
Instruct your caregiver or whoever is left at home to take care of your baby how to give expressed breast milk (EBM). To avoid nipple confusion, you may opt to use a small plastic beaker with a spout so that your baby can lick or lap the milk while being carried upright to avoid aspiration. Make sure that you label the stored milk as to the time and date of expression so that the first stored are the first to be consumed by your baby.
Surrender to  God
Do your best to breastfeed your baby, especially when you're around him or her. Trust in those who help you take care of your baby and feed him or her in your absence because you need to work.  Pray for guidance that you will be able to teach those who are left to watch over your precious one. Ask for God' amazing grace so that the milk that you will provide is enough for your baby's needs. Have faith and surrender to God's will.
Always say a little prayer for that baby that you love and hold dear and it goes like this:
Almighty God, Father of all nations
Thank You for this gift
And for this blessing
Of a child I hold dear.
Make me a good steward
Of this lovely creature,
Whose every smile
Brightens my day.
As I gaze in the eyes of this little one
May I look upon the welfare,
Of every newborn in my family
With unconditional love.
Just like St. Joseph and Mama Mary.
They took care of Baby Jesus
Who was born in a manger,
To bring light and peace to the world.
AMEN.
As a mom, you want the best for your baby. It may be an old cliché but it still holds true for today that "Breastmilk is the best milk for your baby."  Just remember the word B.R.E.A.S.T.S. for successful breastfeeding. Begin, Relax, Eat, Ask, Store, Teach and Surrender.
---
---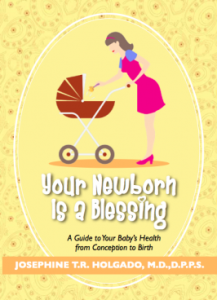 ARE YOU STILL SCARED OUT OF YOUR WITS, BUT STILL WANT TO BE HANDS-ON IN CARING FOR YOUR BABY?
Do you have the proper armor to face a battle with a crying baby? Don't worry! Be brave! This book will show you how you can:
Care for your newborn with the right skills, tools, and frame of mind
Determine the nuance of every act or expression that your baby makes
Find out the need to screen for the presence of congenital diseases to prevent complications like mental retardation and death
and many more!
Grab your copies now at http://www.kerygmabooks.com/shop/product/newbornisablessing/
FREE SHIPPING within Metro Manila for minimum orders worth P500.00.