"If I really want you to know who I am, I must tell you about my stomach (gut-level) as well as my head…. It is these feelings, on these levels of communication, which I must share with you, if I must to tell you who I am."
– John Powell, S.J.
"She's got guts to do that!"
"I'm so shy, I'm not gutsy enough to say that."
Have you heard of those statements before? What do guts have to do with talking?
Our gut is part of our digestive system intertwined in the layers of our intestines. Its primary function is the uptake of water and nutrients. Our gut health is critical as it houses the healthy bacteria in our body that digests and ferments substances provided in the diet. Poor gut health causes imbalance of the bacterial flora that leads to different immune problems of the total body system.
So what does gut health have to do with family communication?
In his 1975 psychology book, Why Am I Afraid to Tell You Who I Am?, John Powell concluded that "any relationship, which is to have the nature of true personal encounter, must be based on… honest, open, gut-level communication."
In our family and among our relationships, it's not only important that we talk or how long we talk, but also what topics we talk about — both big and small, critical and mundane.
Let me ask you to do this activity before proceeding. Get a sheet of paper, and write all the topics you regularly talk about with the most important persons in your life: your spouse, child or parent. Group these topics based on the levels of communication diagram on the opposite page.
There are five levels of communication among human relationships, especially intimate relationships, according to Powell.
Level 5 is the Cliché Conversation. As the word implies, this is the most superficial of all. You just exchange names, hi's and hellos, talk about the weather and the traffic — and that's about it.
Level 4 is Reporting of Facts. We converse about events that happened, the people we know, some gossip and the latest comments by President Duterte. What we discuss is outside of ourselves as individuals. We expose nothing about who we really are and do not invite the other person to share about themselves in return. This is common in our encounters with the people in our social network.
Level 3 is sharing of one's Ideas and Judgments. When we share about our own insight and opinion, we share a part of us, albeit censored. We test the waters on how the others will react to what we share. We watch what we say in the same way that we watch them too. And oftentimes, we talk about what pleases or what interests others. There is only a little of our "self " that we bring into the conversation.
Level 2 is sharing about Gut Feelings.The gut is said to be the heart of our stomach. John Powell, SJ, said, "If I really want you to know who I am, I must tell you about my stomach (gut level) as well as my head… It is these feelings, on these levels of communication, which I must share with you, if I must tell you who I am."
When we are in this level,we go beyond sharing about ideas, judgments and the world outside us. We begin to share about our feelings, which are a part of us and is a unique experience that we own. As we communicate our "person" through our feelings and emotions, we put in the conversation a unique knowledge about the "self."
When we share our feelings, we share our inner being and disclose a bigger part of "who we are" to the other person. We let them into our world. They start to have an inner view of us. So when we have rock-bottom moments, we turn to these people with whom we were able to have "gut-feel conversations."
If we engage in this level of communication with the important relationships, it will result not only to increasing intimacy with each other. It will also make us feel comfortable to share our weaknesses and pride, to give both good and bad feedback, and to share our emotional side without fear of being judged.
If practiced and nourished from each end, the gut-feeling level becomes the tool to use in both the easy and the critical conversations that allow the relationship to grow. And this leads to the last level, the Peak Communication.
Peak Communication should be our goal to keep relationships healthy. It can be the hardest to attain and is present in deep and authentic relationships. Having this means "being attuned to another person and having the complete emotional and personal communion," according to Powell.
At this level, the individuals feel they are in mutual empathy with each other. We feel what our loved one is going through. We may not speak in words but we know the other person from the gut out.
We can't reach the peak level if we do not go through the first four levels, and maintain a gut-feel communication. When we continuously engage in sharing our feelings, we understand ourselves more and mature from it. In the process, it also invites a responsive honesty and openness from the other person.
So it's not enough that we talk, but also what we talk about. John Powell said, "It is certain that a relationship will be only as good as its communication."
From your list and insights from this chapter, what are the most common topics that you talk about and what level of communication are they in?
If levels 4 and 5 are lacking in your relationship, refrain from pointing at your beloved and start looking at yourself. Yes, there is more inside of you that you can share. You can enrich your relationships and converse in a deeper gut level by having the guts to talk, to laugh, to whine, and to mutually connect with the very people who hold you dear.
Go and talk. Share yourself, especially what you feel. Do not be afraid to be vulnerable. Listen to the other person. Free yourself from judgments and giving opinions. Listen more and empathize. Just be who you are. Then see the wonders it does in deepening your relationship!
*This excerpt is taken from Family Goals: Embracing the Imperfections of Family Life by Michele S. Alignay.
---
How on earth can we understand and embrace our far-from-perfect family?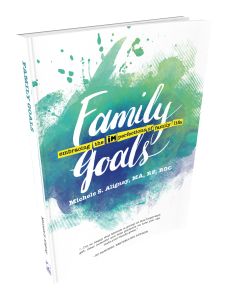 Finally, here's a book that points us where our relationships have gone wrong, what we can do to revamp them and what goals to aim for to have a perfectly imperfect family we all dream of.
This book will give you practical and wise lessons to help you:
– Confront sticky issues and conflicts that tear your family apart
– Increase your intimacy with your mate
– Apply healthy ways of coping with life's stresses, especially those that attack your family's well-being
– Have crucial conversations with your kids and teens on growing-up pains, sexuality and other issues in our digital age
– Maneuver through critical family matters that will inspire you to deliberately work to achieve your family goals so you can go from OK to great!
---
DO YOU WANT TO RESOLVE FAMILY CONFLICTS LOVINGLY?
GET YOUR COPY OF MICHELE S. ALIGNAY'S,
FAMILY GOALS: EMBRACING THE IMPERFECTIONS OF FAMILY LIFE
You don't even have to leave the comforts of your home.
You can buy your own copies online!
Here's how:
FOR PAPERBACK and DIGITAL versions:
Visit www.KerygmaBooks.com/shop and click on the titles that you want to order.
Choose PAPERBACK or DIGITAL and check out your order.
Choose your payment method.
Pay via bank deposit or PayPal.
a. For bank deposit: pay your balance and upload your deposit slip at the link we've e-mailed to you upon placing your order.
b. Pay directly via PayPal.
For PAPERBACK: Wait for the books to be delivered right to your home! (For orders P500.00 and up, FREE shipping within Metro Manila only. Standard shipping rates apply for orders below P500.00 or outside Metro Manila.)
For DIGITAL: Wait for the confirmation of receipt of payment. The download links to your books is included in the email.
---
Sometimes, you just need a little ray of sunshine to break through the dark clouds that hover in your life.
KERYGMA ONLINE MIGHT JUST BE THE BLESSING YOU NEED.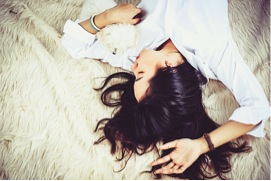 At KERYGMAONLINE, we give you fresh articles on life, love, finances, spirituality, health, and career TWICE A WEEK.
Some of these articles are actually excerpts from our bestselling and award-winning books, while some are contributed and written by our pool of blessed and anointed writers.
YOU CAN WRITE FOR US, TOO! Email us at editor.kerygmaonline@gmail.com if you have a story that you want to share to our millions of readers across the globe.
Visit us at www.KerygmaOnline.ph and read our online magazine. Enjoy fresh articles that will surely nourish, inspire and empower you in all aspects of your life.
Photo credit: www.pixabay.com