The season of spring is the season of planting.
When you plant, I urge you to plant for the long term. Here's what I realized. In life, long term is almost always better than short term. Almost nothing great comes out of short term.
Long-term thinking is better than short-term thinking. Long-term relationships are better than short- term relationships. Long-term investments are better than short-term investments. Long-term businesses are better than short-term businesses.
Brewed coffee is better than instant coffee. Oven-baked food is better than microwave-cooked food. Slow-cooked meal is better than instant noodles.
God is always long term. How long? Eternally long.
Your life is a garden.
Be careful with what you plant in your garden.
Here's the truth: What you plant in your garden in your teens and twenties is what you'll harvest in your forties and fifties and sixties…
Specifically, there are five seeds you need to plant during springtime.
1. Fire
By fire, I mean dreams.
Do you have fire in your belly?
When you're young, discern your dreams.
Because life is like a long car trip. Before you ride the car, you need to determine where you want to go. Imagine if I ride the car every morning and I wave to my wife, "See you, sweetheart." When she asks me, "Where are you going?" I'd answer, "uh, I don't know. I'll just go where the road leads me."
Wouldn't that be nuts?
But that's how many people live their lives. That's going nowhere.
You have to define where you're going.
Listen: You were born for greatness. God created you to go somewhere. God made you for a divine purpose. You're supposed to bless the world in a very special way. This divine purpose is connected to how He made you. He gave you a specific passion. He gave you a specific personality. He gave you specific preferences and potentials and possibilities, all of which are connected to your divine purpose. The Bible says, "For I know the plans I have for you, plans to prosper you and not to harm you" (Jeremiah 29:11).
During springtime, you need to plant your long-term dreams.
A few decades ago, I put down in writing everything I wanted to do with my life. I filled up 15 pages. I wrote insane things, such as "I want to be a bestselling author," and "I want to have a TV show and radio program that will share God's love to others," and "I want to build Anawim, our ministry for the abandoned elderly."
I also wrote personal stuff: "I'll be the greatest husband for my wife and the greatest dad for my kids." But I didn't stop there. I also wrote the small things that I wanted to do to make my dreams happen, such as "I'll kiss my wife seven times a day,"and "I'll have weekly dates with her," and "I'll play with my kids each day."
I also wrote various financial goals that, at that time, were ridiculously gigantic. There were so many zeros in my figures, someone who saw it would have asked if they were in Japanese yen.
Today, over 30 years later, I'm still awed — and overwhelmed — at how more than 90 percent of those dreams have already been fulfilled.
Go ahead. Write your own 15 pages of dreams.
Then live the rest of your life making them come true.
2. Family
Knowing where to go is important.
But knowing who will go with you is equally important.
Choosing your team is as important as choosing your target.
If your dream is long-term, you have to choose long-term companions.
Because life is a long trip, you need to choose the people who will be in the car with you. If you have the right people in the car, you can do almost anything. The Bible says, "Again, truly I tell you that if two of you on earth agree about anything they ask for, it will be done for them by my Father in heaven" (Matthew 18:19).
I know a guy who is 45 years old. Almost 20 years ago, he abandoned his wife and three kids for a younger woman. He just walked out of the house.
Years later, he tried reconciling with his kids, but it was difficult. Today, he is reaping what he has sown. Some of his kids are making wrong choices in life, going with the wrong crowd and taking drugs.
I'm not saying that all broken families will produce broken kids. That's not true. Some of my friends come from broken families, but God has healed them and they're living happy lives.
But I'm pointing out an important fact: Be careful with what you plant in the garden of your family life.
Both my parents passed away some years back. Despite their death, my sisters and I have grown even closer. To this day, we have a family meal every week. We talk, we laugh, and we swap stories. We see to it that we continue to love each other, no matter what happens.
Whenever we do that, I believe our parents are looking down from heaven, smiling. Because all their lives, my parents planted the seeds of love in their children's hearts. They raised us up well. They spent time with us. And now, we're harvesting what they planted a long time ago.
3. Friends
I started the Light of Jesus Family in 1980 with a bunch of people who have become my friends for life. Many of them are still with me to this very day. We've been serving God together for almost 40 years.
If you're young, choose your friends well. Because they may be the team that will be with you in fulfilling God's mission for your life.
When it comes to friendships, I don't count in days, weeks, months or years. I count in decades. If you want to be successful, you should too.
The only way to do that is to be selfless. Love will always be painful because death is involved. Sometimes, you have to die to yourself to keep the friendship. There is no other way.
4. Fitness
One day, I was talking to a priest who shared his sad story with me. He said he started smoking in the seminary. Ironically, he said it was the priests who taught him how to smoke. He started when he was 17 years old. And he smoked for the next 33 years. He would finish two packs a day. When friends told him to stop, he'd say, "I'm a priest. I don't have a woman in my life. Let me have my cigarette!"
But as the years went by, his smoker's cough worsened. When he hit 50, he finally quit smoking because his doctor said, "You have emphysema."
But it was too late.
When I met with him, he was only 55 but he looked 70. He couldn't take a few steps without losing his breath. He couldn't celebrate Mass most of the time because he wasn't strong enough.
I felt so sad for this man.
If you're young, I urge you to plant the right seeds in the garden of your body. Because you'll be eating the fruits of what you planted.
Another example? Don't ever make the mistake of saying, "I can eat what I want to eat. I'm young anyway."
When my mother was in her 80s, I tried teaching her how to eat better. I told her to have a plant-based diet, avoiding meat and eating more fruits and vegetables.
But at 80, her body was already weak. And changing her diet won't make her healthy overnight. It wasn't easy flushing out all the toxins she ingested all those years. I wish I worked on her diet when she was 20 or 30 years old.
But I wasn't alive yet!
What you eat in your twenties will manifest in your body in your fifties.
If you're young today, I urge you to eat the right food now. Shift to a healthy diet today so that you'll harvest health when you grow older.
5. Finances
After one of my financial seminars, a 70-plus-year- old man said, "Bo, where were you when I needed you? Where were you 40 years ago?"
I said, "Forty years ago, I was playing marbles and patintero."
He sighed, "Bo, I wish someone told me 40 years ago what you're telling me now."
The old man narrated his sad story. He worked all his life and retired as manager of a huge food company. But he never saved. Today, he's very poor. He can't even buy his own medicines.
He also mentioned that his kids were kind and always gave him money. But he feels bad that he burdens them for his needs.
Before he walked out of the door, he turned around and shouted, "Bo, I'm going to bring all my children and grandchildren to attend your seminar. I don't want them to suffer what I'm suffering today."
In that seminar, he heard me share that my two boys, Bene, 16, and Francis, 11, have been investing in the stock market since they were 10 and 5, respectively. They invested the Christmas money they received from their ninangs and ninongs (godparents). If they keep this up, they'll be millionaires at the age of 18. My kids planted very early. And their harvest will be bigger.
Friend, you need to plant the seeds of your finances early.
*This excerpt is taken from Enjoy Your Age! by Bo Sanchez.
---
CLAIM AND MAXIMIZE THE BLESSINGS OF YOUR SEASON!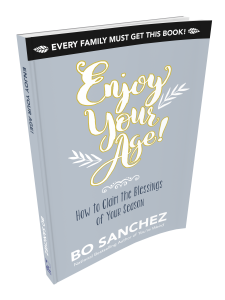 Every season requires a response.
Don't mix them up or you'll have problems. During spring, you plant.
During summer, you work.
During autumn, you harvest
And during winter, you renew.
Read this amazing book from bestselling author and spiritual leader Bo Sanchez, find out how you can maximize the blessings of the specific season that you are in, and enjoy your age!
---
DO YOU WANT TO MAXIMIZE THE GIFTS OF YOUR SEASON?
GET YOUR COPY OF THE LATEST BEST-SELLER FROM BO SANCHEZ,
ENJOY YOUR AGE!
You don't even have to leave the comforts of your home.
You can buy your own copies online!
Here's how:
FOR PAPERBACK and DIGITAL versions:
Visit www.KerygmaBooks.com/shop and click on the titles that you want to order.
Choose PAPERBACK or DIGITAL and check out your order.
Choose your payment method.
Pay via bank deposit or PayPal.
a. For bank deposit: pay your balance and upload your deposit slip at the link we've e-mailed to you upon placing your order.
b. Pay directly via PayPal.
For PAPERBACK: Wait for the books to be delivered right to your home! (For orders P500.00 and up, FREE shipping within Metro Manila only. Standard shipping rates apply for orders below P500.00 or outside Metro Manila.)
For DIGITAL: Wait for the confirmation of receipt of payment. The download links to your books is included in the email.
---
Sometimes, you just need a little ray of sunshine to break through the dark clouds that hover in your life.
KERYGMA ONLINE MIGHT JUST BE THE BLESSING YOU NEED.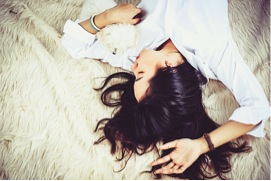 At KERYGMAONLINE, we give you fresh articles on life, love, finances, spirituality, health, and career TWICE A WEEK.
Some of these articles are actually excerpts from our bestselling and award-winning books, while some are contributed and written by our pool of blessed and anointed writers.
YOU CAN WRITE FOR US, TOO! Email us at editor.kerygmaonline@gmail.com if you have a story that you want to share to our millions of readers across the globe.
Visit us at www.KerygmaOnline.ph and read our online magazine. Enjoy fresh articles that will surely nourish, inspire and empower you in all aspects of your life.
Photo credit: www.pixabay.com