---
Fathers, do not provoke your children, lest they become discouraged.
— Colossians 3:21
---
THE FOUR MOST COMMON HORROR PARENTS
By Bo Sanchez
Why are some parents horror parents?
Because hurt people hurt people. The horror comes from the hurt of the past.
Perhaps they also had horror parents. Or perhaps they had horror situations that you could never imagine.
Somewhere along the way, they got hurt. And they started hurting you. Decide today that the hurting must stop in your generation. Decide that you won't hurt your kids.
Decide that you won't hurt the children of your children.
Let me share with you the four most common Horror Parents in the world today: Ghosts, Zombies, Werewolves and Vampires.
1. Ghosts
Ghosts are absentee parents.
In the Philippines, there are 14 million solo parents.
Their spouses are ghosts to their children.
If your parents are OFWs (Overseas Filipino Workers),
I want you to honor their sacrifice. They're working there because of you. Appreciate them. Serve them. Love them.
And if you resent them for not being physically there during the most important events of your life, forgive them.
But this is more difficult: If your parent abandoned you, left your family, and chose another one, you have to decide to move on. You can't get stuck in your anger, or else you let the cycle of abandonment continue to your children and grandchildren. Forgive the parent who abandoned you. And still honor that person for being your father or mother.
I love the story of my friend Carl. Carl's father left him when he was three years old. Because his father left him, Carl lived in abject poverty. His mother worked as a maid for 20 years. Wherever his mother worked, little
Carl worked there as well. (When he was six, his mother worked for a home that didn't allow her to bring her son.
So she rented a small windowless room — and left little
Carl to be alone for 12 hours every day.)
But Carl moved on and forgave his father in his heart.
He didn't want his anger to stop him from becoming a success.
Today, he is a successful businessman. He is president and part-owner of three companies. Nothing big, mind you. Two of them are shipping companies and the third is a mining company… (Shucks, I pity him sometimes.)
Most importantly, he's also an amazing father to his three daughters. The cycle has stopped with him!
2. Zombies
If Ghosts are absentee parents, Zombies are apathetic parents.
These parents are physically present, but emotionally absent. Perhaps they're busy with other things, such as a job or business or friends. They're passive and uninvolved.
They don't instruct, don't discipline, don't engage, and don't spend time with their kids. They let their kids run wild and they don't care.
Break the cycle. Forgive them. They were ignorant.
If you noticed, high schools and colleges teach Science, Algebra, Geography and Writing — but not Parenting 101.
Your absentee parents loved you but they didn't know how to show it.
Here's what you need to do: Forgive them. Learn from their mistakes. Move on. Continue to honor them as your parents today. The cycle stops with you.
3. Vampires
Ghosts are absentee parents. Zombies are apathetic parents. Vampires are absolute parents.
These parents over-parent. Yes, there is such a thing.
Over-controlling. Over-protecting. Over-possessing. (We'll talk more about this in another chapter.) Their parenting isn't age-appropriate.
I remember a woman who came up to me, "Bo, this is the last time I can attend The Feast. My father won't allow me to go. He doesn't believe in you."
I asked her, "How old are you?"
She said, "Thirty-two."
I told her, "Listen. I don't believe in your father, either.
But it doesn't matter what I believe or what he believes.
What matters is what you believe. My answer will be very different if you tell me you're 12 or you're 16… (I would say, "Obey your father; watch me on YouTube.") But you're 32 years old! Decide for yourself."
I suggested that she talk to her father and say, "Dad,
I honor you. Thank you for always looking out for me.
Thank you for trying to protect me. I love you. But I have to do what I believe is good for me. And I will go to The Feast. I love you, Dad. Bye!"
Question: Were your parents over-controlling?
Don't resent your parents for their over-parenting. Overparenting was their way of loving you. See the good intentions behind their actions. Again, forgive them. Love them. Honor them. Break the cycle.
Say again, "The cycle stops with me!"
4. Werewolves
Werewolves are abusive parents.
I'm talking about verbal abuse, emotional abuse, and spiritual abuse. Sadly, also sexual abuse. (Ever since I wrote how I was sexually abused by my cousin and a religious leader, I have received a tidal wave of letters from people who shared how they, too, were sexually abused by their uncles, brothers, cousins, fathers and stepfathers.)
Verbal abuse is very common. One day, I talked to a young man who grew up with a father who told him every single day of his life, "Wala kang kuwentang anak. Paglaki mo, magiging walang kuwenta ang buhay mo." ("You're a worthless son. When you grow up, you'll live a worthless life.") I thought telenovelas were exaggerations. Sometimes, reality is worse.
This young man told me, "When I show my father my bad grades, he'd tell me, 'Wala kasing laman yang utak mo. Sayang lang ang pinapaaral ko sa 'yo.' ('There's nothing in your brain. I'm wasting my money sending you to school.')
And in those rare moments when I give him a good report card, he'd say, 'Eto lang, nagyayabang ka na? Hoy, mahiya ka. Kulang pa ito.' ('This is it? And you're bragging about it? Be ashamed of yourself. This is not enough.'")
He said, "When I wake up late, my father would tell me, 'Hoy, Tamad! Batugan! Wala kang silbi sa amin.' ('Lazy oaf! You're of no use to us.') But when I wake up early, he'd say, 'Aba, kataka-taka. May gagawin kang kabalastugan, ano?' ('Wow, that's odd. What no-good thing are you up to?')"
Verbal abuse is deadly. Because words are prophetic.
Let me tell you about this man: Growing up, he got into drugs, never finished his studies, and today at age 24, he doesn't have a job and lives a life without direction. He proved his father's words right: He lived a worthless life.
I told him about the only way to break the cycle. I told him, "Forgive your father."
He screamed. "Noooooo! I can't. He's a monster!"
"Yes," I said, "I agree he's a monster. He's a terrible man. But you still need to forgive him. If you don't, you'll never get out of your mess. Because that anger will poison you. And your children will see your anger and chances are high that they'll imitate your mistakes. Let go of vengeance. Forgive your father. Move on. Break the cycle!"
Excerpt taken from the award-winning book How to Deal with Horror Parents, Monster Kids, and Freaky Siblings by award-winning author Bo Sanchez
Photo from pixabay.com
---
IS YOUR HOUSE HAUNTED?
Today, many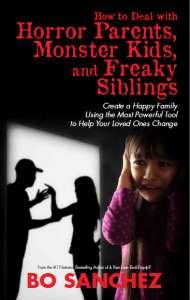 homes are haunted by ghosts of their family's past. Some people are haunted by the horrible way they were parented. Unfortunately, they find themselves repeating the same terrible mistakes with their own children.
In this award-winning book, bestselling author Bo Sanchez turns into a spiritual exorcist for wounded families whose homes are haunted. Bo shares powerful secrets of how to stop toxic patterns inherited from one generation to the next.
You'll learn how to deal with monster parents and break the cycle of horror parenting. You'll discover the three hats you need to wear to raise healthy kids. You'll also find out the secrets on how to create a loving family and cut the roots of envy among your siblings.
This book has the power to transform your families from horror families to happy families, from haunted houses to healthy homes.
THIS BOOK WON IN THE 2015 CARDINAL SIN BOOK AWARDS
UNDER THE FAMILY LIFE CATEGORY.
---
NOW'S THE TIME FOR YOU TO HEAL YOUR FAMILIES.
 You don't even have to leave the comforts of your home. You can buy your online! Here's how:

FOR PAPERBACK and DIGITAL versions:
Visit KerygmaBooks.com and click on the titles that you would want to order.
Choose PAPERBACK or DIGITAL and check out your order.
Choose your payment method.
Pay via bank deposit or PayPal.

For bank deposit: pay your balance and email your deposit slip to sales@blog.feastbooks.ph
Pay directly via PayPal.

For PAPERBACK: Wait for the books to be delivered right to your home! (For orders P300.00 and up, within Metro Manila only. Standard shipping rates apply for orders below P300.00 or are outside Metro Manila.)
For DIGITAL: Wait for the confirmation of receipt of payment. The download links to your books is included in the email.
---
ONLINE SHOPPERS, WE HAVE A GREAT TREAT FOR YOU!
Shop from the comfort of your home and get 10% discount  on your next purchase.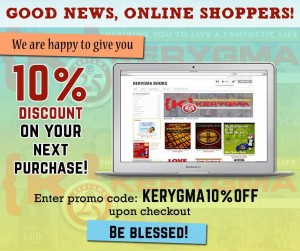 ---
NURTURE YOUR SOUL EVERY DAY!
Visit us at KerygmaBooks.com/kerygmaonline and read our online magazine. Enjoy fresh articles that will surely nourish, inspire, and empower you in all aspects of your life. Kerygma Online is updated weekly.
Email us at kerygmaonline@gmail.com for comments, suggestions and contributions.
Photo credit: http://piccsy.com/2011/05/reading-8ozcw6p11/ through vi.sualize.us