---
"But remember the LORD your God, for it is he who gives you the ability to produce wealth, and so confirms his covenant, which he swore to your ancestors, as it is today."
— Deuteronomy 8:18
---
How to Monetize Your Passion
You have to build your business around your passion.
I really believe that passion is the proven path to prosperity.
There are four powerful keys of "Doing What You Love, the Money Will Follow". Many entrepreneurs have violated them to their own peril. I've seen so many people fail in their business because they don't do what they love.
Some people just copy the businesses they see around them.
Wrong move.
Remember the shawarma craze?
How about when lechon manok was on every street corner?
Or when people went gaga over pearl shakes?
Don't follow the crowd.
Follow your passion instead.
There are four principles to harness your passion for Business Success:
Find your passion.
Turn your passion into profit. Find a business angle to your profit.
Create raving fans through your passion.
Pursue excellence by your passion.
Friends, I'm going to say it again. Don't follow the crowd. Follow your passion instead.
My message:
My friend, Rowena Cequeña, wrote a helpful book entitled, Handy Guide for Business Starters. In this small, but powerful book, Weng explains in simple, understandable terms the steps you need to do when you are starting your own business. Believe me, this book will save you a ton of money and will help you put up the business of your dreams.
Excerpt is taken How to Turn Your Passion Into Profit by Bo Sanchez and Dean Pax Lapid.
Photo credit: http://www.passionfruitpeople.com/images/passion-business.jpg
---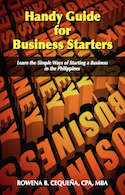 Are you an aspiring entrepreneur putting up a business or planning to have one?
This book is for you.
Having an idea for a business is easy, but starting it is another story. The Handy Guide for Business Starters will show you the way in knowing what form of business your enterprise should take, where to have it registered, and what reports you need to submit monthly, quarterly and yearly to the Bureau of Internal Revenue, Securities and Exchange Commission, and the Department of Trade and Industry.
Find out all these things and more in this tiny, but powerful book!