---
There is a time for everything; a season for everything under the heavens.
— Ecclesiastes 3:1
---
THE SEASONS OF OUR LIVES
By Dean Pax Lapid
When you look back at your seasons of life, what do you see?
I retired early and gave up a high-paying job and the potential to become a top executive in Shell. It was at that moment when most of my colleagues were afraid to do what I just did.
I have no regrets because God gave me the "awakening" I needed to realize that these intrinsic treasures of life are free, like having a personal relationship with God and family, bonding with real friends, being free from stress, and having lots of free time.
Retiring early does not necessarily compromise your ability to buy things. In fact, it gave me the freedom to be who I wanted to become.
Early retirement is about having enough funds to live on, but more importantly having enough fun to live for.
There are four seasons of life. Springtime is when we begin new things and look excitedly towards the future. Summer comes and we work diligently in the heat of the sun. Autumn brings the harvest season of things, which began at the early stage of our lives. Winter brings an end to a particular period of our lives.
But the winter ending is only about the first half of our lives. As a happy retiree, we start again with a new springtime. This is when we are more mature and experienced to take full advantage of what lies ahead.
As Marie von Ebner-Eschenbach said: "In youth, we learn. In age, we understand."
(READ MORE)
Excerpt is taken from How to Become a Happy Retiree: A Guide to Retiring Wealthy and Worthy in Your 40s by Dean Pax Lapid
Photo credits: http://fc07.deviantart.net/fs70/f/2011/329/8/4/four_seasons_by_wazzy88-d4h8so8.png
---
DO YOU WANT TO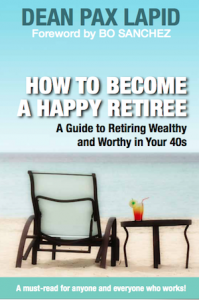 RETIRE WEALTHY AND WORTHY IN YOUR 40s?
Retiring is the beginning of new possibilities. Anyone and everyone can become a happy retiree with the right attitude. Anyone and everyone can plan for a retirement that is financially, emotionally and spiritually fulfilling. After all, retirement is not a destination — it is a journey.
Dean Pax Lapid, the business mentor of the Truly Rich Club, retired at the age of 43. Journey with him as he shares priceless wisdom on how to become a happy retiree in your 40s.
Buy the book and be blessed!
Visit www.KerygmaBooks.com/shop to order your print copies. Go digital and download a copy of this book straight into your gadget. Visit www.KerygmaBooks.com/ebooks to get an e-book version now!
Nurture your soul by reading more inspirational articles written by Bo Sanchez and other bestselling authors at Live a Fantastic Life E-Magazine. Visit www.KerygmaOnline.ph and be very blessed!