---
"The Lord will send a blessing on your barns and on everything you put your hands to."
– Deuteronomy 28:8
---
To Be Rich or Poor Is Not the Most Important Question in Life
by Bo Sanchez
For the past 18 years, I've been trying to break this crazy religious mindset: the idea that "God wants me to be poor."
Hey, if you're a priest or a nun in a religious order who has taken the vow of poverty, you're absolutely right.
But if you notice, if you take the vow of poverty in the Catholic Church, you should also take the vow of celibacy.
You cannot take the vow of poverty and then take the vow of matrimony. If you do, you're sinning against God and your family. As the Bible says, "Anyone who does not provide for their relatives, and especially for their own household, has denied the faith and is worse than an unbeliever" (1 timothy 5:8, NIV).
One guy came up to me after my financial talk and attacked me with Bible verses. He said, "Jesus said in the Gospel of Luke, 'Blessed are the poor, for theirs is the Kingdom of God.' Do you see? Poor people are blessed. Why do you want to become rich?"
This was his logic: "the poor are blessed. Therefore, to remain blessed, remain poor."
I understood him completely. Because many years ago, I thought just like him. How long? It took almost two decades to change my mind.
Thankfully, God changed my mind. I no longer think in that way. I don't believe He wants me to be poor.
Someone asked me, "So if God doesn't want me to be poor, are you saying that God wants me to be rich?"
Here's my answer…
The Most Important Question in Life
The question, "Does God want me to be rich?" or "Does God want me to be poor?" misses the purpose of life. Being rich or being poor is not the purpose of life.
Does God want you to be rich or poor? Only you can answer that question. Wealth or poverty is a choice you have to make.
But I'm sure of this: I believe God wants you to love.
Love is the purpose of life. God is love. Heaven is love. Eternity is love. At the very core of who you are, you are love. And I am love. Every person in the world is love.
So the most important question in life is not, "Does God want me to be poor?" or "Does God want me to be rich?" but "How can I love more?"
If you can love more as a poor person, then take the vow of celibacy and poverty, and serve humanity like Mother Teresa and Padre Pio and Saint Francis. Go for it with all your heart. But if you can love more as an investor, or entrepreneur, then go out there and give jobs to people, tithe to God's work, and give away your wealth to the poor.
So let me say it again: Does God want you to become rich or poor? It depends on how you can love more.
You choose!
Not Poverty Gospel or Prosperity Gospel
I believe God isn't opposed to wealth.
The Poverty Gospel says, "If you love God, you should be poor," and the Prosperity Gospel says, "If you love God, you should be rich." I'm not preaching the Poverty Gospel nor the Prosperity Gospel. I'm preaching the Gospel: "If you love God, love God!"
It's your choice to be rich or poor.
But perhaps you're asking, "Didn't Jesus call us to give up all our wealth?" Some people ask me about how Jesus said to the rich young man, "If you want to be perfect, go, sell your possessions and give to the poor, and you will have treasure in heaven. Then come, follow me" (Matthew 19:21, NIV).
So many are confused with this passage. A lot of people ask: "Does this mean I have to sell my house, sell my car, sell my clothes, and beg on the streets?"
My answer: This was a specific call to a specific person, not a general call to the general people.
How do I know? Because throughout the Bible, both Old Testament and New Testament, there are many God followers who were wealthy. And they didn't sell everything. But they multiplied their wealth to multiply their support for God's work. (More on this later.)
Two Calls
I have two friends both named Steve.
When Steve Tynan was a teenager, he read a Bible passage about Jesus calling this young man to give up everything. Steve heard God's call, left his family, gave up his riches, took the vows of poverty, celibacy and obedience, and was ordained a missionary priest. He left comfortable Australia to come to the Philippines, and he has been serving here for the last 20 years. All those years, Fr. Steve has been my spiritual advisor.
Let me tell you about the other Steve. When Steve Tamayo was a young man, he worked as a janitor and waiter. But he had a burning dream to succeed in life and help many people. Now, over 30 years later, this former waiter is one of the biggest and most successful caterers in the Philippines. How big? He can feed 20 giant parties all happening at the same time. During peak months of the year, he employs more than a thousand workers. He and his wife, Mila, join us at the Feast, our weekly spiritual gathering. As a family, they're always very generous and they serve the lord together.
My point? One Steve became a poor missionary while the other Steve became a millionaire missionary. Both are serving God.
One of the biggest mistakes that Christians make is when we impose our own special call on another person. When we do that, we give the other person false guilt.
God has a unique call for your life.
Here's what I believe: Most of us are not called to a vow of poverty but to a vow of generosity.
This excerpt is taken from How Good People Like You Can Become Rich by Bo Sanchez.
Photo from Pixabay.com
---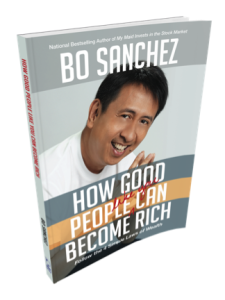 A FINANCIAL REVOLUTION IS HAPPENING — DON'T BE LEFT BEHIND!
 For 18 years, bestselling author and spiritual leader Bo Sanchez has taken on a controversial journey that has gained him a few enemies. He helps good people become rich. Some religious critics have called him nasty names for his work. But this work has freed thousands of people trapped in poverty, debt, greed, and misery — and they're now enjoying financial freedom, generosity and abundance.
Join him in this exciting journey. Join the financial revolution that's taking place right now. Read his newest book, How Good People Like You Can Become Rich, and learn how you can earn more. Follow the 4 Simple Laws of Wealth ad change your financial destiny — and the destinies of the people you love. Make it happen.
---
ARE YOU READY TO RECEIVE GOD'S FINANCIAL BREAKTHROUGH IN YOUR LIFE?
 GET YOUR COPY OF BROTHER BO SANCHEZ'S BOOK, HOW GOOD PEOPLE LIKE YOU CAN BECOME RICH
You don't even have to leave the comforts of your home.
You can buy your own copies online!
Here's how:
FOR PAPERBACK and DIGITAL versions:
Visit www.KerygmaBooks.com/shop and click on the titles that you want to order.
Choose PAPERBACK or DIGITAL and check out your order.
Choose your payment method.
Pay via bank deposit or PayPal.

For bank deposit: pay your balance and upload your deposit slip at the link we emailed to you upon placing your order.
Pay directly via PayPal.

For PAPERBACK: Wait for the books to be delivered right to your home! (For orders P500.00 and up, FREE shipping within Metro Manila only. Standard shipping rates apply for orders below P500.00 or outside Metro Manila.)
For DIGITAL: Wait for the confirmation of receipt of payment. The download links to your books is included in the email.