Do You Believe That the Rich Won't Enter Heaven?
by Bo Sanchez
---

Again, I tell you, it is easier for a camel to go through the eye of a needle than for a rich man to enter the kingdom of God.
— Matthew 19:24
---
The verse above is often quoted as proof that heaven isn't for rich people.
I've got two problems with that.
First of all, they don't read the two verses right after that verse…
When the disciples heard this, they were greatly astonished and asked, "Who then can be saved? Jesus looked at them and said, "With man this is impossible, but with God all things are possible.
— Matthew 19:25-26
Jesus didn't say, "It's impossible for rich people to enter heaven." He simply said, "It's going to be more difficult for the rich person to enter heaven." Why is this? Because Jesus says that to whom much is given, much more will be required (Luke 12:48).
Anyone who has more talents, for example, will also be judged in a different way than one who has less. Paul even says, "Not many of you should presume to be teachers, my brothers, because you know that we who teach will be judged more strictly" (James 3:1).
If you're a teacher, that means it's also more difficult to enter heaven.
So should I be terrified of severe judgment and give up preaching? Oh woe is me, what have I done? I preach 300 times a year. My goodness. Should I resign today and find myself another job? (Hmm. I wonder if I can be a male ramp model….)
Wait a minute. Who then will preach if everyone says, "Don't be a preacher. It's so difficult to go to heaven because on Judgment Day, you'll be judged more strictly."
This is silly thinking.
In the same way, don't avoid wealth simply because it's difficult to enter heaven.
Because God needs godly people who will run businesses, give jobs, and bless the world with great services and great products.
Here's my second point: Don't take the "camel through an eye of a needle" literally. The illustration is so out-of-this-world, no wonder people think it's impossible.
But when Jesus said, "camel through an eye of a needle," ancient Jews would have immediately understood what He was referring to. "The eye of a needle" was a common idiom for the doorway of a camel's home.
The doorway is very small. So a camel coming home from a very rich caravan should do two things to enter into it. First, he needs to unload his bags from his back. Second, he has to stoop down and crawl inside.
And thus we get the meaning of this passage: We now know what a rich person needs to do. First, he needs to unload his wealth either by literally giving it all away (as celibates in religious congregations do), or by spiritually detaching himself from all his wealth as all of us should do.
Second, he should stoop down before God and acknowledge that all belongs to Him. A rich person must remain humble before the Lord and before others.
What if Tony Tan of Jollibee responded to this particular Bible passage by saying, "Gosh, rich people can't enter heaven? I won't go into business…."
Then, thousands upon thousands of people won't have jobs today. I know because each year, my own Beaconlight Corporate Training Team gives powerful leadership and life-management seminars to over a thousand Jollibee store managers (who love their jobs, by the way.) Where would they be if Tony decided not to get into business?
Thank God, his response was very different.
Remember: The rich can go to heaven if they're truly rich.
It's not impossible, only more difficult.
Don't be afraid of a challenge.
Do you believe that the rich won't enter heaven?
Truly Rich Principle:
God needs godly people who will run businesses, give jobs,
and bless the world with great services and great products.
*This excerpt is taken from 8 Secrets of the Truly Rich by Bo Sanchez.
Photo from Unsplashed.com
---
What the Rich Know That the Poor Don't Know
"Bo Sanchez's 8 Secrets of the Truly Rich balances our views concerning material wealth. It helps us appreciate God's gifts as means to multiply goodness in the world. May this book enlighten readers on the real value of money and its relation to the spiritual life."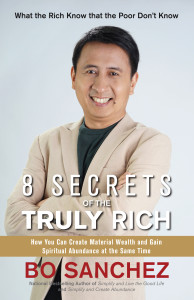 + Ricardo J. Cardinal Vidal
Archbishop of Cebu
"Being poor is not an acceptable excuse. There is nothing wrong with aspiring to be materially comfortable. Bo's book inspires us to work hard and aim high to be wealthy in the true sense of the word.
Bo shows the way! A good read!"
Founder and General Manager,
National Bookstore
"8 Secrets of the Truly Rich will inspire his readers to have the right attitude towards wealth, and give them practical tips on how to achieve financial success. This book is a combination of Kiyosaki's Rich Dad, Poor Dad infused with Bo Sanchez's humor and down-to-earth style. Talk about value for money! Practice what you preach, indeed."
— Bernadette Sembrano TV Host,
ABS-CBN
"Bo Sanchez demolishes the myths that equate wealth with materialism, and having money with being rich. He demonstrates how Christians and everyone else can and should strive to be wealthy, provided that there is social and economic justice and cooperation. He strikes the right chords when he pushes right attitudes, hard work and hits hard at the cultural baggage that hinders Filipino entrepreneurship."
— Gerry Ablaza CEO,
Globe Telecoms
---
DO YOU WANT TO CREATE MATERIAL WEALTH AND GAIN SPIRITUAL
ABUNDANCE AT THE SAME TIME?
GET YOUR COPY OF CLASSIC BESTSELLER FROM BO SANCHEZ,
8 SECRETS OF THE TRULY RICH
You don't even have to leave the comforts of your home.
You can buy your own copies online!
Here's how:
FOR PAPERBACK and DIGITAL versions:
Visit www.KerygmaBooks.com/shop and click on the titles that you want to order.
Choose PAPERBACK or DIGITAL and check out your order.
Choose your payment method.
Pay via bank deposit or PayPal.
a. For bank deposit: pay your balance and upload your deposit slip at the link we've e-mailed to you upon placing your order.
b. Pay directly via PayPal.
For PAPERBACK: Wait for the books to be delivered right to your home! (For orders P1000.00 and up, FREE shipping within Metro Manila only. Standard shipping rates apply for orders below P1000.00 or outside Metro Manila.)
For DIGITAL: Wait for the confirmation of receipt of payment. The download links to your books is included in the email.