Why I Love Being Catholic: Because of Our Heavenly Family
by Bo Sanchez
---
"We're on the field and the stands are packed with the
saints who are constantly rooting us on."
– Father John Riccardo
---
What is essential for a car to go from point A to point B? The entire engine, the wheels, the steering wheel, the pedals, and the basic metal frame to hold them together. That's it.
The air-conditioning? Not essential. Seats? You could sit on a wooden box. Seat belts? Just hold on really tight and pray hard. Rearview mirrors and side mirrors? No need. Just keep turning your head left and right. Horn? Just shout really loud.
All these things are not essential to bring you from point A to point B. But if I drive a car, I want all those stuff there. It makes life easier.
That's like Mary and the saints. I could follow Jesus without them. But if God is giving them to me, why not receive them?
Mary can be a rich gift to your relationship with Jesus.
We just need to discern and reject wrong beliefs about Mary.
One day, a woman came up to me and asked me, "Brother Bo, have you prayed to Our Lady of Fatima? She's powerful. Years ago, I was praying to Our Mother of Perpetual Help, and it was OK. But when I switched to Our Lady of Fatima, all my prayers get answered."
Gee. Really? That conversation was weird.
Do you want to hear something weirder?
Here's another weird story I heard from a homily of a priest. He said one day, Jesus was standing in front of the gates of heaven, rejecting a lot of souls who wanted to go in but were not just worthy. After rejecting thousands of souls, He walked into heaven and, to His shock, saw some of the people He just rejected walking around. Jesus sighed, shook His head, walked to the back door of heaven where Mama Mary was letting in the souls outside. "Quick! Come in, come in."
It's a cute story. But it's totally wrong.
Mary is not more merciful than Jesus. Whatever love Mary has in her heart comes from God. Mary reflects God's love.
Who is Mary?
Mary's whole purpose is to bring us closer to Jesus. If, at any time, she draws us away from Jesus, that's not Mary. That's a fake Mary. Mary is the first disciple of Jesus. And she wants you to become a disciple of her Son.
In the miracle of Cana, Mary told the servants, "Do whatever He tells you" (John 2:5, GNT). I believe that's the entire message of her life. She wants you to follow Jesus. So that when God calls you, you too can say with her, "Behold the maidservant of the Lord! Let it be to me according to your word" (Luke 1:38, NKJV).
Why Pray to Mary and the Saints?
Someone came up to me and said, "Why pray to Mary? Why pray to the saints? Why not pray directly to God?"
Answer: You should pray directly to God.
You're not required to pray to Mary and the saints. But why did God give us Mary and the saints? Because when you follow Jesus, He always brings along His family. This family is found on earth and in heaven. And Mary and the saints are part of that big family.
Many Protestants don't know this, but Martin Luther, the man who started the Protestant Reformation, continued to practice a strong devotion to Mother Mary. He even accepted the Doctrine of the Immaculate Conception, something that was yet to be explained two hundred years after him. Other Protestant Reformers, like Calvin, Zwingli, and Cranmer, accepted Marian doctrines such as her perpetual virginity.
Jesus Is Giving You His Mother and His Friends
From the cross, Jesus gave you a very special gift. The Bible says, "Jesus saw his mother and the disciple he loved standing there; so he said to his mother, 'He is your son.' Then he said to the disciple, 'She is your mother.' From that time the disciple took her to live in his home" (John 19:26- 27, GNT).
The Gospel of John is filled with metaphors. This is not just a historical event. This has a profound message to the Church. The disciple John represents all those who follow Him, and that includes you and me.
So, God is giving you His own mother. Will you take her into your home and heart?
Let me digress. I've long learned that if you want to raise your kids well, you also have to raise the friends of your kids. In today's generation, this is crucial. So, I've told my two sons, "Bring your friends over to the house anytime." (Parents, I just have to warn you: Next to buying a house, this could be your biggest expense. Because young people will eat everything edible in your house. Except for the potted plants, everything else will be eaten. But I love it when they come because I can talk with them, laugh with them, and pray for them.)
Jesus gave me His mother. Mary didn't give birth to me. But she adopts me now because I'm her Son's friend.
Jesus is giving me His family in heaven—the saints—to be my brothers and sisters. What a gift! I can count on them for inspiration and intercession.
Jesus Is Giving You Intercessors
When I'm going through a difficulty, and a friend tells me, "Bo, I'm praying for you," it comforts me. One day, someone wrote to me, "Bo, I pray for you every day." My heart leapt for joy. Here was this person who prayed for me every single day. That's wild.
I know someone else is praying for me every day. Her name is Mary. Why do I know? Because I asked her to. I've also asked St. Francis of Assisi and St. Benedict and St. Ignatius of Loyola to pray for me every day. I thank God I have friends in high places. The Bible says, "The prayer of a righteous person is powerful and effective" (James 5:16, NIV).
Some Protestants get very uncomfortable when they hear this kind of talk. Because for them, Jesus is the only mediator between God and man.
And I agree.
There's only one High Priest and His name is Jesus (see Hebrews 4:14). But the wonderful thing about God is that He wants us to share in His work. He calls us to be a royal priesthood (1 Peter 2:9) and a kingdom of priests (Revelations 5:10). That's why we evangelize in His name, we serve the poor in His name, and we pray for others in His name.
I believe our prayer ministry doesn't stop after death. Because love doesn't stop after death. The Book of Revelations gives a beautiful image of the prayers of the saints as incense: "The four living creatures and the twenty-four elders fell down before the Lamb. Each had a harp and gold bowls filled with incense, which are the prayers of God's people" (Revelations 5:8, GNT).
God Is Not Insecure
As Catholics, we believe in God's "noncompetitive transcendence." That's a fancy term of saying that God isn't insecure. He doesn't compete with His creation, but delights in involving us in His work and sharing His glory with us.
Let me share with you an analogy I first heard from Scott Hahn. Imagine two palaces. The first is a palace that is rich, resplendent, filled with colorful banners, thick carpets from the East, and gorgeous curtains from floor to ceiling. The court of the king is filled with his servants, all dressed in beautiful robes. His dukes and knights are attired regally. The queen is beside the king, totally lovely to behold.
The second palace is bare. Unpainted concrete walls and ceiling, bare cement floor, and a totally unadorned throne room. No servants. No dukes. No generals. No queen. It's occupied only by the king.
Some religious people imagine God to be alone in His throne room. Their call is to "focus on Jesus alone." Yes, there might be seasons in one's spiritual journey when there's a need for this kind of spirituality. But from my experience, God is a generous God and He wants to share His glory. As Catholics, we believe in the first palace. God loves to honor His family.
If God Honors Her, Why Shouldn't I?
Mary honored God by her obedience and humility. And it was God who honored her even more. How? He made her the mother of Jesus. This woman carried in her womb the second person of the Trinity.
Elizabeth, inspired by the Holy Spirit, honored her: "When Elizabeth heard Mary's greeting, the baby moved within her. Elizabeth was filled with the Holy Spiritand said in a loud voice, 'You are the most blessed of all women, and blessed is the child you will bear!'" (Luke 1:41-42, GNT).
If God honors her, why won't I honor her?
If I go to a painter's gallery and admire his masterpiece, no artist in his right mind will say, "Stop looking at my painting. Look at me!"
I believe God is a Painter and we're all God's masterpieces. We're all made in His glorious image. But I also believe that some images are more like God, that is why we honor Mary and the saints.
Mary has no light of her own. Mary reflects the glory of God, like the moon only reflecting the light of the sun. And so do the saints.
Today, I invite you to receive this beautiful gift from your Heavenly Father: a heavenly family that's praying for you, cheering you on, and loving you night and day.
*This excerpt is taken from Why I Love Being Catholic by Bo Sanchez.
Photo from Unsplashed.com
---

Are you Catholic? You must read this book.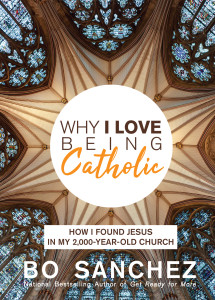 Bo Sanchez​ wants to help you love Jesus more. When he was a twelve years old, Bo found Jesus in his Catholic faith. And his life was changed forever. Through this eye-opening book, Bo also wants to help you appreciate your Catholic faith more. He'll explain, in the simplest way possible, the ten amazing reasons why he loves being Catholic.
Read this book and you'll never see your Catholic faith the same way again.
—
When you purchase this book, you also become a blessing to others since Bo donates the royalties from his books to his many dynamic ministries.
---
DO YOU WANT TO KNOW THE 10 REASONS WHY YOU SHOULD
LOVE YOUR CATHOLIC FAITH?
GET YOUR COPY OF CLASSIC BESTSELLER FROM BO SANCHEZ,
WHY I LOVE BEING CATHOLIC
You don't even have to leave the comforts of your home.
You can buy your own copies online!
Here's how:
FOR PAPERBACK and DIGITAL versions:
Visit www.KerygmaBooks.com/shop and click on the titles that you want to order.
Choose PAPERBACK or DIGITAL and check out your order.
Choose your payment method.
Pay via bank deposit or PayPal.
a. For bank deposit: pay your balance and upload your deposit slip at the link we've e-mailed to you upon placing your order.
b. Pay directly via PayPal.
For PAPERBACK: Wait for the books to be delivered right to your home! (For orders P1,000.00 and up, FREE shipping within Metro Manila only. Standard shipping rates apply for orders below P1,000.00 or outside Metro Manila.)
For DIGITAL: Wait for the confirmation of receipt of payment. The download links to your books is included in the email.