In applying all that you have read about these three stories, there are some principles that can help give structure and add effectiveness to what you are doing.
1. "As Above, So Below" Principle
No, this is not about the popular horror movie. "As above, so below" is an ancient principle that actually means "within each lies the other, and through understanding one, you may understand the other."
In Christianity, we can say God prepares you to love the people that He wants you to love. Whatever you will need to love them is already inside of you. You just need to take a look and understand what's in you, so you can understand what is in them. That's why it is important to look for God in your own life, to see and understand what He is trying to do in you, so you can look into someone else's life as well.
2. Connecting Points (The Power of "Ako Rin!")
Connecting points are where parts of our story and parts of other people's story overlap. These are opportunities to relate and connect, to make people feel that they are not alone in their struggle. It's an opportunity to help them feel understood. This is another reason why our stories are important; they can be used as tools to relate to what other people are currently going through or as maps so people may know where to go from where they are.
Though there is a possibility that what you've been through is almost identical to what others are going through, the chances of that are very slim. (What you are about to read is very important.) That's why the similarity of the events in our lives are only secondary to the similarity of the emotions that we feel, the labels we create, and the perspectives we form because of the things that happened.
3. Tie Points (The Power of "May Ganyan sa Bible, Eh")
Tie points are parts of your story and other people's stories that you can tie up to God's stories in the Bible. These are essential to point them back to God and to make Him more relevant, real, and personal in their lives. Just connecting your story and their stories is not enough. If you do that, you'll end up tired, burdened, and burnt out because they will constantly rely on you to fill in their every need.
Remember we are called to be like Jesus, to bring Him to others, and to love like He does. But we are not God. We are not the Messiah. God is the only one who can love and forgive without ever getting burnt out. So connect them to Him, not just to yourself. You will see more and more tie points as you get familiar with more and more of God's stories, so read up!
4. The Principle of Gentle Tugs (The Power of "Kumusta Ka Na?")
You don't need to force people into a discipleship relationship. Much of making disciples is about timing. Just like picking fruits, you'd know when is the right time for picking.
If the fruit is unripe, you'll have a hard time picking it from the tree. Forcefully picking it would have an effect on the quality of that relationship. Just like fruits picked at the wrong time, it's not as sweet as it could actually be. If the fruit is overripe, you won't even have the chance to pick it. More often than not, you'll find it on the ground, rotting. And you would know that you have missed a great opportunity. But if the fruit is ripe, you don't have to pull so hard to pick it. It falls off with a gentle tug right in to your hands.
Gentle tugs may come in the form of a simple question like, "Kumusta?" (How are you?) Sometimes even a hug is enough motivation for them to open up and allow you to disciple them. When you are discipling people, don't be impatient and force things on them. But don't wait too long either that you miss the chance to disciple them. It's all about timing! You can only find the right timing if you check up on them regularly and tug at them gently. Always touch base and never settle for an "I'm OK" or "I'm fine." The best questions do not end with a question mark. Ask them to tell you about their life, school, family, love life, work, or business. Ask them to tell you about their dreams, hopes, aspirations, and prayers. There is always more to people than meets the eye. As you keep asking them, they'll start to figure out that you are genuinely concerned and interested in them. Then they'll start to speak their mind and bring their walls down.
Remember that discipleship is not a one-time, big-time thing. It's a continuous conversation that takes as much time as needed. Just like the best-tasting fruits need time, great things and great stories need time, too. Be patient, check in often, and tug at them gently but regularly.
---
PAUSE!
1. What is your story of God's concrete grace in your life?
2. Who among the people around you need to hear your story? How will it help them?
3. Find a character in the Bible that you can most relate to. Why? (Let your small group head or discipler help you here.)

*This article is an excerpt from the book,Reckless: A Discipler's Guide to Bringing Young People Closer to Jesus by Niko Capucion​.
Featured photo from Unsplash.com.
---
Bring Out the Radical Discipler in You!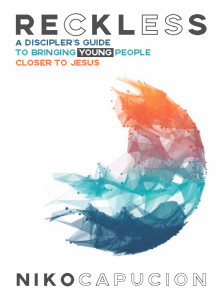 Have you been tasked to disciple the youth? Do you feel frustrated that your efforts are not bearing fruit? Do you feel unworthy and inadequate as a youth discipler? Worry no more as this handy guide addresses your many issues and worries in discipling young people.
Born from his personal experiences as a youth discipler, Niko Capucion shares the nitty-gritty of how discipleship starts within yourself, how to bring other people along in the journey of becoming more like Jesus Christ, and how to help them become disciple makers themselves.
Moreover, this guide will help you:
• Identify the obstacles and lies that keep you from having the right attitude in youth ministry;
• Combat these hurdles with the important truths to strengthen your call to serve;
• Discover the power of stories and the four principles of one-on-on discipleship;
• Acquire the right discipler values through the leadership watchlist;
• Answer your frequently asked questions on discipleship;
• And many more!
Get ready to be generous, radical, and reckless in your love for the youth!
GRAB YOUR COPIES HERE!
---
GET WORSHIP GENERATION ITEMS FOR FREE!
 
Get exciting Worship Generation​ FREEBIES when you buy "Reckless: A Discipler's Guide to Bringing Young People Closer to Jesus" by Niko Capucion​!
Buy 2 copies, get a FREE baller or keychain
Buy 3 copies, get a FREE lanyard or P100 GC
Buy 4 copies, get a FREE T-SHIRT
Buy 5 copies, get a FREE P500 GC
Very limited offer only, until supplies last. The freebies will vary based on product availability.
To place your orders, go to www.kerygmabooks.com/shop/product/reckless.