---
"We loved because he first loved us."
– 1 John 4:19
---
LOVING VAMPIRES
By Bo Sanchez
What is common in all difficult people, or "Vampires, as we call them?
They're kids in adult bodies. They're exceedingly immature.
Because at the very core of every difficult person — no matter what the manifestation — you'll find low selfworth.
The root of all Vampirism is massive insecurity.
Deep within, the difficult person is a child desperate and hungry for love.
Seven years ago, historians discovered the diary of Hitler's younger sister. (Before this, no one knew anything about the childhood home of Hitler.) It turns out that Hitler was severely beaten by his father. As he lay on the floor being thrashed, his mother would rescue him by covering him with her body, thus absorbing the blows.
The diary also revealed how Hitler would bully his sister too, slapping her on the face when she made a mistake.
After over 30 years in ministry, I believe that Vampires were once upon a time little kids who failed to receive love.
People ask me, "Bo, even the Controlling Vampire and Criticizing Vampire failed to receive love as children? They don't seem to lack self-love. They seem to love themselves too much." Oh, believe me. Behind all the external arrogance, self-righteousness, bluster and bravado, is a deep sense of insecurity. Every day, he's trying to convince himself that he's superior. That's why he's acting in that "difficult" way.
So love them. Love them, so that they, too, can love others.
Excerpt taken from How to Deal with Difficult People: Learn the Art of Protecting Yourself from the Vampires in Your Life — and Loving Them Wisely
Photo credits: http://fc08.deviantart.net/fs42/i/2009/157/0/4/Cute_Vampire_by_jabberwocky_47.jpg
---

"Every difficult person in your life is a mirror."
Every difficult person in your life is a mirror. By asking why that person is difficult to you, you'll discover more about who you are — your past, your wounds, your weaknesses. In this book, you will learn not only learn how to deal with the difficult people in your life… you will also learn how to deal with you.
Relationships are the most important things in this world. By knowing how to deal with the different types of difficult people in your life, you get to nourish your relationships with others… and yourself.
Visit www.KerygmaBooks.com to order your print copies. Go digital and download a copy of this book straight into your gadget. Visit www.KerygmaBooks.com/ebooks  to get an e-book version now!
Nurture your soul by reading more inspirational articles written by Bo Sanchez and other bestselling authors at Live a Fantastic Life E-Magazine. Visit www.blog.feastbooks.ph and be very blessed!
---

YOUR FAVORITE INSPIRATIONAL BOOKS ARE COMING TO
THE 35TH MANILA INTERNATIONAL BOOK FAIR!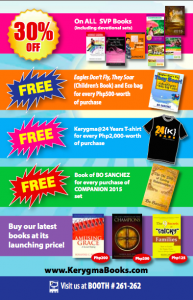 Are you ready for the biggest sale from SVP yet?
Block your schedules and mark your calendars because we'll be giving away massive discounts and freebies from September 17 to 21, 2014 at the Manila International Book Fair at SMX Convention Center!
WANT TO MEET INSPIRATION UP CLOSE?
Visit us on September 21, 2014 at 5:00 PM to meet and greet your favorite authors, including Bro. Bo Sanchez!
See you there!