LONG DISTANCE LOVE
By Bo Sanchez
Sometimes, we have to love people from a distance.
The verse above says that we can actually walk away from difficult people. Don't stay if people don't like you. And don't take their rejection personally, because it's not about you. They've got issues. Leave them in the hands of God.
Let me give you an example.
Imagine you're walking in the woods one day. There, you hear someone shouting, "Help!" You run to the direction of the voice, and you see a man sinking in a quicksand. And he says, "Please! Grab my hand! I'm going to die!"
You study your choices. The sinking man is right smack in the middle of a humongous quicksand. To grab his hand, you have to actually walk into the quicksand. If you do that, the man will pull you into the quicksand — and both of you will die.
You realize that the only way to save him is to maintain your distance from him and maintain your position of stability. Practically, it means standing on solid ground and throwing him a rope. The man grabs on the rope, ties it around his body, and from your position of stability, you pull him out of the quicksand. And this point is important — he has to do something. He has to actually do something (tie the rope around his body and hold on). In other words, he should want to be rescued.
I repeat: That's the only way to rescue him. In the same way, you can't transform a difficult person by allowing yourself to be abused by him. That is why the first step to transform a difficult person is to protect yourself from him or her.
By protecting yourself, you gain the freedom to love the difficult person in a genuine way.
Excerpt taken from How to Deal with Difficult People: Learn the Art of Protecting Yourself from the Vampires in Your Life — and Loving Them Wisely
Photo credits: http://fc00.deviantart.net/fs13/i/2007/037/1/0/distance_love_by_galletitairken.jpg
---
"Every difficult person in your life is a m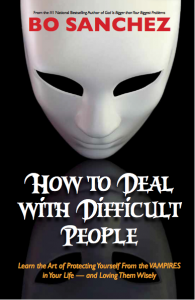 irror."
Every difficult person in your life is a mirror. By asking why that person is difficult to you, you'll discover more about who you are — your past, your wounds, your weaknesses. In this book, you will learn not only learn how to deal with the difficult people in your life… you will also learn how to deal with you.
Relationships are the most important things in this world. By knowing how to deal with the different types of difficult people in your life, you get to nourish your relationships with others… and yourself.
Visit www.KerygmaBooks.com to order your print copies. Go digital and download a copy of this book straight into your gadget. Visit www.KerygmaBooks.com/ebooks  to get an e-book version now!
Nurture your soul by reading more inspirational articles written by Bo Sanchez and other bestselling authors at Live a Fantastic Life E-Magazine. Visit www.blog.feastbooks.ph and be very blessed!