---
Delight yourself in the Lord, and he will give you the desires of your heart.
— Psalms 37:4
---
DREAMS DO COME TRUE
By Bo Sanchez
Twenty-plus years ago, I wrote a Dream Book where I put down in writing everything I wanted to do with my life. I wrote insane things in that notebook, such as, "I want to be a bestselling author," and "I want to have a TV show and a radio program that will share God's love to others," and "I want to build Anawim." (All have been fulfilled.) I also wrote various financial goals that at that time were ridiculously gigantic but today have become very small.
In 1997, I wrote down a new entry in my Dream Book. "We'll have 10 mercy ministries for the poor." At that time, that was a preposterous idea. We only had two — Anawim, our ministry for the abandoned elderly, and the Light of Jesus Pastoral Care Center. And the financial needs were already beyond staggering. The Pastoral Care Center had very little overhead, but Anawim was like a black hole that sucked money endlessly. Because Anawim picked up old people from the streets and maintained a home for them, the needs were horrendous. (Today, we spend P750,000 a month — all relying on donations.)
Can you imagine helping 10 mercy ministries like Anawim? Where will we get all the money?
But today, many years later, we are partners with eight mercy ministries. We support orphanages, scholarship programs, a street kids ministry, and a prison ministry — all of them consuming millions of pesos every month. I sometimes pinch myself, asking, "How in the world are we able to do all these?"
Friend, what is your dream? Ask what's in your heart. Set it down in writing. And consider it a done deal. 
This excerpt is taken from Life Manual 101: How to Make Your Dreams Come True by Bo Sanchez
Photo from pixabay.com
---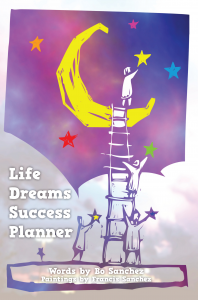 THE SECRET OF CHAMPIONS
Research shows that writing down your dreams will help make them come true.
What you need is a Map of Success to guide you on where to go and what to do. But here's the deal: Only you can make this Map. No one else.
The Life Dreams Success Planner will help you create that Map of Success. In your life, you can chart your course and determine where you want to go — based on your Sacred Mission and Life Dreams.
This "technology" of writing your goals and reading them every day is the secret of champions. It has been proven to be the best strategy to produce the most number of achievers in any field or area of life.
Start using your Life Dreams Success Planner today!
---
TAKE CHARGE OF YOUR DREAMS TODAY! THE LIFE DREAMS SUCCESS PLANNER IS AVAILABLE (and fast-selling) AT THE FEAST AND ONLINE.
You don't even have to leave the comforts of your home. You can buy your online! Here's how:
FOR PAPERBACK and DIGITAL versions:
Visit KerygmaBooks.com and click on the titles that you would want to order.
Choose PAPERBACK or DIGITAL and check out your order.
Choose your payment method.
Pay via bank deposit or PayPal.

For bank deposit: pay your balance and email your deposit slip to sales@blog.feastbooks.ph
Pay directly via PayPal.

For PAPERBACK: Wait for the books to be delivered right to your home! (For orders P500.00 and up, within Metro Manila only. Standard shipping rates apply for orders below P500.00 or are outside Metro Manila.)
For DIGITAL: Wait for the confirmation of receipt of payment. The download links to your books is included in the email.
---
NURTURE YOUR SOUL EVERY DAY!
Visit us at KerygmaBooks.com/kerygmaonline and read our online magazine. Enjoy fresh articles that will surely nourish, inspire, and empower you in all aspects of your life. Kerygma Online is updated weekly.
Email us at kerygmaonline@gmail.com for comments, suggestions and contributions.
Photo credit: http://piccsy.com/2011/05/reading-8ozcw6p11/ through vi.sualize.us