---
"Trust in the Lord with all your heart, and do not lean on your own understanding. In all your ways acknowledge him, and he will make straight your paths."
— Proverbs 3:5-6
---
Set Your Standards and Don't Settle for Less
By Jason and Crystalina Evert
(Crystalina) In order to defend our standards as women, we first need to establish them. While some girls know exactly what they want in a relationship, others don't seem very picky. Just as some women focus more on getting married than on who they're marrying, many young women pay more attention to landing a date than to who they're dating. They may think, "Well, he's mostly good. Why complicate things?" It doesn't take long for such relationships to implode.
For example, one single woman asked:
My boyfriend has slept with girls before, and he said he can't imagine marrying a girl with whom he was "unfamiliar." Sometimes, he gives me a hard time because I don't initiate physical stuff with him. Am I being a prude by not sleeping with him?
It's interesting that her ex said that he couldn't marry someone with whom he was "unfamiliar." If that's his litmus test for a bride, then why didn't he marry the rest of the girls with whom he was so familiar? If you're with a guy who thinks sex is a tryout, don't go out for the team.
This woman is not a prude. She's just dating a walking hormone. One reason why she never initiates physical activity is because a woman does not desire to give of herself when she senses the man is only interested in taking. She's more concerned with guarding herself than giving herself. Her intuition to pull away from her boyfriend is her built-in defense system. Women naturally recoil from a user. They guard the treasure—not just of their body, but of their very selves. By establishing non-negotiable standards for future relationships, a woman builds a castle around her heart. Unless a guy is man enough to ascend the wall, he has no chance of being with her.
After I broke off my bad relationships in high school, I took a few years off from the dating scene to re-evaluate my priorities in life. During this time, I created a list of sixty things that I hoped for in a husband. I decided that I had spent enough time in my lifecompromising on the guys I dated. For once, why not set the bar as high as I wanted?
It didn't take long before the smooth-talking and sweet-smelling guys came into my life. But this time I knew there was no point in wasting my time with a guy I didn't want to spend the next seventy years of my life with. So I refused to date them. As the days and months turned into years, there were times when I questioned if my list had made me too picky.
Some items on the list were just for fun, such as the fact that I was hoping he was a world traveler and that he wasn't too tall. Others were non-negotiable, such as the fact that I wanted him to be a man of God who believed in chastity. What's amusing is that I met Jason (who is 5'7″) while at a chastity conference in the Bahamas, after his plane had just arrived from his previous trip to Israel! God knew the desires of my heart.
If you hope to get married one day, make your own list. Feel free to daydream, but make a mature distinction between what's essential and what is not. This is not a list requiring perfection. But it should at least contain the essentials of a healthy relationship. The purpose of the list is not for you to tell God that you want a man who is a saintly 6!4″ millionaire model who cooks, has a foreign accent, owns a chocolate company, gives great foot rubs, and rescues abandoned puppies from the animal shelter. If you're not willing to date a person unless he's perfect, then the fault is not in him. It's in you. Every person has his faults. If you think you've found the perfect man, you're setting yourself up for disappointment.
What essentials should be on your list? Here are some thoughts:
• I want him to be my best friend.
• He needs to love God more than he loves me.
• Instead of bringing out my weaknesses, he brings out my dignity.
• He's kind and gentle with me.
• He builds me up and does not wear me down.
• He treats his mom with love.
• Besides respecting me, he respects himself.
• I want him to have strong morals so I don't need to convince him of mine.
It's wise to set these standards before you enter a relationship instead of springing them on a boyfriend who barely meets half of them. But the sooner you develop your own personal list, the better. Then you can begin the important work of being the kind of woman who deserves such a man. Become your own list, because he deserves nothing less in you. Just imagine the kind of guy you hope to find. What kind of girl do you think he's looking for?
This excerpt is taken from How to Find Your Soulmate Without Losing Your Soul: 21 Secrets For Women by Jason and Crystalina Evert.
Photo from pixabay.com
---
ARE YOU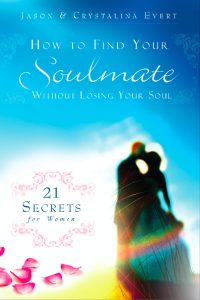 A DATE… OR A SOULMATE?
ARE YOU THE FOR-NOW GIRL…
OR THE FOREVER GIRL?
IN YOUR QUEST FOR LOVE, DON'T LOSE YOURSELF ALONG THE WAY.
While navigating through the dating scene, every woman begins to wonder:
How do I know when a guy really loves me?
Am I being too picky?
Do I even deserve love?
Is my relationship worth keeping?
Is love worth the risk?
Are any decent guys left?
Single women often feel left alone to find answers to their deep questions about love and intimacy. Some hang out and hook up, hoping for love. Others are afraid to even hope. At some point, every woman needs reassurance that she — and her standards — are not the problem. In How to Find Your Soulmate Without Losing Your Soul, you'll discover twenty-one strategies to help you raise the bar, instead of sitting at it, waiting around for Mr. Wonderful.
---

ARE YOU READY TO FIND PURE LOVE THAT YOU TRULY DESERVE?
GET YOUR COPY OF JASON AND CRYSTALINA EVERT'S BOOK, HOW TO FIND YOUR SOULMATE WITHOUT LOSING YOUR SOUL: 21 SECRETS FOR WOMEN
You don't even have to leave the comforts of your home. You can buy your own copies online! Here's how:
FOR PAPERBACK and DIGITAL versions:
Visit KerygmaBooks.com/shophttp://kerygmabooks.com/shop and click on the titles that you would want to order.
Choose PAPERBACK or DIGITAL and check out your order.
Choose your payment method.
Pay via bank deposit or PayPal.

For bank deposit: pay your balance and email your deposit slip to sales@blog.feastbooks.ph
Pay directly via PayPal.

For PAPERBACK: Wait for the books to be delivered right to your home! (For orders P500.00 and up, within Metro Manila only. Standard shipping rates apply for orders below P500.00 or are outside Metro Manila.)
For DIGITAL: Wait for the confirmation of receipt of payment. The download links to your books is included in the email.
---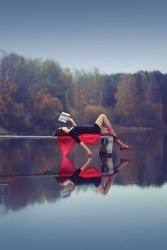 NURTURE YOUR SOUL EVERY DAY!
Visit us at KerygmaOnline.ph and read our online magazine. Enjoy fresh articles that will surely nourish, inspire, and empower you in all aspects of your life. Kerygma Online is updated weekly.
Email us at kerygmaonline@gmail.com for comments, suggestions and contributions.
Photo credit: http://piccsy.com/2011/05/reading-8ozcw6p11/ through vi.sualize.us