The Price of Abundance
Don't judge each day by the harvest that you reap, but by the seeds that you plant. – Robert Louis Stevenson, 19th century Scottish Novelist
Friend, God is your gardener.
And God wants to prune you.
How do I know? Jesus said, 'I am the true vine, and my Father is the gardener. He cuts off every branch in me that bears no fruit, while every branch that does bear fruit he prunes so that it will be even more fruitful.'(John 15:1-2).
Why does God want to prune you? If you want an adequate life, there's no need for pruning.
If you want an abundant life, then it comes with a price.
And that price is pruning.
Source: How to Do the Impossible by Bo Sanchez
---
Close your eyes and think about something very valuable in your life for a few moments.
What did you think of? Friends? Family? Your community? Your job?
What if someday, God suddenly takes them away from you? Will you curse God and demand him to give them back, or will you settle down in prayer and  seek His will?
Let me tell you a story.
One day, Liza, a teacher, found out that her boyfriend cheated on her. She was devastated because she didn't see it coming. She thought everything was peachy between them—they go out on weekly dates, they text each other the entire day, and they even call each other via Skype at night. Her whole life was focused on her boyfriend, so she couldn't understand why he suddenly left her for another girl. But instead of drowning her sorrow in vices, she focused on sending out applications to schools. One of the top schools in the Philippines responded, and after a series of interviews, she was in! Her days were filled with so much laughter, love, and learning. Her students loved her so much, that they began calling her  "Mama" or "Nanay" even inside the classroom. She made great friends and had become a part of the makeshift family in their faculty room.
Upon reflection, she realized that God has pruned her boyfriend away from her life, because He was preparing her not only for a job she clearly loved, but also because He had plans of sending her hundreds more people to love. If she was still dating her boyfriend, whom she had loved so much, she wouldn't have had that much love to give to her students and new friends.
When God takes something away from you, it means He's cleaning up your life and paving the way for something greater that would come in. Friends, allow God to prune you. Submit yourself to God's pruning, and wait for the wonderful things He has in store for you!
This article is based on Bo Sanchez' book, How to Do the Impossible. Click here to buy!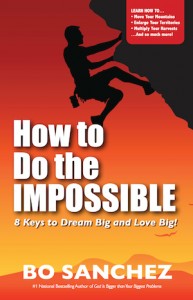 Were you blessed by this article? Join the mailing list to receive weekly inspirational articles, reflections, and newsletters. Visit http://blog.feastbooks.ph to sign up. Like us on Facebook at http://fb.me/ShepherdsVoicePublications for daily inspirational quotes, messages, and photos. Be blessed and Live a Fantastic Life!