---
"Truly I tell you, if anyone says to this mountain, 'Go, throw yourself into the sea,' and does not doubt in their heart but believes that what they say will happen, it will be done for them." — Mark 11:23
---
Move Your Mountain
ONCE UPON A TIME, DAVID FACED A MOUNTAIN NAMED GOLIATH.
When young David came into the scene of the battle, all the soldiers were complainers. Every single one of them! Everyone was saying, "My gosh, look at the giant! Look at those giant legs. Look at those giant arms. He's so big. He's a monster. He probably eats his own children for breakfast! And when he's still hungry, he eats his nephews and nieces!"
But David wasn't a complainer. He was a conqueror. He didn't dwell on the mountain. He dwelt on the Mountain Mover, his Father in heaven. He said, "Who is this uncircumcised Philistine that he should defy the armies of the Living God? You come to me with sword and spear and javelin, but I come to you in the name of the Lord Almighty."
Don't focus on the mountain.
Focus on the mountain mover.
Excerpt taken from How to Do the Impossible
Photo Credit: http://www.pixabay.com
---
Action Step:
List down your 'mountains' and 'Goliaths'. List down the steps on how you plan to move those mountains and defeat those giants.
---
My friend Rosanne Romero has been facing an incredible mountain in her life. She has been diagnosed with Multiple Sclerosis (a disease that targets her cerebellum and limits her movements) twenty-eight years ago. Many would have allowed a grave sickness to dictate the way they live, but Rosanne has faced each day with a remarkable sense of humor and an awe-inspiring faith in the Lord. She wrote a book, Amusing Grace, A Second Helping, which shows us that there are miracles amidst the mundane, and there is hope amidst adversity.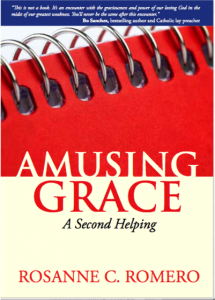 HOW DOES ONE JOURNEY THROUGH THE TRIALS OF LIFE AND STILL SMILE?
Amusing Grace, A Second Helping shows us the secrets to a life of meaning and joy amidst suffering and long-term illness. This second collection of Rosanne's articles from her "Kitchen Scribbles" column in Kerygma carries with it the depth of insight and humor that makes her column one of the best-loved among the readers.
Visit www.KerygmaBooks.com to order your print copies. Go digital and download a copy of this book straight into your gadget. Visit www.KerygmaBooks.com/ebooks  to get an e-book version now!
Nurture your soul by reading more inspirational articles written by Bo Sanchez and other bestselling authors at Live a Fantastic Life E-Magazine. Visit www.kerygmabooks.com/kerygmaonline and be very blessed!