---
"Commit your work to the Lord, and your plans will be established."
-Proverbs 16:3
---
Create Your Future Today 
In 2009, we only had 3,000 people attending The Feast, our spiritual gathering. We gathered in Valle Verde Country Club. I remember going home after one Feast and writing a dream in my journal: "One day, we will have 8,000 people attending The Feast, receiving
God's love every Sunday."
People told me that this was a humongous jump — 3,000 to 8,000 is a 160-percent growth. But I believed it was going to happen. The dream was set in my mind: 8,000 people.
But dreaming wasn't enough. Positive thinking wasn't enough. I now had to create a plan to achieve that dream.
First, I knew we had to relocate. Because Valle Verde couldn't accommodate 8,000 people.
Second, we had to raise more volunteers, more leaders, and more givers.
I then consulted with wiser leaders of other organizations that grew from 3,000 to 8,000 and beyond.
Result? We transferred to the Philippine International Convention Center, one of the most beautiful venues in the country.
Today, there are 12,000 people coming every Sunday. (Plus, there are still over a thousand people who attend our Feast in Valle Verde.) Because successful people think long-term, we're thinking five to 10 years from now. One day, we'll have 30,000 people joining us every Sunday, receiving God's love.
Why am I sharing this with you?
Because you have your own dreams. I now urge you to write a plan. Create your future reality in your imagination. Chart a pathway towards your purpose. And seek help from others who are more proficient than you are.
Create your future today. Today is new. A new slate. A new start. A new beginning.
Imagine your success now.
Photo Credit: http://www.pixabay.com
---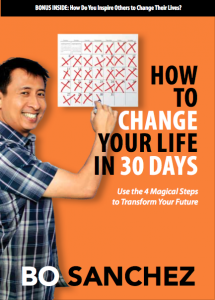 DO YOU WANT TO CHANGE YOUR LIFE?
There are some behaviors in your life that aren't working for you anymore. They don't bless you anymore. They don't serve your purpose anymore. They don't make you a better person or bring you closer to your dreams. And more importantly, they don't bless the people you love anymore.
Let Bo Sanchez be your mentor and guide in transforming your life. This isnt just an ordinary book, but a step-by-step Personal Change Manual. Each page, each story, each principle will equip you to change your life — so that you don't become a museum of dead light bulbs. Instead, you'll be a house with lovely lights, shining bright and beautiful, inspiring others to also change their lives.
Visit www.KerygmaBooks.com to order your copies now. Go digital and download a copy of this book straight into your gadget. Visit www.KerygmaBooks.com/ebooks to get an e-book version now!