---
"I appeal to you therefore, brothers, by the mercies of God, to present your bodies as a living sacrifice, holy and acceptable to God, which is your spiritual worship."
– Romans 12:1
---
An Emotional Purpose
Danny was overweight by 55 pounds.
For the longest time, he wanted to start an exercise program. Specifically, he wanted to take a walk every morning. Danny had all the logic in the world — because he was a doctor. His neocortex was brimming with the right information. He knew all the facts. He read all the books. He knew all the statistics. He knew the lectures.
But no matter how "logical" his reason was to lose weight, he never kept his exercise program. Because his pillow was soft. And the blanket was warm. And the bed was so inviting…
But one day, something happened. Danny was at home, sipping his coffee as he read the newspaper.
That was when his little eight-year-old girl, wearing a pretty princess dress, complete with a shiny crown on her curly hair and pink high heels on her feet, walked up to him and said, "Daddy!"
"What?" Danny asked, while still reading the "Daddy!" she shouted louder.
"What is it?" he asked again, still reading.
That was when his little princess pushed down his newspaper, stared straight at her father's face, and said, "Daddy, will you still be alive when I get married?"
Suddenly, everything stopped for Danny. The walls, the ceilings, all the furniture at home became a giant blur — except for his girl in front of him, asking him this terrifying question.
When she said those words, he felt intense pain. It was so real, it was as if someone planted a sharp dagger into his chest.
Slowly, a very vivid picture grew in his mind. He saw himself walking down a church aisle, beside his daughter, now a beautiful young woman, and giving her away to a well-dressed monster waiting at the altar…
He also realized how he needed to live a long life.
Because who will protect his little girl from unscrupulous suitors? In his mind, he devised a plan: The moment a suitor — any suitor — knocked on the door, he'd open it, and without any warning, simply punch the punk on his solar plexus. As the punk crumples to the ground, curling in pain, he'd say in a low growling voice, "You haven't done anything wrong yet. Wait till you do…"
The next morning, Danny went out to walk. And the next day, he walked again. And the day after. Before long, he was jogging, running. Two years later, he still runs every morning. So far, he's lost 30 pounds.
Logic didn't change him. But he found an emotional reason big enough to make him change.
Image from: http://www.alkalinebydesign.co.uk/wp-content/uploads/2011/08/Losing-Weight.png
---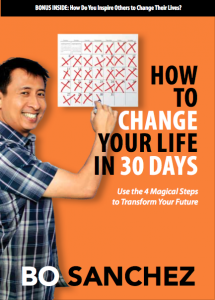 There are some behaviors in your life that aren't working for you anymore. They don't bless you anymore. They don't serve your purpose anymore. They don't make you a better person or bring you closer to your dreams. And more importantly, they don't bless the people you love anymore.
Let Bo Sanchez be your mentor and guide in transforming your life. This isnt just an ordinary book, but a step-by-step Personal Change Manual. Each page, each story, each principle will equip you to change your life — so that you don't become a museum of dead light bulbs. Instead, you'll be a house with lovely lights, shining bright and beautiful, inspiring others to also change their lives.
Visit www.KerygmaBooks.com to order your copies now. Go digital and download a copy of this book straight into your gadget. Visit www.KerygmaBooks.com/ebooks to get an e-book version now!