Fast Train
It's five thirty in the morning, and the sun is yet to come up. You open your eyes and lie in your bed for a few moments, trying to rub the last remnants of sleep from your eyes. You step out of bed, go directly to the bathroom, take a bath, brush your teeth, dress up for the day, eat breakfast (if you're lucky), kiss your Mama good–bye, and then rush out to the near-deadly race track of fast cars, furious pedestrians, and vicious commuters. You elbow your way into the already jam-packed car of the MRT and internalize the life and times of a sardine for the entire duration of the ride, until finally, you get off at your stop, walk to your building, head towards your cubicle, and start ticking off your tasks for the day. The hours fly by and it's six o'clock. You clock out, experience the same deadly grind on the way home, and when you arrive, you eat dinner, mumble a half-hearted 'good night' to your mama, and drop dead for the night.
You wake up the next day, and it all starts over again.
Sounds familiar? Is this the kind of life you're living right now? If yes, then you've got to really stop for a while, because that's not living… that's just existing. And if this goes on, then one day, it's going to hit you all at once, and you'd find yourself stopping in the middle of the crowded street and asking yourself, "What am I doing with my life?" You'd be so lost, because somewhere along that mindless routine you have mistaken as your 'life', you've lost your anchor, your purpose, and yourself.
You've got to stop for a moment and take hold of yourself again. You only live once (YOLO, they say!), so don't let this wonderful life just pass you by. God didn't put you in this world just so you could lose yourself doing things that don't really matter. Go on a retreat. Go out with your friends. Climb a mountain. Serve in your community. Buy a hamster and take care of it (I did!). Do things that make you and others truly happy.
Life could be a fast train, but it could also be a walk in the park. It's a choice that you have the power to make.
Choose life.
---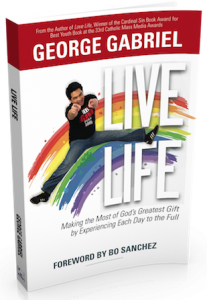 Are you living or merely existing? Do you take life by the reigns or do you just let it pass you by? Do you strive to outdo yourself or do you simply do what's required? It's time to take charge and enjoy every moment God has blessed you with.
In his second book, Live Life, George Gabriel challenges you to go to the next level of living.
His simple stories about everyday life will inspire you to savor every second of your existence while marveling at the God who desires to reveal Himself to us in all things at all times:
A Time for Everything
 My Wife Has White Hair!
Don't Settle for an Empty Mug
The Right to Rejoice
Every Tear Will Be Wiped Away
A Lesson from Candy Crush
God Hears Your Every Prayer
… And many more!
CLICK HERE TO READ CHAPTER 1