"How's your mom?"
This is a question I often get from Mom's close friends especially during Christmas. They then say, "We'll visit her one of these days." Regrettably, none of them do. They may have been busy over the holidays. Or maybe, they just do not know what to do or say. Still, it would have been nice if they had visited Mom.
Keeping relationships and friendships intact is difficult for an Alzheimer's patient. As the disease progresses, the behavioral changes — like mood swings, the repetitive questions, paranoia, and conversations that no longer make sense — become more challenging.
Once, after hearing Sunday Mass at a mall, a dear friend of Mommy eagerly greeted her. But all she could say was, "Who are you?" I had to explain Mommy's condition to spare her friend from embarrassment.
Sadly, some friends have distanced themselves. I wish they can hear the mute plea of a patient saying, "Do not focus on how I look but on how I feel." Some patients suffer from loneliness and mild depression because of the withdrawal of their friends. Most do not need drugs to treat depression. Oftentimes, they just need their family or friends who will spend time with them.
What many fail to realize is that although people with Alzheimer's disease may not seem lovable, they are capable of experiencing happiness. They are still part of this world. Experts say they will most likely forget what you say but will surely remember how you made them feel.
We are thankful to those who choose to stay in Mommy's life. Yes, she is a different person now, but she is still here. She is not yet gone.
*This excerpt is taken from Before I Forget by Cindy Reynes.
Photo from Pixabay.com
---
How do you cope with seeing a loved one's life erased by Alzheimer's?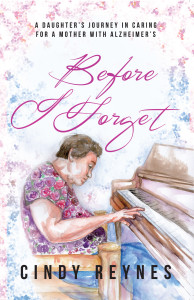 Cindy Reynes took up a second degree to become a nurse. But when her mother got afflicted with Alzheimer's disease, she chose not to practice her profession and instead become her mom's primary caregiver. While caring for her mom, she faced the greatest challenge a daughter can have: to keep loving and honoring a parent who no longer remembers her — one who was fast becoming a stranger.
She captured the heartwarming and, at times, heartbreaking stories in a journal that has now evolved into the book you now hold in your hands.
In these pages, Cindy shares her painfully honest, humorous, and poignant struggles as a care partner of her mom afflicted with this progressive disease.
This chronicle of her pilgrimage from denial to acceptance, resentment to forgiveness, and heartbreak to unconditional love also offers practical tips on how you can care for your loved ones in sickness or in health.
---
LAUGH AND CRY WITH CINDY REYNES AS SHE RECOUNTS HER JOURNEY IN CARING FOR HER MOM WHO STRUGGLES WITH ALZHEIMER'S 
GET YOUR COPY OF CINDY REYNES' BOOK,
BEFORE I FORGET: A DAUGHTER'S JOURNEY IN CARING
FOR A MOTHER WITH ALZHEIMER'S
You don't even have to leave the comforts of your home.
You can buy your own copies online!
Here's how:
FOR PAPERBACK and DIGITAL versions:
Visit www.KerygmaBooks.com/shop and click on the titles that you want to order.
Choose PAPERBACK or DIGITAL and check out your order.
Choose your payment method.
Pay via bank deposit or PayPal.

For bank deposit: pay your balance and email your deposit slip to sales@blog.feastbooks.ph
Pay directly via PayPal.

For PAPERBACK: Wait for the books to be delivered right to your home! (For orders P500.00 and up, FREE shipping within Metro Manila only. Standard shipping rates apply for orders below P500.00 or outside Metro Manila.)
For DIGITAL: Wait for the confirmation of receipt of payment. The download links to your books is included in the email.
---
Sometimes, you just need a little ray of sunshine to break through the dark clouds that hover in your life.
KERYGMA ONLINE MIGHT JUST BE THE BLESSING YOU NEED.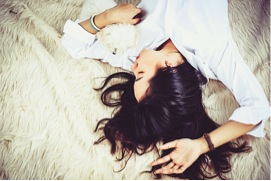 At KERYGMA ONLINE, we give you fresh articles on life, love, finances, spirituality, health, and career TWICE A WEEK.
Some of these articles are actually excerpts from our bestselling and award-winning books, while some are contributed and written by our pool of blessed and anointed writers.
YOU CAN WRITE FOR US, TOO! Email us at editor.kerygmaonline@gmail.com if you have a story that you want to share to our millions of readers across the globe.
Visit us at www.KerygmaOnline.ph and read our online magazine. Enjoy fresh articles that will surely nourish, inspire and empower you in all aspects of your life.
Photo credit: www.pixabay.com