If you really want to know how you look, ask a person with Alzheimer's disease. They say that there are no medications to control their lack of social appropriateness.
Eventually, though, this stage will pass as the disease progresses.
Over lunch, Mommy tells our boarder, Jill, that she is beautiful.
Ecstatic, Jill replies, "Oh, Mommy, thank you kaayo (so much)! Thank you gyud (really), Mommy! Love you!"
"And you believe me?" Mommy responds. Oh, Mommy. You had to take it back after making her happy.
I am not spared of her honesty. One time, she remarked how beautiful I was, and in jest, I told her that I'd known that for a long time. "How can that be? I'm telling the truth only now," she asks. Oh, dear. Oh, Mommy.
There are other times when I attempt to elicit an annoyed response from her and find out, too late, that the joke's on me. After our usual morning greetings, I tell her she's beautiful. Seeing her big smile, I do a turnaround and in jest tell her she's also ugly. Her smile is replaced by a frown. I am speechless when she immediately replies, "Like you!"
I don't know if she is serious about it, but one time, she refused to eat. Her reason? She still had to find a husband, she said. I know better than to contradict her so I jokingly ask her not to and instead give me a turn since I'm still single. "Aw, you're not married?" she asks. When I say no, she says, "That's because you're not pretty."
My weight has also caught her eye. As we settle in for the night, I ask Mommy if I can kiss her good night. When she says yes, I lean over and kiss her three times, one for each of her children.
"Ouch. My side hurts. You're so heavy, Dy. Why are you so heavy? You're overweight," she complains.
I also remember the time I returned home after spending five days in the hospital for a major surgery.
"Hello, Mommy! I miss you!" I gush. She asks me where I'd been and tells me she misses me too. I tell her I underwent an operation and show her the Opsite dressing on my abdomen hoping to get some sympathy.
"That's good. At last you'll lose weight," she says. There goes my sympathy.
I have no ego when it comes to Mommy — if it means I can engage her in conversation and keep her mind active even for a short time, I can be the beast to her beauty. Love you, my dearest Mother. Mwah!
---
How do you cope with seeing a loved one's life erased by Alzheimer's?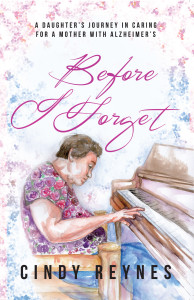 Cindy Reynes took up a second degree to become a nurse. But when her mother got afflicted with Alzheimer's disease, she chose not to practice her profession and instead become her mom's primary caregiver. While caring for her mom, she faced the greatest challenge a daughter can have: to keep loving and honoring a parent who no longer remembers her — one who was fast becoming a stranger.
She captured the heartwarming and, at times, heartbreaking stories in a journal that has now evolved into the book you now hold in your hands.
In these pages, Cindy shares her painfully honest, humorous, and poignant struggles as a care partner of her mom afflicted with this progressive disease.
This chronicle of her pilgrimage from denial to acceptance, resentment to forgiveness, and heartbreak to unconditional love also offers practical tips on how you can care for your loved ones in sickness or in health.
---
LAUGH AND CRY WITH CINDY REYNES AS SHE RECOUNTS HER JOURNEY IN CARING FOR HER MOM WHO STRUGGLES WITH ALZHEIMER'S 
GET YOUR COPY OF CINDY REYNES' BOOK,
BEFORE I FORGET: A DAUGHTER'S JOURNEY IN CARING
FOR A MOTHER WITH ALZHEIMER'S
You don't even have to leave the comforts of your home.
You can buy your own copies online!
Here's how:
FOR PAPERBACK and DIGITAL versions:
Visit www.KerygmaBooks.com/shop and click on the titles that you want to order.
Choose PAPERBACK or DIGITAL and check out your order.
Choose your payment method.
Pay via bank deposit or PayPal.

For bank deposit: pay your balance and email your deposit slip to sales@blog.feastbooks.ph
Pay directly via PayPal.

For PAPERBACK: Wait for the books to be delivered right to your home! (For orders P500.00 and up, FREE shipping within Metro Manila only. Standard shipping rates apply for orders below P500.00 or outside Metro Manila.)
For DIGITAL: Wait for the confirmation of receipt of payment. The download links to your books is included in the email.
---
Sometimes, you just need a little ray of sunshine to break through the dark clouds that hover in your life.
KERYGMA ONLINE MIGHT JUST BE THE BLESSING YOU NEED.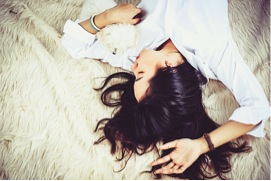 At KERYGMA ONLINE, we give you fresh articles on life, love, finances, spirituality, health, and career TWICE A WEEK.
Some of these articles are actually excerpts from our bestselling and award-winning books, while some are contributed and written by our pool of blessed and anointed writers.
YOU CAN WRITE FOR US, TOO! Email us at editor.kerygmaonline@gmail.com if you have a story that you want to share to our millions of readers across the globe.
Visit us at www.KerygmaOnline.ph and read our online magazine. Enjoy fresh articles that will surely nourish, inspire and empower you in all aspects of your life.
Photo credit: www.pixabay.com