Miracles Need a Miracle Worker
by Bo Sanchez
When I was a young guy reading the Bible, I asked myself three questions:
• Could God have rescued mankind from the great flood without Noah?
• Could God have rescued Israel from the Egyptians without Moses?
• Could God have rescued Israel from Goliath without David?
I realized the answer was a big yes, He could have. After all, He's God. But here's what's interesting: He didn't.
If you look at history, you'll see that God works His miracles only through fumbling, faltering, frail, fragile, and failing human beings.
How will His love be broadcast throughout the world? Through you.
How will His love reach the poorest of the poor? Through you.
How will His love bless the nations? Through you.
My point? Miracles need a miracle worker.
That's just how God operates.
For the past thirty-six years of doing ministry work in the Light of Jesus Family, whenever we needed money to feed the poor in Anawim, or send missionaries all over the world, or publish Kerygma magazines—money didn't magically pop up in our bank account. But boy, would that be wonderful!
Imagine our accountant calling our bank, "Good morning, Miss Bank Manager! We would like to ask why, all of a sudden, there's an extra P100 million in our bank account? Where did that come from?" And the bank manager says, "Huh? Let me check. Oh my goodness… It was a bank transfer. According to our records, the bank that deposited the money was the Kingdom-of-God Bank and the depositor was a certain Mr. Jesus Christ."
That never happened. I wish it did.
But for the past thirty-eight years of our ministry, God has miraculously provided for all our ministry needs. Every single time. How? Miracles came from miracle workers: Ordinary people who gave P100, P500, P1,000, P10,000.
Friend, do you want a miracle?
God is looking for miracle workers.
If you want a miracle, you have to be a miracle worker.
Maybe you're thinking, "Bo, there's nothing special about me. I'm not good enough. I'm not holy enough. And I'm not skilled enough. I'm so ordinary!"
Hey, you're in luck (blessed). Because that's exactly the qualifications God is looking for in a miracle worker.
This article is an excerpt from the book, Be Happy, Healthy, and Wealthy Today: How to Be Richer with Life Lessons from the Teacher and the Preacher by Bo Sanchez and Dean Pax Lapid, PhD.
Featured photo by Josh Boot on Unsplash
On the next chapter, Bo Sanchez will talk about what happens when you say "Wow!" more often. Grab a copy of his book here.
DOWNLOAD A FREE CHAPTER HERE!
---
Do you want to change your life and be truly rich?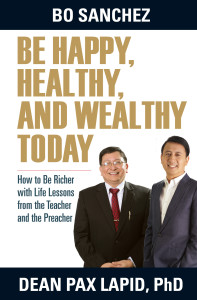 Don't look for complicated solutions. Look for simple ones instead.
This book contains tried and tested truths gained from the school of experience, the best teacher of all.
Dean Pax Lapid and Bo Sanchez have joined forces once again to give you the lessons you need to learn to succeed in business and in life.
They have distilled over half a century of lessons learned through living, failing, and succeeding. You will save yourself from a lot of unnecessary heartaches when you listen to them. Learn the lesson without having to go through the painful experience.
The simple truths captured in this book have the power to transform your destiny. They will help you become truly rich and happy when you apply the priceless wisdom contained here.
In this book, you will learn about:
✔️ The Dreams and Drivers to Success
✔️ Valuable Nuggets of Financial Wisdom
✔️ Snippets of Business Success
✔️ How to Live in Significance and Trust
✔️ The Pattern of a Miracle
Drink up their stories, their experiences, and their lessons. Their life lists are an invitation for you to create your own. Listen and learn from the teacher and the preacher and start living a fulfilled life. Be happy, healthy, and wealthy starting today.
Get your copies now! Click HERE to get a copy of Be Happy, Healthy, and Wealthy Today by Bo Sanchez and Dean Pax Lapid.

---
GET MENTORED BY THE EXPERTS
GET YOUR COPY OF BO SANCHEZ AND DEAN PAX LAPID'S
BE HAPPY, HEALTHY, AND WEALTHY TODAY
You don't even have to leave the comforts of your home. You can buy your own copies online!

Here's how:
FOR PAPERBACK and DIGITAL versions:
Visit www.feastbooks.ph and click on the titles that you want to order.
Choose PAPERBACK or DIGITAL and check out your order.
Choose your payment method.
Pay via bank deposit or PayPal.
a. For bank deposit: pay your balance and upload your deposit slip at the link we've e-mailed to you upon placing your order.
b. Pay directly via PayPal.
For PAPERBACK: Wait for the books to be delivered right to your home! (For orders P1,500.00 and up, FREE shipping within Metro Manila only. Standard shipping rates apply for orders below P1,500.00 or outside Metro Manila.)
For DIGITAL: Wait for the confirmation of receipt of payment. The download links to your books is included in the email.