---
But you, Lord, are a merciful and gracious God,
slow to anger, most loving and true. – Psalm 86:15

---
Jeff Abiera is not your typical missionary. First of all, he's not celibate. He's married to Jigs, a beautiful and sweet international stewardess. (Some guys have all the luck.)
Second, he doesn't live in a dense jungle in the middle of a faraway island preaching to primitive tribes. Jeff's been living in cosmopolitan Hong Kong for 16 years, probably one of the busiest, fastest, most materialistic cities in the world. I actually stayed in his swanky condo for four days — enjoying his floor-to-ceiling window overlooking a man-made lake. And for the first time in my life, I enjoyed drinking "alkalinized, mineralized and oxygenated" water from a sophisticated gizmo in his kitchen. (That's Hong Kong for you.)
Jeff is the typical laptop-carrying, jet-setting, tech-savvy HK resident with an MBA tucked under his belt. His career has been nothing less than spectacular. For years, he was an IT specialist in IBM Hong Kong and later became the head of the IT for the British International School — totaling 15 schools(!).
So is he really a missionary? You be the judge. Jeff tells me that his passion is to serve God. So great is that passion that last year, Jeff left his high-paying job to study Masters in Theology in Vancouver. (He regularly jets between Hong Kong and Vancouver.) When he finishes in 2008, he dreams of teaching Theology in Hong Kong.
Jeff and Jigs serve in Bukas Loob sa Diyos-Hong Kong as district servant leaders, worship leaders and district teachers. They dream that by age 55, they'll have enough passive income from their rental properties (they invest in real estate) to serve the Lord full-time.
But Jeff told me that he wasn't like this before — that he went through years of intense, gripping fear. But I don't want to go ahead of the story. Here's my chat with him in his dining room, while I drank his hi-tech water.
Bo: You're a computer guy. What in the world are you doing studying Theology?
Jeff: Since I joined the Renewal, I fell in love with God's Word. I know you understand me when I say that I fell in love with the Word. And whatever knowledge I gain, I want to share with others. So I'm invited to give Bible studies to different groups here in Hong Kong.
Bo: Studying Theology is expensive?
Jeff: Yes, tuition fees and staying there is really expensive. But we put our money where our mouth is. This is my passion. When I gave my first talk in Bukas Loob, I remember an old man approached me and said, "Jeff, you found your niche." And I knew I did.
Bo: You dream of becoming a Theology professor?
Jeff: Yes. But my real dream is that by age 55, both Jigs and I will serve Him full-time. But that means having enough passive income from our rental properties.
I suffered from a scrupulous conscience. I went to confession every day. I lived in fear… the fear of going to hell.
Bo: You're a Robert Kiyosaki fan? Where are your properties?
Jeff: We've invested in real estate properties in the Philippines and abroad.
Bo: That's great. You also entered the seminary years ago?
Jeff: That's a whole different story. At the seminary, I developed a problem. I suffered from a scrupulous conscience. I went to confession every day. I lived in fear… the fear of going to hell. Before entering, I was a member of the Friends of St. Dominic Savio Sodality and his motto was our motto — "Death Rather Than Sin." I was young and idealistic. My aim in life was to be a saint and go to heaven. And I felt that the best way to achieve that was to become a priest. So I entered the seminary. And I had my first general confession. And I started to learn more about the teachings of the Church, the difference between mortal and venial sin… The desire to reach sanctity intensified. Unfortunately, I wanted to be a saint through my own effort. That's when I started becoming scrupulous.
Bo: So you actually went to confession every day?
Jeff: I did. If I had an impure thought, I'd run to confession. I constantly asked myself, "Did I say an impatient word? Did I do my best in my project? Did I help my classmate enough?" When I prayed the Rosary, I wanted to be focused at every bead. If I was distracted at one point, I would go to confession. If I couldn't go to confession, I wouldn't be able to sleep at night. I was afraid that God would throw me to hell.
Bo: That's unbelievable. What did your confessor say?
Jeff: He scolded me. He told me to go to him only if I was bothered that I committed a mortal sin. But because I was always bothered, I went every day. He asked me to read the writings of St. Therese of the Child Jesus. I realized why — because she was simple. St. Therese would sometimes fall asleep in her prayers and she knew that God would understand her. I didn't have her confidence in God. When I fell asleep for a few seconds in our Eucharistic Adoration, I was terrified that I was going to go to hell. Even after I left the seminary, I continued to suffer from scrupulosity.
Bo: How did you get healed?
Jeff: The Charismatic Renewal Movement helped me so much. From seeing God as Punishing Judge, I now see Him as a Best Friend and a Merciful Savior. How can I be afraid? There was a time when I went to Mass and prayed the Rosary because of fear. Today, I go to daily Mass and pray the Rosary because I've fallen in love with God.
I got comforted when I read that Martin Luther and St. Ignatius of Loyola suffered from the same scruples. It's comforting to know I'm not alone in my problem. Sometimes, I feel out of place in a prayer meeting. Because their testimonies are so dramatic. They talk about how they did drugs, etc. I had a scrupulous conscience! Now I realize that there are some people out there who have the same problem that I have — and I can help them.
Bo: You were critical of yourself. Were you critical of others?
Jeff: No, I wasn't. I was so focused on myself — on becoming a saint and reaching heaven — I actually didn't think of others! In the Renewal, I learned to focus on others. The Mass and the Rosary are only the fuel to reach the destination, which is to serve Christ through others. That's what I want to do now.
Bo: That's a fantastic realization. You spent so much time focusing on yourself — perfecting this and that — when at the end of the day, you weren't following the Great Commandment, which is to love.
Jeff: Exactly.
Bo: And now you want your life to be love. I see it in the way you serve. I feel it when I'm with you. You have become a missionary of love.
Jeff: Thank you very much, brother.
---
Reflection:
Unless you change the tyrannical, legalistic and judgmental image of God in your heart, you will never grow in your spiritual life or love with genuine love. You will constantly be motivated by fear and love others in the same judgmental way.
Lord, change Your image in my heart. Remove from my imagination the judge holding a list of my sins on one hand, And the punisher holding a whip in the other! Introduce me to the real God that is madly in love with me.
---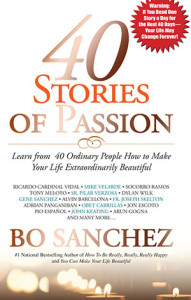 Learn from 40 ordinary people how to make your life extraordinarily beautiful!
This is not just a regular book. This is a 40-Day Retreat that will radically change the way you think, feel and live. Because in the next 40 days, there will be 40 friends who will share their stories, their secrets , their trials, their dreams, and their joys to you. You will heat their laughter. You will feel their tears.
Enjoy and be refreshed deep in your soul.
---
ARE YOU FOR A 40-DAY LIFE-CHANGING RETREAT?
GET YOUR COPY OF BO SANCHEZ'S BOOK,
40 STORIES OF PASSION
You don't even have to leave the comforts of your home.
You can buy your own copies online!
Here's how:
FOR PAPERBACK and DIGITAL versions:
Visit www.KerygmaBooks.com/shop and click on the titles that you want to order.
Choose PAPERBACK or DIGITAL and check out your order.
Choose your payment method.
Pay via bank deposit or PayPal.

For bank deposit: pay your balance and email your deposit slip to sales@blog.feastbooks.ph
Pay directly via PayPal.

For PAPERBACK: Wait for the books to be delivered right to your home! (For orders P500.00 and up, FREE shipping within Metro Manila only. Standard shipping rates apply for orders below P500.00 or outside Metro Manila.)
For DIGITAL: Wait for the confirmation of receipt of payment. The download links to your books is included in the email.
---
Sometimes, you just need a little ray of sunshine to break through the dark clouds that hover in your life.
KERYGMA ONLINE MIGHT JUST BE THE BLESSING YOU NEED.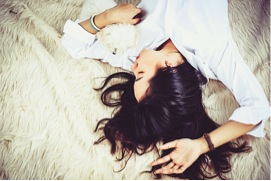 At KERYGMAONLINE, we give you fresh articles on life, love, finances, spirituality, health, and career TWICE A WEEK.
Some of these articles are actually excerpts from our bestselling and award-winning books, while some are contributed and written by our pool of blessed and anointed writers.
YOU CAN WRITE FOR US, TOO! Email us at editor.kerygmaonline@gmail.com if you have a story that you want to share to our millions of readers across the globe.
Visit us at www.KerygmaOnline.ph and read our online magazine. Enjoy fresh articles that will surely nourish, inspire and empower you in all aspects of your life.
Photo credit: www.pixabay.com