Tony Robbins, one of the most popular and respected motivational speakers and life coaches, shared an exercise that I found very helpful in setting and reviewing goals.
I tweaked this exercise to make the metrics more precisely defined so the results can directly lead to an effective monitoring system.
In this exercise, you need to examine your past based on the different facets of your life that are important to you.
Step 1: List down the facets of your life that are important to you.
Tony used ten areas, and I limited it to five: Physical, Intellectual, Relational, Financial, and Spiritual. I believe that it may be easier to focus on a shorter list that can be further expanded as greater discipline is installed. You can add Career/Business, if this area is not directly linked to your Financial area. Keep in mind that I just suggested these areas. You have to come up with your own list based on what is important for you.
Step 2: Look back five years ago and remember the person you were back then.
Rate that person (1–10, with 10 as the highest) on these areas, which I suggest for evaluation and reflection. Think about the reasons for your rating.
Step 3: Shift your focus on the person you are today.
Rate yourself on these same areas and come up with the reasons and justifications of your score.
Step 4: Compare your results for Steps 2 and 3.
Did all areas go up in terms of rating? Did all go down? Or is it a combination of some going up and some areas deteriorating? this step will tell you the focus you had on your life for the past five years. The huge improvements are seen on areas that you prioritized. The decrease in numbers represent the areas that you normally traded off. Many of us don't want to score low on these important aspects, but we weren't conscious of the long-term effects of our actions.
Step 5: Think about the person you want to become in two years.
Rate that person on each facet on your list, but instead of thinking about the reasons for your rating, set up metrics which you will use to measure your success. On an added column, write down everything you will commit to do to achieve that rating you chose.
As an example, you can rate Physical as 9, with firm metrics such as weight, waistline, blood pressure, and any other relevant measures that will ensure your physical well-being. On the last column, you can indicate commitments for six hours of exercise per week, 10,000 steps per day, limitations on diet, and other things you can do to achieve your desired rating.
With Step 5, and after completing the table for all the other important areas of your life, you have brought forth an effective goal-setting program.
"Yesterday, Today, and Tomorrow" sets up the things that you have to deliberately do. Your future rating in the important aspects of your life will never be left to chance. Regrets caused by missing out on anything due to the unconscious trade-offs that we usually make are therefore avoided.
Let me give you examples. Everyone knows I'm such a busy person. A lot of the companies and people meet with me for business, opportunities, and advice, and these take up much of my time. But because of my family and relationship goals, I make it a point to have a weekly date with my wife, Anna, and each of my children separately.
Yes, one on one. On Sundays, we go out as a family, and that's family time, which is different. Some conversations don't happen when you're all together, especially for the kids. So I spend time with my daughters and son separately, and in that hour or two or three, they "own" me. They dictate what we will do. It may be a game of golf, a movie, or going out for a drink in a bar. It's during these times when they open up to me and discuss some special topics. The target is once a week. If I fail to do it in a week, I need to have two hours with that child the following week. By having those targets, I have something to measure myself against. And things are made simple. The only question I need to ask myself is, "Did I give my kids their 'secure hour' for this week?"
For spirituality, it can be a minimum commitment to devote fifteen minutes of prayer in the morning and fifteen minutes before sleeping on a daily basis, plus one hour for Mass on Sundays.
As you constantly deliver on those metrics, you will tend to do a bit more. You will start attending prayer meetings, Bible studies, and celebrations like The Feast, the weekly prayer gathering of Bo Sanchez's Light of Jesus Family. You will also serve in your parish, community, and become more spiritually conscious.
When you achieve your goals, you will move on to the next level. Once you move on to the next level in all the facets of your life, and you do it year after year, your goals will change, and the aspects of life covered by your goals will expand too. They will become much higher than what an ordinary person can achieve.
You heard this many times: "Extraordinary people are just ordinary people focused on doing extraordinary things." It's what you set forth as goals that set you up to become special.
This article is an excerpt from the book, Trailblazing Success: Ignite Your Corporate Career, Business and Influence by Rex Mendoza.
Featured photo by Jared Sluyter on Unsplash.
On the next chapter, Rex Mendoza will talk about things that can block abundance in your life. Grab a copy of his book here.
---
Do you long for meaningful success in your career, business and leadership?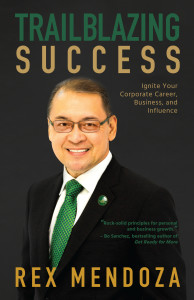 Packed with wisdom and powerful insights, this book will set you up for success.
Whether you are an employee, executive, entrepreneur, or student, there is a lesson for you to learn. The author is a living testament that you can be all that you set out to be.
From his humble beginnings as an employee and insurance agent, to his rise as CEO of a multinational company, a successful entrepreneur, and a prosperous investor, Rex takes you on his life journey and along the way equips you with the tools you need for your own success.
You will also learn leadership lessons that you need as you move from one stage of your career to the next.
Soak in the wealth of insights from this inspiring leader who honors God and is loved by those whose lives he has touched. Follow best practices that Rex generously shares to catapult you in your career, business and family life.
Get your copies now! Click HERE to get a copy of Trailblazing Success by Rex Mendoza.

---

GET MENTORED BY THE EXPERT!
GET YOUR COPY OF REX MENDOZA'S
TRAILBLAZING SUCCESS
You don't even have to leave the comforts of your home. You can buy your own copies online!

Here's how:
FOR PAPERBACK and DIGITAL versions:
Visit www.feastbooks.ph and click on the titles that you want to order.
Choose PAPERBACK or DIGITAL and check out your order.
Choose your payment method.
Pay via bank deposit or PayPal.
a. For bank deposit: pay your balance and upload your deposit slip at the link we've e-mailed to you upon placing your order.
b. Pay directly via PayPal.
For PAPERBACK: Wait for the books to be delivered right to your home! (For orders P1,500.00 and up, FREE shipping within Metro Manila only. Standard shipping rates apply for orders below P1,500.00 or outside Metro Manila.)
For DIGITAL: Wait for the confirmation of receipt of payment. The download links to your books is included in the email.