---
Then the Lord your God will make you most prosperous
in all the work of your hands…
Deuteronomy 30:9
---
This is unlike any other book you've ever read about money.
In these pages, I propose to you a way of life where you can be open to money and wealth, yet your soul is free from greed and materialism. I propose to you a way of life where you create material abundance yet remain detached, pure, and loving in your heart and inner purpose.
Is is possible, you ask, to have the wealth of a millionaire and the heart of a monk at the same time?
My answer is a resounding yes!
I'm not going to kid you: It will be difficult.
But is that surprising? Nothing of great achievement comes easy.
Why Be Rich Anyway?
This question is crucial.
In fact, there are religious people out there ready to crucify me now — because they think there is only one reason why people want to be rich: because of greed.
"What has happened to Bo?" they ask, "He's gone over to the devil's side. He's now preaching materialism."
Friend, I can't and will never preach materialism.
Believe me, I've seen materialism in the depths of my soul and smelled its stench. I've seen it at work in the hearts of those I try to help every day, and I saw how materialism eats her children alive. Materialism promises heaven but delivers hell. It's a faceless monster that destroys persons, families and nations.
No, wealth can never answer the deepest longings of our soul.
Only love can do that.
Only God can do that.
So why is a preacher like me writing a book about money?
I Don't Want You to Be Rich;
I Want You to Be Truly Rich
Why stop at being rich?
Why not go all the way to become truly rich?
When you're truly rich, you're not only wealthy with your money.
You're wealthy in all other areas of your life: love, family, spirituality…
For example, I don't even look rich at all.
Despite now having 16 sources of income flowing to my life, I still live a simple life. Because I want to!
My wife and I still live in a tiny house built on a 65-square-meter property. It's so small; I can close the windows and open the fridge and you'd think we had centralized air-conditioning. I tell our visitors to visit us two by two so that they can fit.
But according to Thomas Stanley in his best-selling book, The Millionaire Next Door, most millionaires in America live in simple homes located in simple neighborhoods.
Our home is in a third-class subdivision that doesn't even have running water. Yes, there are places forgotten by time in civilized Manila. Dig under our street, and there are no water pipes under the ground — just like in Ancient Mesopotamia. We have to order water at P150 per delivery truck.
So we hate our home and neighborhood, right?
Wrong.
I cannot describe to you how we love it here.
The Lifestyle of the Rich and Faithful
I've learned to measure wealth not just by how much money I have, but by how much of that money is controlled by love.
Let me tell you my story.
When I was 12 years old, I had a spiritual conversion.
I met God and He rocked my world.
Part of that conversion was tithing.
I decided to give a tithe or 10 percent of my daily allowance to God.
That was difficult.
After all, Mom gave me P2 a day — not enough for an ice cream cone, which was P2.50 per scoop. So giving 20 centavos was a real sacrifice.
But I did it and learned a lifestyle that would never leave me to this day.
In the Old Testament, people were called to tithe, but in the New Testament, we're called to give from our joyful hearts. And when you're joyful, you tend to give more!
After 28 years of giving, I now earn enough to the point that I give 40 percent of my income to God and to the poor. (Hey, I know I'll lose a few rewards in heaven for telling you how much I give. But I don't care. I want to inspire people to give more to God and the poor.)
This is why I say I'm truly rich: because I'm a giver.
I'm far from becoming a millionaire in dollar figures. (One day, I'll reach that point, too. Just wait.) But it's of secondary importance to me.
Here's my real dream: To do a reverse tithe.
From giving 40 percent of my income to God and the poor, I want to earn so much that I can give 90 percent — and live on the remaining 10 percent. (Yes, I've got it all plotted out, written down in my 15-page Dream Book that I've been reading each morning for 10 years now. It's been incredibly accurate. If God blesses my business plans, I'll be able to do that by the year 2037. That's only a few decades from now. That's why I believe God has indeed given us the power to create our destiny.)
Hey, this is me. I'm not in any way imposing my dream on you.
I'm not even saying that you should give 40 percent of your income to God and the poor. That's my personal decision. My life has been so involved in ministry and service, I know its many needs. That's why I made that my dream.
But this is my challenge to you: Earn to give.
And it's true, God will bless the giver more than he can imagine.
*This excerpt is taken from 8 Secrets of the Truly Rich by Bo Sanchez.
Photo from Unsplashed.com
---
What the Rich Know That the Poor Don't Know
"Bo Sanchez's 8 Secrets of the Truly Rich balances our views concerning material wealth. It helps us appreciate God's gifts as means to multiply goodness in the world. May this book enlighten readers on the real value of money and its relation to the spiritual life."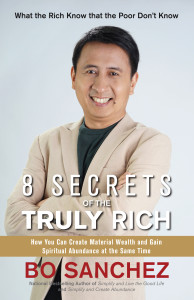 + Ricardo J. Cardinal Vidal
Archbishop of Cebu
"Being poor is not an acceptable excuse. There is nothing wrong with aspiring to be materially comfortable. Bo's book inspires us to work hard and aim high to be wealthy in the true sense of the word.
Bo shows the way! A good read!"
Founder and General Manager,
National Bookstore
"8 Secrets of the Truly Rich will inspire his readers to have the right attitude towards wealth, and give them practical tips on how to achieve financial success. This book is a combination of Kiyosaki's Rich Dad, Poor Dad infused with Bo Sanchez's humor and down-to-earth style. Talk about value for money! Practice what you preach, indeed."
— Bernadette Sembrano TV Host,
ABS-CBN
"Bo Sanchez demolishes the myths that equate wealth with materialism, and having money with being rich. He demonstrates how Christians and everyone else can and should strive to be wealthy, provided that there is social and economic justice and cooperation. He strikes the right chords when he pushes right attitudes, hard work and hits hard at the cultural baggage that hinders Filipino entrepreneurship."
— Gerry Ablaza CEO,
Globe Telecoms
---
DO YOU WANT TO CREATE MATERIAL WEALTH AND GAIN SPIRITUAL
ABUNDANCE AT THE SAME TIME?
GET YOUR COPY OF CLASSIC BESTSELLER FROM BO SANCHEZ,
8 SECRETS OF THE TRULY RICH
You don't even have to leave the comforts of your home.
You can buy your own copies online!
Here's how:
FOR PAPERBACK and DIGITAL versions:
Visit www.KerygmaBooks.com/shop and click on the titles that you want to order.
Choose PAPERBACK or DIGITAL and check out your order.
Choose your payment method.
Pay via bank deposit or PayPal.
a. For bank deposit: pay your balance and upload your deposit slip at the link we've e-mailed to you upon placing your order.
b. Pay directly via PayPal.
For PAPERBACK: Wait for the books to be delivered right to your home! (For orders P1000.00 and up, FREE shipping within Metro Manila only. Standard shipping rates apply for orders below P1000.00 or outside Metro Manila.)
For DIGITAL: Wait for the confirmation of receipt of payment. The download links to your books is included in the email.