Wealth Mindset Objection #3:
"I Might Do Something Against God's Will."
Some people say, "I just want to do God's will." You can say that in a right and wrong way.
Wrong way: When you're immobilized by your fear—specifically, a fear of failure.
Friend, here's what I believe: God gives you life like an empty canvas.
And He says, "Here's a paint brush. Here's a palate and here are 24 colors. Paint something so beautiful."
"Ah, Lord, what do you want me to paint?"
"It's up to you," He says.
"Lord, please tell me what to paint. At least, tell me if I should draw a bowl of fruits, a sunset scene perhaps or a group of children playing…"
"It's up to you. What do you want to paint?"
"Lord, what style? Classic? Realistic? Abstract?"
"It's up to you, child. What style do you want to use?"
"Lord, should I use red or blue or white or pink?"
"It's up to you, child. What color do you like to paint with?"
I know of some people who were aggressive businessmen before becoming religious. But after they became religious, they became cowardly. They lost their willingness to try new things out. They kept telling me, "I want to make sure it's God's will." Soon, their businesses became smaller.
What a pity.
I don't believe God is into micromanaging our lives. If that was His plan, He should have made us robots.
And He shouldn't have given us a phenomenal brain that can create and imagine new worlds.
Here's my belief: God's way is narrow between choices of good and bad. But God's way is very wide when it comes to choices between good and good. He opens up life to you like a white canvas and says, "Make your life the best life possible. Create something incredibly beautiful."
*This excerpt is taken from 8 Habits of the Happy Millionaire by Bo Sanchez.
Photo from Unsplashed.com
---
CREATE YOUR WEALTHY GOD'S WAY!
In this book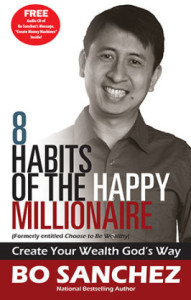 you'll learn the 8 Habits of Happy Millionaires, which includes…
Find Your Emotional Hunger
Be Consistently Aggressive
Create Money Machines
Stick on Your Game
When you acquire these same habits, you'll find that wealth creation becomes automatic. Spontaneous. Systematic. Effortless. And Fun!
---
DO YOU WANT TO MAXIMIZE THE GIFTS OF YOUR SEASON?
GET YOUR COPY OF CLASSIC BEST-SELLER FROM BO SANCHEZ,
8 HABITS OF THE HAPPY MILLIONAIRE
You don't even have to leave the comforts of your home.
You can buy your own copies online!
Here's how:
FOR PAPERBACK and DIGITAL versions:
Visit www.KerygmaBooks.com/shop and click on the titles that you want to order.
Choose PAPERBACK or DIGITAL and check out your order.
Choose your payment method.
Pay via bank deposit or PayPal.
a. For bank deposit: pay your balance and upload your deposit slip at the link we've e-mailed to you upon placing your order.
b. Pay directly via PayPal.
For PAPERBACK: Wait for the books to be delivered right to your home! (For orders P1000.00 and up, FREE shipping within Metro Manila only. Standard shipping rates apply for orders below P1000.00 or outside Metro Manila.)
For DIGITAL: Wait for the confirmation of receipt of payment. The download links to your books is included in the email.