---
"Everything that happens in this world happens at the time God chooses."
– Ecclesiastes 3:1
---
Just Wait
by Rissa Singson Kawpeng
Waiting is probably one of the most difficult things for a single person to do.  I know. I waited for many, many years before I met "the One." I knew that the Lord had someone in store for me because I believed I was called to the married life. But it was the waiting that was killing me!
When the pain of loneliness would strike, I'd turn to the Lord and sometimes pray, "I know You can do it. In a blink of an eye, You could sent that man for me. So why don't You just do it?"
The Lord would often answer me with silence. Maybe because He knew that I knew the answer to my question anyway.
Yes, God has a purpose for making us wait that many times we don't see. In my case, I now realized that the many years I spent as a single woman wanting to be a bride have equipped me to be an inspiration to countless others on their "wait training."
Just the other day, a single woman emailed me. She read my book, Confessions of an Impatient Bride and was greatly encouraged. But her birthday was coming soon and, somehow, her body clock seemed to tick louder than usual. She wrote, "In my lack of perfect faith, I am ashamed that I still worry about getting old and not being able to find the man of my dreams."
Oh, that could have been my theme song when I was in her shoes years ago.
So to women like her, and to all of us who, at one time or another, had to wait for an answer to a prayer, I share a part of a poem entitled, "Wait" by an anonymous author.
So be silent, My child, and in time you will see
That the greatest of gifts is to get to know Me.
And how often may My answers seem terribly late
My most precious answer of all is still, "WAIT!"
Excerpt from Something Happened on My Way to Happy Ever After by Rissa Singson Kawpeng
Photo Credit: http://www.pixabay.com
---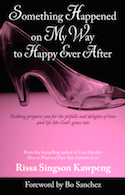 In her tell-all book written for single and married women, Rissa Singson-Kawpeng shares how she journeyed—and is still journeying—with her husband, kids, family, and most especially, with God. Grab a copy now and be inspired to seek your own 'happy ever after'!
Visit www.KerygmaBooks.com to order your copies now. Go digital and download a copy of this book straight into your gadget. Visit www.KerygmaBooks.com/ebooks to get an e-book version now!