---
"A man who has friends must himself be friendly, but there is a friend
who sticks closer than a brother."
– Proverbs 18:24
---
Date and Meet New People
by Rissa Singson Kawpeng
Do you know that we meet the bulk of our acquaintances in high school, college and our early career? As we get older, we tend to deal with the same set of people over and over. The fact is, the older you get, you meet less and less people.
So singleness is the time of your life when you should go out and meet as many people as possible. That's so exciting!
When I was single, every time I went to a gathering — whether it was a prayer meeting, a party or a show — at the back of my mind there was always a sense of anticipation. I probably wouldn't have admitted it then, but subconsciously, I would think, "Hey, maybe I'll finally meet him there."
But finding Mr. or Ms. Right shouldn't be your sole motivation to meet new people. Widening your circle of friends means that you'll have more people to text or go out with when the bug of loneliness bites you with the blues.
And when you do meet someone you're attracted to, please don't follow in my footsteps.
Be Friendly, Please
I grew up reading romantic novels. While my grade school classmates were just discovering Nancy Drew and the Hardy Boys, I was already deep into my mom's library of Mills and Boon books.
If you've read at least two Mills and Boons, you'd have figured out that every single one of them has the same story line. It's always about a simple girl who works as a clerk or a secretary or some similar white-collar job and a handsome, ordinary guy who is always cynical and arrogant, and turns out to be filthy rich.
They get on each other's nerves. She snobs him and he irritates her. But in the end, they end up in each other's arms.
With that as my paradigm, whenever I encountered a guy that I found attractive, I would unconsciously annoy him. I'd contradict him even if I had no reason to. I'd compete with him or try to prove that I was smarter or better than he was. Then I would wonder why he didn't fall for me. After all, in every Mills and Boon novel, they always ended up together!
Looking back now, I realized that the Bible had something to say about my mistaken notion. Proverbs 21:19 gives wise advice: "Better to live in a desert than with a quarreling and angry woman."
So go out and meet new friends. And don't forget to be friendly.
This excerpt is taken from While You're Waiting by Rissa Singson Kawpeng.
Photo from Pixabay.com
---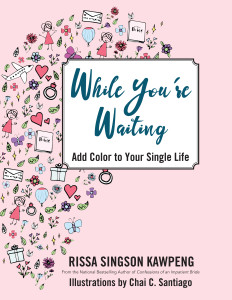 LADIES, ADD COLOR TO YOUR SINGLE LIFE!
You don't need to keep your life on hold just because you're longing to be married.
This coloring book for the single person — based on the LittleBook, Oh God, I'm Still Single — will teach you how you can maximize this temporary season of life and squeeze it of all it offers.
Aside from stimulating your creative flair, you'll also learn dating guidelines as well as spiritual and practical tips to make your single journey a truly blessed experience.
---
ARE YOU READY TO LEARN THE DO'S AND DON'TS
WHILE YOU'RE IN A SEASON OF WAITING ?
GET YOUR COPY OF RISSA SINGSON KAWPENG'S BOOK,
WHILE YOU'RE WAITING: ADD COLOR TO YOUR SINGLE LIFE
You don't even have to leave the comforts of your home.
You can buy your own copies online!
Here's how:
FOR PAPERBACK and DIGITAL versions:
Visit www.KerygmaBooks.com/shop and click on the titles that you want to order.
Choose PAPERBACK or DIGITAL and check out your order.
Choose your payment method.
Pay via bank deposit or PayPal.

For bank deposit: pay your balance and email your deposit slip to sales@blog.feastbooks.ph
Pay directly via PayPal.

For PAPERBACK: Wait for the books to be delivered right to your home! (For orders P500.00 and up, FREE shipping within Metro Manila only. Standard shipping rates apply for orders below P500.00 or outside Metro Manila.)
For DIGITAL: Wait for the confirmation of receipt of payment. The download links to your books is included in the email.
---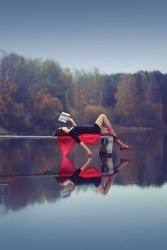 NURTURE YOUR SOUL EVERY DAY!
Visit us at

www.KerygmaBooks.com/shop

 and read our online magazine. Enjoy fresh articles that will surely nourish, inspire, and empower you in all aspects of your life. Kerygma Books is updated weekly.
Email us at www.KerygmaBooks.com for comments, suggestions and contributions.
Photo credit: http://piccsy.com/2011/05/reading-8ozcw6p11/ through vi.sualize.us