---
Finally, brothers, whatever is true, whatever is honorable, whatever is just, whatever is
pure, whatever is lovely, whatever is commendable, if there is any excellence, if there is
anything worthy of praise, think about these things.
— Philippians 4:8
---
DON'T CHOOSE AMPALAYA!
By Bo Sanchez
What is, will be.
This is a universal law. But like everywhere else in life, there are exceptions. Yes, miracles do happen. (More on this in other articles.)
But when it comes to choosing a spouse, you have to respect this law. I believe this message will save millions of singles from a lifetime of misery. So listen well.
What Causes Blindness?
Why did Samson fall for Delilah?
Why do we fall for jerks and jerkettes?
Because of magical thinking.
Singles say, "My love will change him," or, "God will change him," or "Marriage will change him," or "When we have a baby, being a father will change him."
I'm alarmed when a girl says, "My boyfriend is my project." Your boyfriend should never be your project.
Your boyfriend should be his own project.
Here's the truth: The pressure of marriage will just bring out what is already there.
People are like toothpaste tubes. If it's mint-flavored toothpaste inside, that's what will come out when you squeeze it. If it's ampalaya-flavored toothpaste inside — I know that's gross but bear with my illustration — that's what will come out.
Well, marriage is pressure. (Any married person will say a resounding "Amen.") Marriage will squeeze out whatever is already inside that person.
My point? Don't buy ampalaya-flavored toothpaste and then pray, hope, and expect that mint- flavored toothpaste comes out. What is will be! Don't choose a Delilah and then pray that she'll transform into Maria or Pamela or Belinda. If you want mint-flavored toothpaste, don't be haphazard — be deliberate and choose mint-flavored toothpaste in the first place.
My dear friend, choose well!
*This excerpt is taken from How to Avoid Jerks and Jerkettes… So You Can Find God's Best, the newest book by National bestselling author, Bo Sanchez.

---

AVOID A LIFETIME OF MISERY!
WARNING: Some of the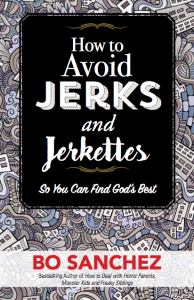 stuff you'll learn here will be tough. It won't be easy to swallow. But a little pain today is better than a lot of pain.
Many marriages end up broken today. Or they stay together but are miserable together. Is there a way to make marriage beautiful forever? Bestselling author and international speaker Bo Sanchez believes there is. He says that the most important way of saving a marriage is before it starts.
In this book, you will learn:
8 Red Lights that tell you the person you're dating is a jerk
The one thing that is more important than compatibility
6 Wrong Reasons to push through with the marriage
And many, many more!


---

ARE YOU READY TO LEARN HOW TO MEET THE RIGHT ONE?
ARE YOU READY TO "BE" THE ONE?

GET YOUR COPY OF BO SANCHEZ'S LATEST BESTSELLER, HOW TO AVOID JERKS AND JERKETTES… SO YOU CAN FIND GOD'S BEST!

You don't even have to leave the comforts of your home.
You can buy your online!
Here's how:

FOR PAPERBACK and DIGITAL versions:

Visit KerygmaBooks.com/shop and click on the titles that you would want to order.
Choose PAPERBACK or DIGITAL and check out your order.
Choose your payment method.
Pay via bank deposit or PayPal.

For bank deposit: pay your balance and email your deposit slip to sales@blog.feastbooks.ph
Pay directly via PayPal.

For PAPERBACK: Wait for the books to be delivered right to your home! (For orders P500.00 and up, within Metro Manila only. Standard shipping rates apply for orders below P500.00 or are outside Metro Manila.)
For DIGITAL: Wait for the confirmation of receipt of payment. The download links to your books is included in the email.


---

Visit us at ph and read our online magazine. Enjoy fresh articles that will surely nourish, inspire, and empower you in all aspects of your life. Kerygma Online is updated weekly.

Email us at kerygmaonline@gmail.com for comments, suggestions and contributions.

Photo credit: http://piccsy.com/2011/05/reading-8ozcw6p11/ through vi.sualize.us
.