Why People Lack Abundance
by Bo Sanchez
If you've been hearing me preach for some years, you would have heard me say before, "Growth is only found outside your comfort zone." That's so true.
People complain they lack success. Or abundance. Or fulfilment. Or peace. Here's one reason for the lack: because you like staying in your comfort zone. As long as you live in your comfort zone, you will always lack what God wants you to receive.
If you live in your comfort zone, you will never achieve what God wants you to achieve because you can't go anywhere.
Do you want to reach your financial goals? Spiritual goals? Health goals? Family goals? Get out of your comfort zone.
If your marriage is stuck, do things you've never done before. Court your wife again. Treat her like royalty. Treat her like she's the treasure of your heart.
If your finances are stuck, do things you've never done before. Get mentors. Read books. Attend seminars. Be willing to fail, get rejected, be humiliated—and try again.
How Big Is Your Comfort Zone?
If you study people who have achieved their dreams, they have very big comfort zones. Why? They have this habit of expanding their comfort zone every day.
What used to be their courage zone becomes their comfort zone today. What horrified them yesterday excites them today. What frightened them yesterday entertains them today. What scared them yesterday serves them today.
What is your safe place? God is my ultimate safe place. The Bible says, "God is our safe place and our strength" (Psalms 46:1, NLV).
In 1996, two years before I got married, I decided to leave my comfort zone of ministry work and enter into something that was totally foreign to me—business. I was very comfortable in ministry. Up to that point, I had been in ministry for the past eighteen years.
But I knew nothing about business. It was absolutely scary—especially when I started failing in them. All in all, I failed in eighteen businesses.
In all those failures, I asked myself, "Did I really make the right decision to be an entrepreneur? Perhaps I should have just remained as a missionary."
Someone told me, "You can't lose in a food business." Well, I managed to lose seven hundred thousand pesos in my food business. Someone told me, you can't lose if you get a big-name star from the United States and make him perform in a concert in the Philippines. Well, I managed to lose three million pesos doing just that.
Someone told me, "You can't lose if you import products from China because they're so cheap." Well, I managed to lose P8.7 million in my China importation business.
Now, I can smile about it. But when it happened, I was scared. I had sleepless nights. I remember tossing and turning in bed, asking God to rescue me. And in all my fears, there was only one thing that made me sane, only one thing that prevented me from going crazy: I stayed in my safe place. His name is Jesus.
In my darkest hour, He kept whispering in my heart, "Whatever you lost, you'll earn back sevenfold." I held on to that promise. And I never gave up. Proverbs 6:30- 31 says that the thief "must pay sevenfold" for what he has stolen. Even if no one stole from me, I prayed, "Lord, because of my business mistakes, I lost money. But I claim a season of restoration for my life. And in this season of restoration, I will gain back all that I've lost sevenfold."
When people ask me, "Did you ever attend a business course?"
I answer, "Yes, I attended the Business School of Failures. It's the greatest business school in the world. And the most expensive one too. The total loss from my twelve business failures is an insane gure. That was my tuition fee. And with that costly tuition fee, I'll be crazy if I don't apply all that I learned from the Business School of Failures."
And God was true to His promise. Because I learned my painful lessons, my other businesses began to prosper.
God Is Here!
When you're feeling down, when you feel afraid, when you feel overcome by worry, sit down, inhale God's love, and when you exhale, confess: "God is here."
Do this ten times. And do this "God is here" exercise ten times a day.
This will fill your heart with peace.
God is here. He will never leave you.
Stay in your safe place.
*This excerpt is taken from Break or Bounce? by Bo Sanchez.
Photo from Unsplash.com.
---

'The Harder I Fall, The Higher I Fly.'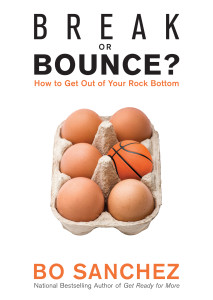 Have you failed? Have you fallen on hard times? Are you going through your toughest struggles? Are you walking to your darkest days?
This amazing book is the answer to your prayers. Because every page is brimming with powerful encouragement from Bo Sanchez, a leader whose words—for the past forty years—have changed the lives of countless people.
In every chapter, he gives you a massive dose of inspiration so you can keep moving forward—until your storm ends and a new morning rises in your life.
Through the message you hold in your hands, you'll receive the power to use your biggest problems to leapfrog to your biggest victory.
Available now at www.kerymgabooks.com! Click HERE to get a copy of Break or Bounce? (How to Get Out of Your Rock Bottom) by Bo Sanchez and have it delivered right to your doorstep!
---
ARE YOU READY TO LET GOD HELP YOU GET OUT OF YOUR MISERY? 
GET YOUR COPY OF BO SANCHEZ'S BOOK, BREAK OR BOUNCE?
(HOW TO GET OUT OF YOUR COMFORT ZONE)
You don't even have to leave the comforts of your home.
You can buy your own copies online!
Here's how:
FOR PAPERBACK and DIGITAL versions:
Visit www.KerygmaBooks.com/shop and click on the titles that you want to order.
Choose PAPERBACK or DIGITAL and check out your order.
Choose your payment method.
Pay via bank deposit or PayPal.
a. For bank deposit: pay your balance and upload your deposit slip at the link we've e-mailed to you upon placing your order.
b. Pay directly via PayPal.
For PAPERBACK: Wait for the books to be delivered right to your home! (For orders P1,000.00 and up, FREE shipping within Metro Manila only. Standard shipping rates apply for orders below P1,000.00 or outside Metro Manila.)
For DIGITAL: Wait for the confirmation of receipt of payment. The download links to your books is included in the email.