How to Pursue Problems with Peace
by Bo Sanchez
Problems and stress are not the same.
You'll always have problems. Solve one problem and a new one takes its place. Problems are here to stay. As long as you're alive on Planet Earth, you'll always have problems.
But to be stressed by them is your choice.
You can pursue problems with peace.
How do you do that?
Remember what I said earlier: You stand in the gap between people's need and God's power. If you remove yourself from the equation, all of a sudden, people under your responsibility won't receive His resources.
But remember also that the power doesn't come from you.
You're a God connector. So yes, you're important. But you're just a God connector. Because God is the source of all power, all blessing, all healing and all miracles.
If you remember that, you'll have peace.
Two Words of Advice
When you pursue problems with peace, there are two more things you need to do…
1. Find Your Faithful Friends
One day, Joshua was leading the Israelites in a battle against the fierce Amalekites. Moses stood on a hill, lifting his arms in prayer. As long as the arms of Moses were lifted up, the Israelites were winning. But the moment his arms went down, they started losing. So that Moses' arms would always be raised up, his brother Aaron and his friend Hur stood beside him to lift them up. And with their combined effort, the Israelites won the battle against the Amalekites.
When you pursue struggle over ease, don't fight your battle alone. Because like Moses, you'll get tired doing the right thing.
Find faithful friends.
What kind of friends?
TD Jakes said you need to differentiate constituents and confidants. Constituents are for what you are for. They're not there for you. They are there because they value what you value. Confidants don't just value what you value — they value you. They are not only for what you are for, they are for you.
If you have two or three confidants in your life, you are one blessed person.
Do you have an Aaron and a Hur to hold up your arms? Do you have a spiritual village of people that encourage you, inspire you and believe in you?
A few years ago, I became emotionally tired. Aside from all my stress, it was also the same time my mother died. I was depressed without even knowing I was depressed. I felt so bad, I remember writing a resignation letter to the council of elders of the Light of Jesus, my community. I told them, "I'm stepping down because I've reached my level of incompetence. I can't be your leader anymore."
But my friends came to the rescue. They visited me, surrounded me, encouraged me. Like Aaron and Hur, they held my arms until sundown. They never left my side until my depression left me, and I was ready to serve again.
I'm blessed because ever since I can remember, Light of Jesus always had small groups (which we call Light Groups today). We always encouraged people to belong to small groups of five to 12 friends who pray together, share together and journey together. Because I've been with Light of Jesus ever since I was 14 years old, I've always had a small group surrounding me.
I believe I'm where I am today because of these Light Groups in my life. I encourage you to get into one. Sign up! (Visit www.lightfam.com to know more about our spiritual family.)
2. Focus on Your Future
Moses was no masochist. He didn't want to raise his arms just because he likes to feel the pain of muscle cramps. We don't love the struggle, we love the victory that the struggle brings.
Don't focus on the pain, focus on the prize.
The Bible says, "These troubles and sufferings of ours are, after all, quite small and won't last very long. Yet this short time of distress will result in God's richest blessing upon us forever and ever!" (2 Corinthians 4:17, TLB).
Believe that your blessing is near.
Believe that your victory is coming.
Believe that your success is at hand.
*This excerpt is taken from Enjoy Your Age! by Bo Sanchez.
Photo from Unsplashed.com
---
CLAIM AND MAXIMIZE THE BLESSINGS OF YOUR SEASON!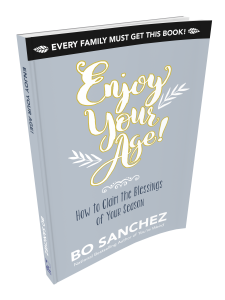 Every season requires a response.
Don't mix them up or you'll have problems. During spring, you plant.
During summer, you work.
During autumn, you harvest
And during winter, you renew.
Read this amazing book from bestselling author and spiritual leader Bo Sanchez, find out how you can maximize the blessings of the specific season that you are in, and enjoy your age!
Grab your copy today! Click HERE to get a copy of ENJOY YOUR AGE by Bo Sanchez and have it delivered right to your doorstep!