HARBOR
Right in front of me, the sea was a rumpled blanket, hiding beneath it countless of whispered secrets. In the distance, the sky was a velvet cloth of midnight blue, studded with a thousand brilliant gems. I did not know where the sea ended and the sky began. The wind teased my unbound hair and embraced my bare arms. In the distance, the full moon was beaming down upon the harbor. The ships were bobbing up and down as the waves rocked them gently, moving to and fro, but never too far from where they were anchored. I closed my eyes and thanked God for the grandeur of His universe, and I was one with it that night.
I decided to go to my favorite spot in Manila Bay that night to regain my bearings. I was working full-time as a college instructor, teaching 10 classes for 12 hours on some days. Other days, I'd be teaching for only 5 hours, but I would have to commute to the other side of the city to attend graduate school classes. It felt as if I was all over the place, doing all sorts of things—preparing lectures, checking papers, counseling students, doing research for MA classes, and writing my own papers. Those days, I would leave home at six in the morning and go home at around eight or nine in the evening. My relationships suffered, too. I didn't have time for my family and friends, anymore. Nighttime would always find me bone-tired, so I only ever had the energy to shovel down food into my stomach and drop dead.
I ran through the same drill every day for almost an entire semester, until one day, I realized that I was snappier and more temperamental than usual. I shouted at my sister that day and almost got into an argument with my mama, so I holed myself in my room. Pretty soon, though, I felt as if I couldn't breathe anymore, so I just got into my car (my mama's, actually), and drove to the one place where I knew I could get in tune with God, nature, and myself—the sea. I couldn't drive to Batangas, so I went to the next best thing. Manila Bay.
I spent a few hours just staring out into the sea, marveling at how calm and beautiful it was. It was the exact opposite of my life back then, which was on the fast track to becoming a total train wreck. As I stared out into the endless blue, I heard God speaking to me. Be still, Karren. I am your God.
Ah, yes. On some days, that same sea could be a violent harbinger of death, chaos, and destruction, but God, the Lord of the Universe, could quiet it down with just a single command. That night, God wanted it quiet and calm.
I knew then that like the sea, I should also allow Him to calm my heart and renew my spirit. If He could calm even the mightiest of storms, I'm certain He could also grant peace to the most tormented of souls.
The lights slowly began to die down one by one. It was late, way past midnight already, and it was time to go home. I gave the sea one last smile as I whispered a "thank you" to the God that calmed my soul. I left the place feeling more refreshed, ready to take on the world once again. Karren Renz Seña (dasuperhero@gmail.com).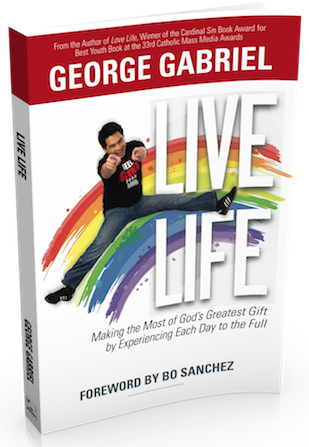 Are you living or merely existing? Do you take life by the reigns or do you just let it pass you by? Do you strive to outdo yourself or do you simply do what's required? It's time to take charge and enjoy every moment God has blessed you with.
In his second book, Live Life, George Gabriel challenges you to go to the next level of living.
These simple stories about everyday life will inspire you to savor every second of your existence while marveling at the God who desires to reveal Himself to us in all things at all times:
A Time for Everything
 My Wife Has White Hair!
Don't Settle for an Empty Mug
The Right to Rejoice
Every Tear Will Be Wiped Away
A Lesson from Candy Crush
God Hears Your Every Prayer
… And many more!
To order your copies of George Gabriel's Live Life, visit www.blog.feastbooks.ph now. Be blessed and Live a Fantastic Life!
Were you blessed by this article? Join the mailing list to receive weekly inspirational articles, reflections, and newsletters. Visit http://blog.feastbooks.ph to sign up. Like us on Facebook at http://fb.me/ShepherdsVoicePublications to get daily inspirational quotes, messages, and photos. Be blessed and Live a Fantastic Life!