God's Burden Is Light
Bo Sanchez
I'd like to zero in on Jesus' words, "My burden is light." If you notice, those two words don't fit each other, much like "fried ice cream" or "tiny giant" or "ugly Bo." It just doesn't fit.
But that's exactly what Jesus said: "For My yoke is easy and My burden is light" (Matthew 11:30).
Question: How can a burden be light?
Let me explain it by way of example.
When Marowe courted me years ago… er, sorry, slip of the pen. When I courted Marowe, I lived in Cubao and she lived in the other side of planet Earth—in Parañaque. During that ancient time of history, the MRT was still being built on EDSA and Manila traffic became the seventh wonder of the world. (Now, it's just the eighth.)
My mother found out about it and, with tongue in cheek, said, "Can't you court someone who lives nearby?"
I chuckled and replied, "Mom, when I selected my future wife, I didn't put geographical location as a top criteria. I don't mind moving through this giant parking lot called EDSA for three hours each day for her."
What do you call that? It was a light burden. Why? I was in love.
Increase the Love
One day, I had the schedule of a madman.
Right after the Sunday Feast in PICC, I drove to the airport. With nineteen other guys, mostly senior leaders of the Light of Jesus Family, I attended a leaders conference in Los Angeles.
I stayed in the United States for four days. Right after the conference, I hopped on a plane to go back to Manila. I arrived on Saturday because I had to preach at The Feast in PICC the next day.
On Monday, with my wife and boys, I drove up to Baguio for the amazing four-day TrulyRichClubSuperconference. After everything was over, I drove down on Saturday— because I had to preach the next day at The Feast PICC.
By Monday, I had to fly to Singapore for the Grand Feast there. By Saturday, I flew back to preach again at Sunday's Feast in PICC.
During those three weeks of traveling, I still had weekly dates with each of my boys, had weekly dates with my wife, and wrote around twenty-seven articles and submitted them on schedule.
People ask me, "Bo, don't you get dizzy with your crazy schedule? Don't you get exhausted?"
Honestly, it looks burdensome.
But I had a lot of fun in every one of those days. And though my body got tired, my spirit was energized. Every time I woke up, I felt refreshed. Throughout the day, I was like an ice skater gliding through ice—moving almost effortlessly. (Note: This isn't my schedule every month. If it happened every month, I'd die. But it was just a short season of traveling—and I could handle a season.)
Why? Because God's burden is love.
If you follow the greatest commandment and love God with all your heart, mind, soul, and strength, and if you love others as you love yourself—you will be burdened. But it's a good burden. Tell me, is your marriage a light burden? Is your parenting a light burden? Is your work a light burden?
If it is not, increase your love.
Do everything you do because you love God and love others.
Then your burden will be lighter.

*This excerpt is taken from Break or Bounce? by Bo Sanchez.
Photo from Unsplash.com.
---
'The Harder I Fall, The Higher I Fly.'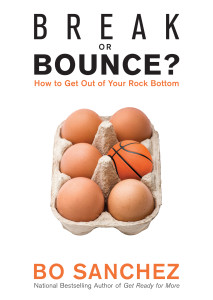 Have you failed? Have you fallen on hard times? Are you going through your toughest struggles? Are you walking to your darkest days?
This amazing book is the answer to your prayers. Because every page is brimming with powerful encouragement from Bo Sanchez, a leader whose words—for the past forty years—have changed the lives of countless people.
In every chapter, he gives you a massive dose of inspiration so you can keep moving forward—until your storm ends and a new morning rises in your life.
Through the message you hold in your hands, you'll receive the power to use your biggest problems to leapfrog to your biggest victory.
Available now at www.kerymgabooks.com! Click HERE to get a copy of Break or Bounce? (How to Get Out of Your Rock Bottom) by Bo Sanchez and have it delivered right to your doorstep!
---
ARE YOU READY TO LET GOD HELP YOU GET OUT OF YOUR MISERY? 
GET YOUR COPY OF BO SANCHEZ'S BOOK, BREAK OR BOUNCE?
(HOW TO GET OUT OF YOUR COMFORT ZONE)
You don't even have to leave the comforts of your home.
You can buy your own copies online!
Here's how:
FOR PAPERBACK and DIGITAL versions:
Visit www.KerygmaBooks.com/shop and click on the titles that you want to order.
Choose PAPERBACK or DIGITAL and check out your order.
Choose your payment method.
Pay via bank deposit or PayPal.
a. For bank deposit: pay your balance and upload your deposit slip at the link we've e-mailed to you upon placing your order.
b. Pay directly via PayPal.
For PAPERBACK: Wait for the books to be delivered right to your home! (For orders P1,000.00 and up, FREE shipping within Metro Manila only. Standard shipping rates apply for orders below P1,000.00 or outside Metro Manila.)
For DIGITAL: Wait for the confirmation of receipt of payment. The download links to your books is included in the email.