What's It Like to Die?
by Fr. Bob McConaghy
At three o'clock in the morning last week, I got a text message from the United States that one of my closest friends for the past forty-two years, Sav Pasqualucci, died suddenly. Six hours later, I got another text message that another good friend, Jim Dolan, also died suddenly. Three hours after that, a priest with whom I was assigned for seven years, Msgr. Ray Merman, died unexpectedly.
Three men that I knew very closely all died on the same day. Sav was eighty-two. When I spoke to him the other night, he was very weak. I said, "Wait for me until May 1st. I'll be back." But his doctor said to me, "I don't think he can wait that long." He was right.
The price of love is loss, but still we pay. We love anyway. I wish my friends were still alive so I could say goodbye. I wish Jesus was there and brought them back to life, just as He did with Lazarus. But it made me think about death. What is death like? Does it hurt to die?
The truth is, all of us have died many times—not to hurt us but to open us up to something that no one could have explained to us until we experienced it. Life teaches us a lot about death. Imagine for a moment that you were in your mother's womb. Your guardian angel suddenly appeared to you and said, "For nine months, you'll have a beautiful world here. It's dark but you have everything you need. You have warmth and security. You're surrounded by your mother's love. You get nourishment from the umbilical cord. By the ninth month, you have your own swimming pool, the amniotic fluid. It's a peaceful, beautiful, noiseless world."
Then your guardian angel says to you, "This is nice but you're not really living. Wait till you see what it's like in the outside world. Wait till you see light for the very first time. Wait till you see what it's like to celebrate your birthday and have all your friends around you. Wait till you see what it's like to see a sunset on Manila Bay."
You listen to all this and reply, "Oh, c'mon. There can't be anything beyond this. I like it here. I don't want to give up my world." The angel says to you, "If you want to experience all the beautiful things that I just described to you, you'll have to die." Then you'd say, "Oh, no. I don't want to die! I'm frightened of that."
But you die anyway. You die to your mother's womb and you can never go back in there again. The death was not meant to hurt you. Rather, it opens you up to something that no one could have explained to you until you experienced it.
We go through our childhood and play with our dolls and toys. We think we're the center of the universe because everyone pays attention to us and tells us we're so blessed.
Do you remember the day when you put away your toys and never played with them again? There was a day when that happened and that was a moment of death—death to your childhood. Again, it was a death that wasn't intended to hurt you but rather to open you up to another new experience called school where you recognized that you were no longer the center of attention. But this stage brings a lot of beautiful things. You make new friends. You study, you worry about passing your tests and meeting deadlines. Then graduation comes and you die once more. On the day you got your diploma, you died to those fears and worries about passing exams. They were not meant to hurt you but open you up to something new that no one could have explained to you: a career.
The older you get, the more quickly time passes by. When you're in your fifties and your sixties, you begin to slow down a little bit. You die to the vibrancy of your youth. Ask somebody who's in their eighties or nineties and they'll tell you that they feel like the same person they were when they were twenty. But now they have wisdom—and wisdom tells them this isn't really our home. We're on our way home. That's why we're called the pilgrim church, because this earth is not our home, any more than the womb was not your home. We're going to leave this world. When the time comes, we will let go and let God take us home.
Every passage of your life from teenage to young adulthood to middle age to old age involves a precise moment of death that you neither notice nor feel. How much more so our physical death. The Apostle Paul puts it well: "Eye has not seen, nor ear heard, nor have entered into the heart of man the things which God has prepared for those who love Him" (1 Corinthians 2:9, NKJV).
I once spoke with a mystic recognized by the Catholic Church who has experienced heaven. I had been thinking about my friends Sam, Jim, and Monsignor Ray who all died on the same day and I missed them. I wondered what that moment was like for them. So I asked the mystic, "Do people who love us and who have died miss us?"
She said to me, "Do you love your mother?" I replied in the affirmative. "Would you want to go back in her womb?" she probed further. I shook my head.
"As much as people who have died and are in heaven love you, they don't want to come back to earth any more than you would want to go back into your mother's womb," she explained.
"Do people in heaven see us?" I asked.
She said, "Yes, they do, but only when we're laughing or smiling." I asked why. She said, "Because there's no sadness in heaven." She added, "The joy in heaven is so intense that there's no perception of the passage of time. So when you and I arrive and are greeted by Jesus and our loved ones who have died, it will feel to them and seem to them that they just left."
Then I asked her a funny question. "A lot of people ask me, how old will we look when we're in heaven?"
She didn't hesitate to answer, "Thirty-three, same as our Lord." So when you reach the age of thirty-three, take a selfie because that's how you're going to look like in eternity.
Yes, there is sadness in loss. I feel very sad because I've lost three people that I deeply care about. But I have hope that one day, I will see them again in that place where every tear will be wiped away.
This excerpt is taken from DEEPER: Finding Grace in Every Season by Fr. Bob McConaghy

Photos from Pixabay.com and Unsplash.
---
GOD WANTS TO BE IN YOUR EVERY SEASON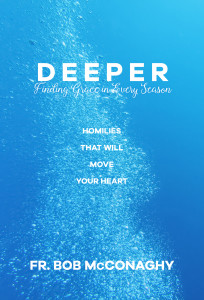 The rituals and traditions that complement our faith can be overwhelming. Or they may seem archaic to others that their response is to become indifferent to these practices and celebrations. That's why this book is a breath of fresh air to those who want to enliven their faith.
Through this soul-kindling collection of homilies, Fr. Bob McConaghy invites us to take God's hand and experience His love and presence in every season of the liturgical year.
Father Bob gives light to theological truths by presenting them in easy-to-digest stories and insights. He gives practical ways to live out your faith during Lent, Easter, Advent, Christmas, and the Ordinary Time.
 Let your spirit soak in love and grace at every season of the year as you deepen your relationship with the Lord.
Grab your copy today! Click HERE to get a copy of DEEPER: Finding Grace in Every Season by Fr. Bob McConaghy and have it delivered right to your doorstep!
---
ARE YOU READY TO LET GOD JOURNEY WITH YOU? 
GET YOUR COPY OF FR. BOB MCCONAGHY'S BOOK, DEEPER: FINDING GRACE
IN EVERY SEASON
You don't even have to leave the comforts of your home.
You can buy your own copies online!
Here's how:
FOR PAPERBACK and DIGITAL versions:
Visit www.feastbooks.ph and click on the titles that you want to order.
Choose PAPERBACK or DIGITAL and check out your order.
Choose your payment method.
Pay via bank deposit or PayPal.
a. For bank deposit: pay your balance and upload your deposit slip at the link we've e-mailed to you upon placing your order.
b. Pay directly via PayPal.
For PAPERBACK: Wait for the books to be delivered right to your home! (For orders P1,500.00 and up, FREE shipping within Metro Manila only. Standard shipping rates apply for orders below P1,500.00 or outside Metro Manila.)
For DIGITAL: Wait for the confirmation of receipt of payment. The download links to your books is included in the email.