---
Show me your faith without action and I will show you my faith by my action…
— James 2:18
---
EMOTION COMES FROM MOTION
By Bo Sanchez
Some people think that when you're angry, the solution is to punch a wall; or scream at the top of your voice; or paste the photo of your enemy on a dartboard and throw darts, knives, spears and grenades at the picture; or smash plates on the floor. Believe me, this will only increase your anger. It may relieve you for a while, but the anger comes back.
Here's my big message for you: The antidote to toxic feelings is terrific acting.
You see, emotions have two remote controls.
First, your imagination (which we talked about last week).
And second, your body.
The Spoon Experiment
In a psychological test, participants were formed in two groups. Facilitators asked those in Group A to bite a spoon with their teeth, and asked those in Group B to bite a spoon with their lips.
After five minutes, the results were out. Group A — who bit their spoon with their teeth — felt happier. And Group B — who bit their spoon with their lips — didn't feel happy.
Why is this so? Because the act of biting a spoon with your teeth mimics the act of smiling. And the act of biting a spoon with your lips mimics the act of pouting. Think about that phenomenon: Just acting like you're smiling or pouting produces the feelings connectionwith the action.
Change your action and you change your emotion. Because your body is the remote control of your feelings.
(Note: Your body's actions can also be a remote control of other people's emotions, too! If you cross your arms while someone is talking to you, you're telling someone, "I'm not interested" and this will affect his enthusiasm in talking to you. If someone asked you for directions to the toilet, and you point him to the right direction with an open palm instead of a pointed finger — or because you're a Filipino, with your lips — those gestures will affect his emotional mood, too. But this is for another article!)
The Secret to My Consistency for the Past 30 Years
I preach four times every Sunday. People ask me, "Bo, how can you preach with the same power and passion every single week? Don't you sometimes have low energy?"
Of course, I have those days. I'm human.
There are days when I don't have the energy to preach. When I feel tired. When I feel lethargic. When all I want to do is lie down on a hammock in Boracay. But I know if I step on stage with that lousy feeling in me, I won't be able to serve my spiritual family well. And I love my spiritual family. I always need to give you my best. My audience deserves to hear a message proclaimed with passion.
So what d I do? I use my body to change my feelings.
Before I step on stage, I dance. Mind you, I don't know how to dance. But I don't care. I dance with full abandon. And in 60 seconds flat, like a switch that's turned on, I feel alive. I'm full batt. I'm raring to preach!
I've discovered that my body is the remote control of my emotions.
You can apply this truth anywhere.
That's the reason I'm consistent.
Don't let your emotions dictate your body. Let your body dictate your emotions.
This excerpt is taken from Heart Detox: How to Remove the Emotional Poisons and Negative Thoughts That Are Destroying Your Life, the newest book by National bestselling author, Bo Sanchez.
Photo from pixabay.com
---
ARE YOU READY TO GET RID OF THE GARBAGE THAT YOU'VE CARRIED IN YOUR HEART FOR MANY YEARS?
GET A HEART DETOX NOW.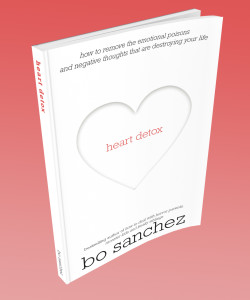 WARNING: YOU DON'T READ THIS KIND OF BOOK FOR ENTERTAINMENT. YOU READ THIS KIND OF BOOK BECAUSE OU WANT A TOTAL LIFE OVERHAUL.
You want a Heart Detox.
In these pages, you'll discover how to dig deep and uproot the poisonous thought habits that have been buried inside you for many years. These dysfunctional thought habits have given birth to toxic feelings that have robbed you of your happiness, health, abundance and future.
In this book, you'll discover…
Three steps to manage your most difficult emotions
Five powerful handles to take charge of your most toxic feelings
Specific and doable instructions on how to overcome bitterness, pettiness, despair, insecurity, worry and fear.
Are you ready to experience radical healing now?
It's about time.
---
ARE YOU READY TO GET RID OF THE POISONS IN YOUR HEART AND SOUL?
GET YOUR COPY OF BO SANCHEZ'S LATEST BESTSELLER, HEART DETOX: OW TO REMOVETHE EMOTIONAL POISONS AND NEGATIVE EMOTIONS THAT ARE DESTROYING YOUR LIFE.
You don't even have to leave the comforts of your home. You can buy your online! Here's how:
FOR PAPERBACK and DIGITAL versions:
Visit KerygmaBooks.com/shop and click on the titles that you would want to order.
Choose PAPERBACK or DIGITAL and check out your order.
Choose your payment method.
Pay via bank deposit or PayPal.

For bank deposit: pay your balance and email your deposit slip to sales@blog.feastbooks.ph
Pay directly via PayPal.

For PAPERBACK: Wait for the books to be delivered right to your home! (For orders P500.00 and up, within Metro Manila only. Standard shipping rates apply for orders below P500.00 or are outside Metro Manila.)
For DIGITAL: Wait for the confirmation of receipt of payment. The download links to your books is included in the email.
---
NURTURE YOUR SOUL EVERY DAY!
Visit us at kerymgaonline.ph and read our online magazine. Enjoy fresh articles that will surely nourish, inspire, and empower you in all aspects of your life. Kerygma Online is updated weekly.
Email us at kerygmaonline@gmail.com for comments, suggestions and contributions.
Photo credit: http://piccsy.com/2011/05/reading-8ozcw6p11/ through vi.sualize.us