Home for the Holidays by Michele S. Alignay, PhD
I celebrated my birthday in August, still in community quarantine due to the COVID-19 pandemic. Compared to the previous years when we would celebrate by going on an out-of-town trip or a hotel staycation, this year it was about staying at home. But I didn't feel any less loved. I didn't feel that something was missing on my special day. And I took pains to plan what the day would be like for me.
I look forward to my birthday as my annual personal day of gratitude and reflection. This year was more meaningful because of the little things I planned to make it "my day."
Similarly, Christmas and the long holidays this year won't be how they're usually wired. We will likely still be limited in our movements, have smaller parties, and avoid long days at the mall to shop for gifts and outfits. No big clan reunions and corporate Christmas extravaganzas. But I believe there are lessons in these limitations. Here are some things we can reflect on.
Difficult
It's an understatement that living in this pandemic is difficult. We wait for Christmas season all year long for our own pleasure, for business opportunities, and simply to connect again with friends and loved ones, and it may not happen the way we had gotten used to. If we keep referring to "what is supposed to be," the more we allow the challenge of the present time to get the better of us. But if we admit that it is difficult, then we can move to seeing what we can learn beyond it. Comparing then and now can leave us stuck and keep us from seeing new possibilities.
Different
The new normal of celebrating the holidays can make this season more meaningful. Once we accept the difficulty and acknowledge that the holidays will be unlike the past, then we can see the new possibilities. Having fancy bags and new shoes may be nice to buy or receive, but will we have the chance to use them? We might need to forego the big gatherings to favor intimate ones. The holiday gifts sent to friends may not come in the form of ribbons and wrappings, but in food sent via express couriers, digital vouchers, or even better, pooled donations to mercy ministries needing assistance.
Defined
Given that we may have difficult and different celebrations this year, we can actually define the kind of holiday we like. This is the time to reinvent and make Christmas more relevant. If your previous Decembers have been filled with schedules of parties of your varied groups, clan reunions, and friends, then this is the opportunity for you to reflect on the kind of Christmas you really want. You may not be able to spend it in some faraway place in your bucket list, but maybe you just need to be home again with Christ.
For my birthday celebration last August, these were my nonnegotiables: have an intimate date with my husband, attend Mass at 6 a.m. in our parish, have a quiet reflection time to write my musings for the new year added to my life, make candles from the kit I ordered, lounge around the house in my jammies, and have dinner with family. I defined the simple and quiet day, and I ended it with a heart full of gratitude.
The best part of my special day was finding the gifts of inner peace and unlocking an inner struggle that I was able to resolve inside of me.
Deliberate
Defining our kind of holiday can make it well celebrated and at the same time meaningful. So have a talk with your family on how you can spend it together. Create a holiday plan that is more connected to the true essence of our celebration—Jesus Christ. It can be a Christmas reflection day for your family, or cooking the holiday meals together, planning small treats for a community you help, or simply allowing each one to make a heartfelt gratitude list. Find a way to renew, rekindle, and reconnect with the people who truly matter, and more importantly, strengthen our faith and relationship with the Lord.
Now, that is being home!
The pandemic may be the best way to prune our outward festivities and make us celebrate inwardly.
It's like going back to the birth of our Lord in Bethlehem on that holy night.
It was quiet.
They had little.
But they had each other. And they had the Lord!
*This excerpt is taken from Feast Magazine Decemeber 2020 issue, e-copy and print version available at www.feastbooks.ph!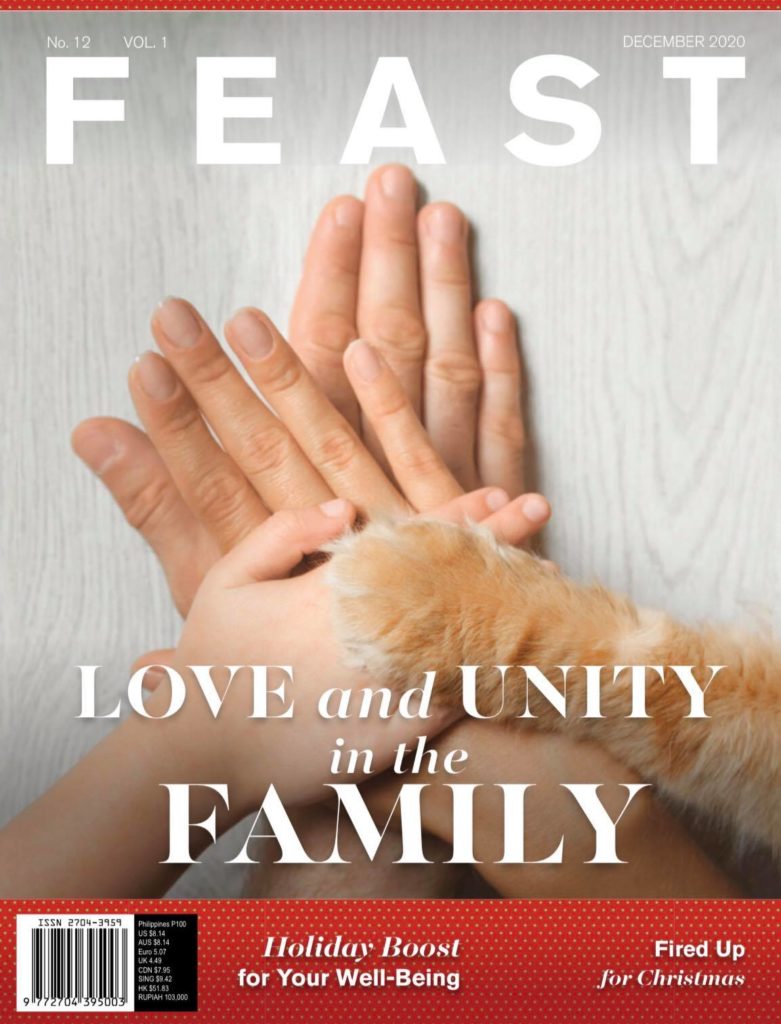 Featured image is from Unsplashed.com.