The Story of 'Buhay na Bato'
I look forward to my afternoon walks in my secret place covered with trees. This is my respite from the concrete jungle. We live in a condominium building and any sight of trees and open air bring me much joy and freedom.
Accompanying me on these walks is my little bundle of joy, Uni, a charcoal gray Maltese-Shih Tzu. Uni trained me to go out and enjoy the outdoors and socialize with humans.
Strangers frequently approach me during my strolls, and I must say, I quite enjoy these short encounters. However, today was a rather interesting experience when three young gentlemen came up to me. One of them teased, "He was really dying to meet you," pointing to the lanky one in the group. I willingly obliged, thinking he might want to have a selfie. But to my surprise, he pulled out a scanned copy of a picture of the two of us.
In his hands were three photos taken during someone's wake, evident from the grand candelabra adorning the background.
"Pumunta po kayo sa amin sa Mindoro, sa tito ko." (You visited us in Mindoro, in my uncle's house.)
With a desire to fill in the missing details, I inquired, "Si buhay na bato'? 'Yung pinutulan ng paa?" (The 'living stone'? The one who got amputated?)
The gentleman responded, "Hindi po siya pinutulan ng paa." (No, he didn't get amputated.)
"Or puputulan ng paa?" (Or was he supposed to be amputated?)
The patient was one of the many individuals we assisted through our public service efforts at ABS-CBN. We shared their stories on our newscasts to gather donations from viewers, and for the past two decades, I've had the privilege of being the designated storyteller.
Curiosity getting the best of me, I further inquired, "Anong pangalan ng tito mo?" (What's your uncle's name?)
"Christian po." Ah, "Now I remember," I exclaimed, "si Christian ang nakakuha ng buhay na bato na nilagay niya sa bulsa na nagdulot ng sugat." (Christian was the one who picked up the living stone and put it in his pocket, which later caused a wound.)
That's how the family and the locals so conveniently explained the origins of that wound back in 2013. Later, when we finally had the opportunity to assist the family, the doctors explained that Christian was suffering from osteosarcoma, a type of bone cancer.
This particular case was etched deeply in my memory, not only due to the patient's striking appearance-with a malignant growth the size of a papaya and Christian's significant weight loss–but also because of the unwavering hope he and his family displayed. Against all odds, they fought relentlessly to get help in Manila.
Unfortunately, the only solution was to amputate Christian's thigh. It was an incredibly difficult decision, one they despised, and yet they embraced it, knowing it could extend the teenager's life.
But the surgery kept getting postponed. His weakened body and occasional fevers prevented him from undergoing the procedure. Amidst these challenges, I vividly remember his sister, who lovingly cared for him. I shared this memory with the young man holding the photos.
"Mama ko po siya." (She is my mother.)
"I remember it was a fiesta when your Tito Christian's body was brought back from Manila," I said, trying to recall more details. It was a small house, but the neighbors greeted us one by one with fruits for us to bring home to Manila.
The young man in front of me was Joselito, the nephew of the patient we helped more than a decade ago. He must have been less than ten years old then. He and I started to fill in the gaps.
As we continued walking together, one of Joselito's companions started speaking in Latin, and I was very impressed, envious even of his knowledge of theology and religion. I confessed, "My faith didn't come directly from reading the Bible." Then, turning to Joselito, I continued, "It was from meeting your family, your community-seeing your smiles even during the most painful moments. This is God's gift in my life-to witness your unwavering faith. Please convey my heartfelt gratitude to your family. Hindi ko kayo nakalimutan (I have not forgotten you)."
Christian's relatives are among the countless Filipino families that I've had the privilege to interview throughout my career as a journalist. The names might be hazy, but the memories and the impact they had on my heart will never fade away.
Recall your own stories or of those you know and allow them to rekindle your faith and hope that all will be well despite life's adversities—

God is in control.
*This excerpt was taken from WHEN BAD NEWS IS GOOD NEWS by Bernadette Sembrano, available in paperback and e-book copy at http://www.feastbooks.ph!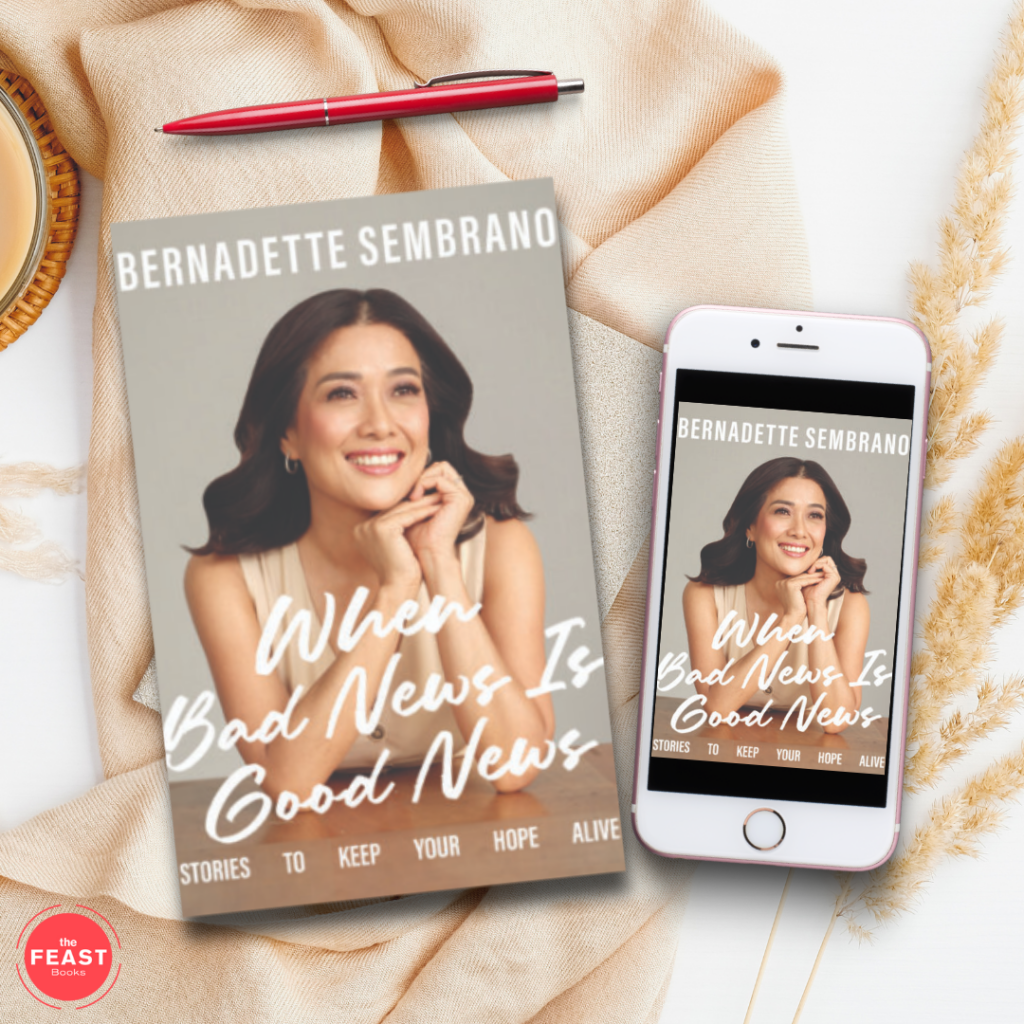 Also available at: