---
"For I know the plans I have for you,"
declares the Lord,"plans to prosper you
and not to harm you, plans to give you hope and a future." – Jeremiah 29:11

---
Perhaps one of the most exciting parts of student life for many of us is when we fall in love.
Isa na siguro ito sa mga sandaling pinakamasarap na balikan. Pero hindi sa lahat ng oras ay kilig-moments. Kadalasan, kirot- puso rin ang peg natin dito.
I had my first crush when I was in grade 1. I can still remember the feeling I used to have every time I saw her. Heart beating fast, cold sweat, at sa itim kong ito, nagba-blush pa ako!
I looked forward to seeing her every day in school — sa canteen, sa library, sa corridor, sa lahat ng lugar! My day would not be complete without me catching a glimpse of her.
One day, I decided to write my first ever "love letter." With all my heart and my soul, I wrote my feelings for her on a small sheet of paper. And again, I was in grade 1 then.
Kinabukasan, hinintay ko siya sa labas ng classroom. I wanted to give the letter to her first thing in the morning. Dahil medyo kabado, I asked one of her classmates to give it to her. Outside the room, I saw her read my letter. And to my surprise, I saw her writing on it!
Wow! May sagot agad!
Pagbalik sa akin ng sulat, dali-dali akong bumalik sa classroom. Excited, I opened the letter to read her response, and then boom!
"Hindi kita crush!"
Aray ko po! My first official heartbreak!
But that didn't stop me from "loving" again.
Again, I had a crush when I was in grade 3! And of course, you got it right, another ouch!
I had another one in first year. Ouch.
Siguro hindi pa talaga panahon.
Kaya when I entered college, sabi ko, "This is it! I am going to conquer the world!" Panahon na!
So maliban sa pag-aaral, isa talaga sa motivation ko sa pagpasok sa kolehiyo ay ang makahanap ng magpapatibok ng aking puso. Hindi naman nagtagal at nakita ko siya after one semester.
Simple, mabait, magaling sa Math (kailangan ko kasi ng magtuturo sa akin).
'Yun! Pasok sa criteria ko! I was introduced to her. I was able to get her mobile and landline numbers. We texted. We talked over the phone. I even had lunch with her and her friends.
Then one day, boom! She said that she just wanted us to be friends. That she could not reciprocate the love that I had for her. Ouch!
But the "masugid na manliligaw" in me didn't back down. I told her to just allow me to do the things that I wanted to do, and that was to court her. Wala naman akong ine-expect in return. So she allowed me to court her (baka naawa!).
After a while, she told me to stop. Not once. Not twice. But thrice! It was just like rejecting my love three times! That roller coaster ride lasted for three years.
Finally, I decided to move on. It's been three years.
I tried courting a different lady after some time, but as usual, boom! Ouch! Minsan gusto ko sanang itanong sa mga magulang ko,"''Nay,'Tay, tao ba ako? Parang wala yatang magkakagusto sa akin!"
In short, natapos ang college life ko na zero ang love life ko. Where do broken hearts go nga ba?
But I had a three-year relationship after graduating in college. O, di ba?
But with all honesty, I did not see myself spending the rest of my life with her. Parang may kulang.
Until I met a wonderful woman at the school where I was working. She was an english teacher in the high school department. She was my lunch buddy back then.
At that time, we were both in a relationship with other people. Eventually, our respective relationships ended, and we found ourselves in each other's arms.
During the onslaught of Typhoon Ondoy, she was stranded in the flood for more than 12 hours. That was when I realized that I could not afford to lose her. At kahit eight months pa lang kami as boyfriend-girlfriend, I asked her to marry me. I told her that I wanted to spend the rest of my life with her.
When she said yes, she became the luckiest girl.
And I became the happiest man alive.
It has been five years now since our fantastic journey as a couple started. We are blessed with a wonderful son. We enjoy each other's presence.
We are not a perfect family. We have our ups and downs. But our love for each other keeps us going. For love conquers everything and I will always put my trust in the power of love.
Looking back, I realize that God allowed me to feel all the pain, frustrations, heartaches and rejections to prepare me for a bigger, better and bolder future.
I now ask myself these questions: "What if they did not reject me? Will I still be with my wife and son today?"
If that happened, I probably would not be experiencing the best things in life as I do now. That is why I want to say "thank you" to all the girls I have loved before. If not for the lessons that I learned through them, perhaps I will not be able to have a wonderful life with my wife and son right now.
God allows our hearts to break not because He wants us to get hurt. Our past will never define our future. Our past will prepare us for all the beautiful things that God has in store for us. Because at the end of the day, God is the best story-writer and all our stories will have wonderful endings!
---
Activity:
List down the top five blessings that you have received in the last six months.
---

Reflect:
After listing them down, try to answer the following questions:
What challenges did you encounter before receiving your present blessings? How did you overcome those challenges? How are you sharing your blessings to other people?
*This excerpt is taken from Ma'am, May I Go Out? by Nio Calonge.
---
Ma'am, May I Go Out? Practical Lessons I learned Outside the Classroom
This is a book for every student.
Maliban sa mga natutunan mo sa loob ng classroom, mayroong mga bagay na dapat mo ring matutunan sa labas ng eskuwelahan na hindi mo dapat balewalain. Mayroong malaking classroom na naghihintay sa iyo — ang classroom ng buhay.
This book will inspire you to study more, learn more, and have fun. Sundan mo lang ang STAR — Scripture, Tale, Activity and Reflection — dito at siguradong gagabayan ka nito sa tamang landas.
Packed with down-to-earth and funny stories, this book will inspire you to reflect on your own journey through school and life. May mga activities din that will help you apply valuable life lessons and make you a better person.
Can we learn outside? Teacher Nio says, "Yes, we can!" Mag-aral ka at magmahal.
---
TARA AT MATUTO SA MGA KWENTO AT ARAL NI TEACHER NIO!
GET YOUR COPY OF NIO CALONGE'S BOOK,
MA'AM, MAY I GO OUT?
You don't even have to leave the comforts of your home.
You can buy your own copies online!
Here's how:
FOR PAPERBACK and DIGITAL versions:
Visit www.KerygmaBooks.com/shop and click on the titles that you want to order.
Choose PAPERBACK or DIGITAL and check out your order.
Choose your payment method.
Pay via bank deposit or PayPal.

For bank deposit: pay your balance and email your deposit slip to sales@blog.feastbooks.ph
Pay directly via PayPal.

For PAPERBACK: Wait for the books to be delivered right to your home! (For orders P1,000.00 and up, FREE shipping within Metro Manila only. Standard shipping rates apply for orders below P1,000.00 or outside Metro Manila.)
For DIGITAL: Wait for the confirmation of receipt of payment. The download links to your books is included in the email.
---
Sometimes, you just need a little ray of sunshine to break through the dark clouds that hover in your life.
KERYGMA ONLINE MIGHT JUST BE THE BLESSING YOU NEED.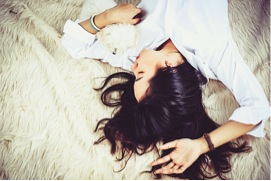 At KERYGMAONLINE, we give you fresh articles on life, love, finances, spirituality, health, and career TWICE A WEEK.
Some of these articles are actually excerpts from our bestselling and award-winning books, while some are contributed and written by our pool of blessed and anointed writers.
YOU CAN WRITE FOR US, TOO! Email us at editor.kerygmaonline@gmail.com if you have a story that you want to share to our millions of readers across the globe.
Visit us at www.KerygmaOnline.ph and read our online magazine. Enjoy fresh articles that will surely nourish, inspire and empower you in all aspects of your life.
Photo credit: www.pixabay.com