---
But if anyone does not provide for his relatives, and especially for members of his household, he has denied the faith and is worse than an unbeliever.
— 1 Timothy 5:8
---
I WORK FROM MY DINING TABLE
By Bo Sanchez
My first office is in the Lighthouse building.
It is a three-story building that houses the offices of my spiritual family, Light of Jesus Family, plus eight other nonprofit organizations. Most of them run on autopilot. This is the reason I rarely go there.
On the second floor is my not-so-used office. It has a sign on the door that says, "Chairman of the Board."
My second office?
It is a small apartment right next to my home. It's seven steps away from my kitchen door.
If you walk into my home office, you'll see a huge desk made of thick glass. It was on sale, so I got it for a song. (P6,000 only!)
Behind that unique desk are bookshelves loaded with thousands of books. Beside that room is another room that has nothing else but books, too. When I'm there, I feel like a fish in water. That's my world.
But let me be honest with you. As wonderful and convenient as my second office is, I use it about once a week.
Why? Because nothing can beat my third office.
My third office is my dining table.
That's what I use every day.
Because it has one thing that the other two offices don't have: It has a great view. Plus great sound effects, too.
From my dining table, I see my two noisy boys playing in the living room.
Do I get disturbed?
Heck, yes.
Very often, my youngest boy climbs on my lap and asks, "Daddy, can you play with me?" And there goes 15 to 30 minutes of work time — before he saunters off and does something else. And my older boy? He plays his electric guitar three feet away. "Twaaaaaaaaaaaaang, twaaaaaaaaaaang, twaaaaaaang…"
(Repeat 6,397 times.) And after blowing up my eardrums, he asks me, "Did you like it, Dad? It was sweet, right? Right? Right?"
Teenagers. And their words. "Sweet" is ice cream. Chocolate cake. A lollipop. Not the twaaaaaaaaaaaanging of an electric guitar.
How can I not be disturbed?
But honestly, I've grown to love the sweet disturbance.
Because I know that a day will come when my youngest son will stop climbing on my lap. A day will come when I won't hear his high-pitched voice, asking, "Daddy, can you play with me?"
A day will come when my oldest boy will be away from home — because he will be in college or working. And on that day, I'll give anything to once again hear the screaming sounds of his
electric guitar in my home.
Despite the disturbance (or perhaps because of it), I am able to work from my dining table productively.
Aside from "influencing" nine non-profit organizations (most kind of run on their own now without me), I run 12 private businesses, write seven magazines and 12 newsletters, preach 300 times a year, speak on TV, radio and the Internet…
And yes, I do everything from my dining table.
We eat breakfast, lunch, and dinner on it too.
When the food arrives, I just fold my MacBook and put it aside.
Who says work and love can't mix?
I work to provide for my family and to bless my ministries. I work so I could give more. But I do not wish for my job to take up much of my time, because in the end, the thing that matters the most to me are my relationships.
My wish is that you, too, will find a way to earn without sacrificing much time spent with your family.
Excerpt taken from Bo's foreword in Virtual Careers by Jomar Hilario
Photo from pixabay.com
---
DO YOU WAN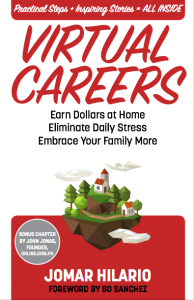 T TO EARN DOLLARS AT HOME, ELIMINATE DAILY STRESS AND EMBRACE YOUR FAMILY MORE?
Obviously, I am a great believer in working from home.
That's why I like Jomar Hilario's book, Virtual Careers. Through his seminars, Jomar has helped a lot of people work from home — giving them time to dabble on their passions — whether that is raising their family or building a business.
This book will guide you how to work at home as a virtual professional. (I have many wonderful virtual professionals working for me. That's why I can live the way I live.)
If you plan to have a virtual career, then this book is for you.
And hopefully, you too can enjoy the sweet disturbances from the special people in your life.
Blessings,
Bo
---
DO YOU WANT TO HAVE A COPY OF THIS GROUND BREAKING BOOK BY THE PHILIPPINES' ONLINE MARKETING GURU, JOMAR HILARIO?
You don't even have to leave the comforts of your home. You can buy your online!
Here's how:
FOR PAPERBACK and DIGITAL versions:
Visit KerygmaBooks.com and click on the titles that you would want to order.
Choose PAPERBACK or DIGITAL and check out your order.
Choose your payment method.
Pay via bank deposit or PayPal.

For bank deposit: pay your balance and email your deposit slip to sales@blog.feastbooks.ph
Pay directly via PayPal.

For PAPERBACK: Wait for the books to be delivered right to your home! (For orders P300.00 and up, within Metro Manila only. Standard shipping rates apply for orders below P300.00 or are outside Metro Manila.)
For DIGITAL: Wait for the confirmation of receipt of payment. The download links to your books is included in the email.
---
NURTURE YOUR SOUL EVERY DAY!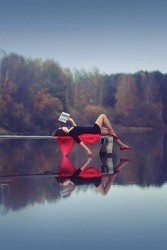 1.Visit us at KerygmaBooks.com/kerygmaonline and read our online magazine. Enjoy fresh articles that will surely nourish, inspire, and empower you in all aspects of your life. Kerygma Online is updated weekly.
2.Email us at kerygmaonline@gmail.com for comments, suggestions and contributions.
Photo credit: http://piccsy.com/2011/05/reading-8ozcw6p11/ through vi.sualize.us