---
That is why, for Christ's sake, I delight in weaknesses, in insults, in hardships, in persecutions, in difficulties. For when I am weak, then I am strong.
– 2 Corinthians 12:9
---
When You Don't Know What to Pray
by Fr. Bob McConaghy
There can be times when life hits you with something so unexpected and difficult to deal with that you don't know what to do. That's what happened to me the night before my heart bypass.
Family and friends came to visit me in the hospital to pray with me. They assured me I was going to be fine and I felt terrific. I was ready to jump on the operating table after they left.
Then the surgeon and the anesthesiologist came in. They said, "Father, in this day and age, people often file medical malpractice cases. We want to avoid that so we want to inform you of what can happen during the procedure." The doctor continued, "Father, we're going to stop your heart for about eight hours. We will take a vein out of your leg and use that to bypass the blockages in your heart. Now there can be some problems, Father."
I said, "Uh-huh," trying to take this all in. so far nobody told me there could be a problem.
"When we do the actual surgery, a little piece of that cholesterol can dislodge from your artery and go to your brain. Then you might have a stroke," the doctor explained calmly.
"A stroke?" I repeated, a little alarmed.
"Yes, you might have a stroke."
"Oh my God. I-won't-be-able-to-speak-again kind of stroke?"
"Yes," the doctor said.
"What else can happen?" I asked, my willingness to proceed with the operation slowly fading.
"You understand, father, that your heart is partly electrical. At the end of the surgery, we have to restart your heart. But we don't know in advance whether it will actually start or not. Sometimes we put the paddles on the heart and it doesn't start.
I said, "OK, then what do you do?"
The two doctors looked at each other and then one of them said to me, "Well, when that happens, when we can't get the heart to start…"
"Yes, what do you do?" I nudged him on.
"Well, usually we call for somebody like you — a priest — to come and give the last rites. But don't worry. You're going to do fine," he ended. And out they went, leaving me stunned and scared to death.
When you know that you can die in a few hours, you feel like a condemned man. You panic. So what do you do when you panic?
Do the three "T's":
Talk It Over. Don't hold anything back. Don't edit your prayer. Say what's on your mind, in your heart. Tell the lord how frightened and scared you are.
Turn It Over. The realization that I could not do a thing about what was going to happen on that table because I was going to be out like a light made me feel helpless. So I prayed, "lord, I turn it over to You. If You want me to continue serving You as a priest then I'll wake up."
Trust. Then you utter the three most difficult words you'll ever say in your life and not take them back: "I trust You." That's the key. When you're desperate and you go to church to pray, allow yourself to be consoled.
I noticed that in Greenbelt chapel in Makati city, people would come in droves to pray. Some of them are in tears as they lift up their petitions to God. When they leave the chapel, they're just as sad as when they came in. They talked it over with God, they prayed desperately for what they needed, but they didn't do the last two Ts. They didn't turn it over. They failed to pray, "Lord, I'm putting this in Your providential care. I know You love me. I know You love my sister who's dying," or whatever their situation happens to be. And they failed to say, "Lord, I trust You with this situation. Your will be done."
This excerpt is taken from CLOSER: Pray Your Way to Intimacy with God by Fr. Bob McConaghy
GRAB YOUR COPIES HERE!

Photo from pixabay.com
---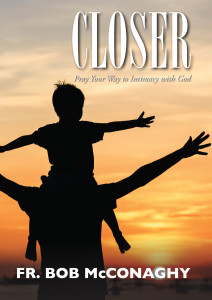 YOU ARE KNOWN AND LOVED BEFORE ANYONE
KNEW YOUR NAME.
That's hard to imagine in a world that's getting more and more connected through technology while fostering virtual, shallow relationships. We are fast losing our ability to be intimate.
That's why Fr. Bob McConaghy's book is timely. He reminds us that God loves us intimately and calls us to draw closer to Him. God wants to spend time with us. He wants us to know Him in a deeper way. And the way to do that is through prayer.
In these pages, you will learn to:
– Pray even when you don't feel like it
– Unleash the redemptive power of suffering
– Make sense of God's answer when He seems to be saying no to your prayer
– Grow your soul even during painful times
– Appreciate the real presence of Jesus in the Eucharist as you have never done before
And many more truths that will make prayer a joyful and personal experience with the Living Lord.
GRAB YOUR COPIES HERE!
---
ARE YOU READY TO TAKE YOUR RELATIONSHIP
WITH THE LORD TO A HIGHER LEVEL?
GET YOUR COPY OF FR. BOB MCCONAGHY'S BOOK, CLOSER: PRAY YOUR
WAY TO INTIMACY WITH GOD
You don't even have to leave the comforts of your home.
You can buy your own copies online!
Here's how:
FOR PAPERBACK and DIGITAL versions:
Visit www.feastbooks.ph and click on the titles that you want to order.
Choose PAPERBACK or DIGITAL and check out your order.
Choose your payment method.
Pay via bank deposit or PayPal.
a. For bank deposit: pay your balance and upload your deposit slip at the link we've e-mailed to you upon placing your order.
b. Pay directly via PayPal.
For PAPERBACK: Wait for the books to be delivered right to your home! (For orders P1,500.00 and up, FREE shipping within Metro Manila only. Standard shipping rates apply for orders below P1,500.00 or outside Metro Manila.)
For DIGITAL: Wait for the confirmation of receipt of payment. The download links to your books is included in the email.