"Nearby stood six stone water jars, the kind used by the Jews for ceremonial washing, each holding from twenty to thirty gallons" (John 2:6, NIV).
In the house were six stone jars that can hold up to 20 to 30 gallons of water. Jews used this for their custom of washing the feet of their guests.
Notice what Jesus said: "Fill the jars with water." And that was when He performed the miracle and turned the water into wine.
If you study this miracle carefully, you'll see a specific three-step pattern:
Step 1: Nothing
Step 2: Something
Step 3: Amazing
Think about it.
It would have been very easy for Jesus to just say, "Are those empty jars? Goooooood. OK, stand back. 'Abrakadabra, Banayad Whisky lasang blade!'" (Search for those words on YouTube and have a good laugh.) He claps His hands twice, and poof, He exclaims, "Gentlemen, those empty jars are now filled with wine!"
But Jesus didn't do it that way.
He didn't skip step two.
Jesus did not like the jars to be empty. He wanted to fill them with water.
You will find this all over the Bible: God will not make something out of nothing. Instead, He will get that which is ordinary and make it extraordinary. He will get what is natural and make it supernatural.
Do you want a miracle? Work with what you've got.
What's Your Water?
If you want wine, but you only have water, give your water to God—and He'll turn it into wine.
Question: What's your water?
If you want a miracle in your finances, work with what you have. Don't complain, "I don't have capital for my business," and "I don't have the right connections," and "I don't have a college degree," and, "I don't have enough skills."
You have something. You can read. You can talk. You can walk. You can learn. Most of all, you can make mistakes—and learn some more. Work with what you've got.
If you want a miracle in your health, don't talk about what you don't have.
One guy—let's call him Juan Tamaduchi—told me, "I'm going to get healthy by buying this amazing exercise machine. But it's too darn expensive."
He told me what it does: If you take one step, it multiplies its effect on your muscle. So instead of exercising for 40 minutes a day, you only need to exercise for four minutes a day.
I told him, "Juan, I don't even know if that thingamajig works, but even if it
did, you can't wait for that exercise machine before you start exercising. Work with what you have. Do you have legs?"
"Uh, yes."
"Walk!" I told him. "But there's nowhere to walk. I live in a building," he said.
I said, "I know a guy who lost 23 pounds just by going up and down the stairs of his ten-story office building every day. If you want to walk, you'll find a way to do it."
Let's go to my second Bible story.
Stick into Spear
His name was Shamgar.
Shamgar is a classic superhero.
Here's what the Bible says: "Shamgar…was the next to rescue Israel. In one battle, he used a sharp wooden pole to kill six hundred Philistines" (Judges 3:31).
But Shamgar is not your normal superhero. Because superheroes have superpowers. Superman is an alien from Krypton. Thor is a god from Asgard. Spiderman was bitten by a radioactive bug. And the X-Men have mutant powers.
But Shamgar was a simple farmer. And what was his weapon?
A long stick. But he gave to God what he had in his hand. He worked with what he had.
He didn't complain, "Lord, I'm not a soldier. I'm not a marine. I'm not the Navy Seals, the CIA, FBI, or KGB. I'm not even a security guard!" He didn't say, "Lord, I don't even have an Uzi."
Shamgar just said, "Lord, I have a stick. It's not much, but use my stick. Use what is in my hand."
Today, God is asking you, "What is in your hand?"
Moses held his rod.
David held his slingshot.
Shamgar held his stick.
And a little boy had his lunch box. Which is my third Bible story…
Lunch Box into a Lunch Buffet
One day, thousands of hungry people were sitting in front of Jesus. Instead of snapping His fingers and one hundred trucks of donuts magically appearing from thin air, Jesus asked, "What do you have?"
The Bible tells us, "There is a boy here who has five small loaves of barley bread and two fish. But what good is that with all these people?" (John 6:9).
I repeat: God does not create something out of nothing. He insists that He works with something.
And there was this little boy who gave his lunch.
THis boy has three qualities.
First, he was loving. Love means being selfless. Can you imagine? He was giving away his own lunch. Didn't he think, "Wait a minute. What about me? What if I get hungry?"
Second, he was trusting. He trusted Jesus so much, he knew He would provide for him even as he shared everything.
Third, he was pioneering. He didn't wait for everyone to share his lunch. He was not afraid to be the first to move.
Miracles happen when you're loving, trusting, and pioneering.
I'm sure you've heard a preacher talk about being loving and being trusting as qualities that prepare you to receive your miracle. But very few preachers talk about the powerful quality of being pioneering.
If you want to see more miracles in your life, be a pioneer. Make the first move. Do something other people are not doing yet.
This article is an excerpt from the book, Be Happy, Healthy, and Wealthy Today: How to Be Richer with Life Lessons from the Teacher and the Preacher by Bo Sanchez and Dean Pax Lapid, PhD.
Featured photo by Joshua Earle on Unsplash
---
Do you want to change your life and be truly rich?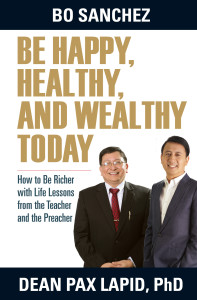 Don't look for complicated solutions. Look for simple ones instead.
This book contains tried and tested truths gained from the school of experience, the best teacher of all.
Dean Pax Lapid and Bo Sanchez have joined forces once again to give you the lessons you need to learn to succeed in business and in life.
They have distilled over half a century of lessons learned through living, failing, and succeeding. You will save yourself from a lot of unnecessary heartaches when you listen to them. Learn the lesson without having to go through the painful experience.
The simple truths captured in this book have the power to transform your destiny. They will help you become truly rich and happy when you apply the priceless wisdom contained here.
In this book, you will learn about:
✔️ The Dreams and Drivers to Success
✔️ Valuable Nuggets of Financial Wisdom
✔️ Snippets of Business Success
✔️ How to Live in Significance and Trust
✔️ The Pattern of a Miracle
Drink up their stories, their experiences, and their lessons. Their life lists are an invitation for you to create your own. Listen and learn from the teacher and the preacher and start living a fulfilled life. Be happy, healthy, and wealthy starting today.
Get your copies now at a special pre-order price at Kerygma Books! Click HERE to get a copy of Be Happy, Healthy, and Wealthy Today by Bo Sanchez and Dean Pax Lapid.

---
GET MENTORED BY THE EXPERTS
GET YOUR COPY OF BO SANCHEZ AND DEAN PAX LAPID'S
BE HAPPY, HEALTHY, AND WEALTHY TODAY
You don't even have to leave the comforts of your home. You can buy your own copies online!

Here's how:
FOR PAPERBACK and DIGITAL versions:
Visit www.KerygmaBooks.com/shop and click on the titles that you want to order.
Choose PAPERBACK or DIGITAL and check out your order.
Choose your payment method.
Pay via bank deposit or PayPal.
a. For bank deposit: pay your balance and upload your deposit slip at the link we've e-mailed to you upon placing your order.
b. Pay directly via PayPal.
For PAPERBACK: Wait for the books to be delivered right to your home! (For orders P500.00 and up, FREE shipping within Metro Manila only. Standard shipping rates apply for orders below P500.00 or outside Metro Manila.)
For DIGITAL: Wait for the confirmation of receipt of payment. The download links to your books is included in the email.