Great Pause
by Marjorie Duterte
It's been fifteen years since I had my last romantic relationship.
I stopped getting into one when I heard God whisper to my heart, "Tama na, anak. Ako naman. Let me show you what love really means." (That's enough, My child. It's My turn.)
Through the years, I had been tempted many times to enter into pseudo-relationships by entertaining crushes that turned into friendzones. Through them all, I thank God for saving me time and again from relationships that were not meant for me because I was simply not ready.
Today, I enjoy being alone, maybe way too much. But like you, I do long to be in a happy, healthy relationship that brings out the best in each partner. However, I realized it's true what Teresa Gumap-as Dumadag says in her book When My Bridegroom Comes that sometimes "God delays relationships to give time for individuals to heal." The problem is, we want to rush this process. If we keep on jumping from one relationship to the next, we don't really get the much-needed time to heal and we repeat the same mistakes. Maybe it is time you pressed the pause button and allow God to love you now. It's His turn.
I realized that the wrong time to be in a relationship is when you are too eager to be in one. You do yourself good when you are honest with yourself. Why do you want to be in a relationship? Is it because you are lonely? Is it because you're afraid to be alone and you're getting older? Are you afraid of missing out and getting left behind now that all your friends are getting married and having their own families?
Knowing your why will clarify things for you. Deep inside, you know these are not the right reasons to get into a relationship. When you want it so much—when you want it only because you feel lonely or want to escape the feeling of emptiness—it becomes an idol in your heart.
I know someone who made it a goal to get married before she turned forty. She had her own timeline and worked hard to find a man. She tried to make the relationship work because she had to meet her deadline. She did get married before forty. Two years later, however, they got separated because the groom turned out to be gay.
It's funny but too tragic for me to laugh about. I pray that God will protect us from making the same mistake, from taking matters into our own feeble hands, and subjecting ourselves to such unnecessary heartbreak and pain. If only we would trust God and follow His perfect timing and ways. I truly believe that if He called you to the vocation of marriage, He will provide the spouse you need.
"The Lord God said, 'It is not good for the man to be alone. I will make a helper suitable for him'" (Genesis 2:18, emphasis mine).
God will provide the partner who is just right and perfect for you. I hope we will trust God's Word because He is trustworthy. Instead of chasing after men who are not right for you, wait for the one God is preparing for you.
You may be growing impatient right now waiting for the right one. Friend, don't worry. Instead of worrying, trust God. He is faithful to keep His promise to you.
But you may be asking, "What should I do while I wait?" is reminds me of the story told by Jesus about the ten virgins who had to wait for the bridegroom to arrive.
True Love Waits
"Thee Kingdom of heaven will be like ten virgins who took their lamps and went out to meet the bridegroom. Five of them were foolish and five were wise. The foolish ones, when taking their lamps, brought no oil with them, but the wise brought asks of oil with their lamps. Since the bridegroom was long delayed, they all became drowsy and fell asleep.
"At midnight, there was a cry, 'Behold, the bridegroom! Come out to meet him!' Then all those virgins got up and trimmed their lamps. The foolish ones said to the wise, 'Give us some of your oil, for our lamps are going out.' But the wise ones replied, 'No, for there may not be enough for us and you. Go instead to the merchants and buy some for yourselves.'
"While they went of to buy it, the bridegroom came and those who were ready went into the wedding feast with him then the door was locked. Afterwards the other virgins came and said, 'Lord, Lord, open the door for us!' But he said in reply, 'Amen, I say to you, I do not know you.' Therefore, stay awake, for you know neither the day nor the hour" (Matthew 25:1-13).
Let's reflect on the wisdom of the wise virgins whose lamps did not go out when it mattered the most. Of all the days for the lamp not to go out, it was that night. But isn't that the case with our dreams? You never quite know when it will actually happen. Our time is not God's time, but His is always perfect.
What did the wise women do that the foolish ones did not? It's that something extra. They were prepared.
"The foolish ones, when taking their lamps, brought no oil with them, but the wise ones brought asks of oil with their lamps" (Matthew 25:3-4, emphasis mine).
Now, what could that oil represent?
In the Bible, especially in the Old Testament, oil is usually associated with "anointing" such as when the young David was anointed with oil by the prophet Samuel. "You anointed my head with oil," he writes in Psalm 23. Both the literal and spiritual anointments with oil are usually associated with the Holy Spirit. The "anointing of oil" symbolizes the outpouring of the Holy Spirit's graces upon you.
The Spirit's anointing graces are what keep our spiritual lamps burning, our faith and hope lighted, especially when waiting for God's promises to come true in our lives takes time to come to fruition.
Have you ever waited for God's promise to be fulfilled in your life that you were tempted to doubt, give up, and even sin by taking matters into your own hands?
Girl, I understand. I've had my share of waiting. Life is a series of waiting and it can really be a struggle and a test of our faith and trust in God.
But we are not alone. Even Sarah, wife of Abraham, had to wait for God's promised son to be born for quite some time.
Abraham was seventy-five years old when he first received God's promise that his descendants will become a "great nation" (Genesis 12:4). If you were in Abraham's sandals, you would expect the promise to be fulfilled soon, given his age! But Scripture tells us that he was already one hundred years old when Isaac was born. Sarah was ninety. Abraham and Sarah waited twenty-five years for the fulfillment of God's promise. Imagine that.
But wait, there's more! Israel waited for fourteen generations for Jesus to arrive. Why God takes a long time to full His promise, I don't know. But here's what I realized: When He wants to do something great in a life, He takes His time. In nature, it takes twenty years for an oak tree to grow thirty-six feet. It takes nine months for a baby to be ready to be born.
In those twenty-five years between the time that Abraham was promised a son, Abraham and Sarah had certain ideas of how they might facilitate to bring about the promise. Because they may have doubted or became impatient of God's plans, they took matters into their own hands. One idea was that Abraham's steward, Eliezer, would become the heir of Abraham's household (see Genesis 15:2-3). Another idea, albeit the worst one, was Sarah giving Abraham to Hagar, her servant, so she could conceive a child (Genesis 16:1-2).
"Now Sarai, Abram's wife, had borne him no children. But she had an Egyptian slave named Hagar; so she said to Abram, ' The Lord has kept me from having children. Go, sleep with my slave; perhaps I can build a family through her.' Abram agreed to what Sarai said" (Genesis 16:1-2).
In both cases, God rejected those men as Abraham's heirs, pointing Abraham and Sarah to a literal, miraculous ful llment of the promise, and He was faithful to keep His promise when Sarah gave birth to Isaac at ninety years old! Have you ever heard of a woman giving birth at ninety years old? Now, that's naturally impossible. But for God, nothing is impossible (Luke 1:37).
Which brings us to the wisest woman the world has ever known—Mary.
When Mary first heard the news from Angel Gabriel that she would be the mother of the Messiah (Luke 1:26-38), she did not understand how such a thing could be possible since she was a virgin. Again, it was naturally impossible. But she never doubted that God would do as He said. "Blessed is she who has believed that the Lord would ful ll his promises to her!" (Luke 1:45). We thank our Lord for Mama Mary, our great model of faith. at response is the kind of faith that pleases God (Hebrews 11:6). It will be done for you because you believed. Dear God, heal our unbelief and increase our faith!
That Something Extra
So, what's a woman to do while waiting for the seemingly impossible to happen? What should she do as she holds fast to God's promise to her? Girl, let me ask, "Do you have extra oil with you?"
To continue reading, grab your copy of Unlove.
*This excerpt is taken from "Unlove: Heal Yourself from Toxic Romance and Love in a Healthy Way." by Marjorie Duterte
Photo from Unsplashed.com
(until supplies last)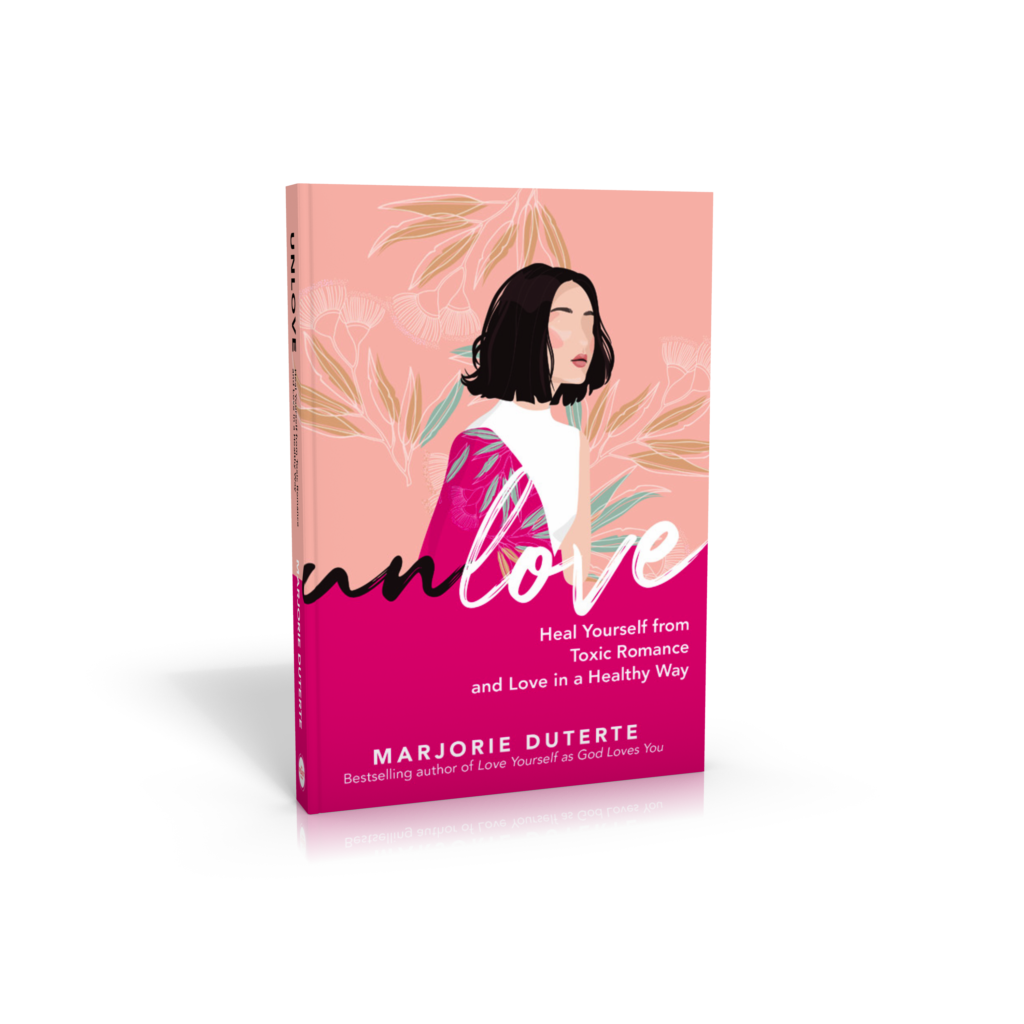 Discover a Path to Healthy Romance
Friend, how's your heart?
Is it tired? Hurting? Bleeding?
Did it recently break into a million pieces?
Is it hardened and numbed from all the pain?
It's time to mend your wounded heart.
If you're stuck in a toxic relationship that steals your peace and joy; if you find yourself in a "friendship with benefits" because you think that's all you deserve; if you feel needy and impatient as you wait for your one true love and are tempted to settle—this book is for you.
You stay in unhealthy relationships long enough and you start to believe it's how it's meant to be—painful. The truth is, real love is peaceful. UnLove will help you see true love for what it is and expose its counterfeits. It also provides insights, steps, and prayers to help you move from a toxic relationship to a healthy one.
Don't settle for a toxic romance or a pseudo-relationship. You deserve the best kind of love—the happy, holy, and healthy relationship God wants for you. Let UnLove heal your broken, weary heart and make it whole again.