One August Day… When Jesus Appeared to Me
by Chay Santiago
Last March, Tess Atienza, Kerygma managing editor, assigned me to write an article for Seasons column this August. I gasped, thinking the assignment must be providential, because August is a special month for me. It 's the month Jesus first appeared to me.
Before you react "Whoa," I must say you won't find this story in the Internet because it's not like the miraculous apparitions of Jesus. Nevertheless, my story is worth telling because Jesus is really in it.
A Child for Praising the Lord
August 31, 1983 is the birthday of my second child. During my pregnancy, I suffered a condition called placenta previa, where the placenta blocks the neck of the uterus, which would interfere with the normal delivery of the baby. My doctor decided that I undergo caesarean operation to save both me and my baby.
Before the surgery, my doctor did something I'd never seen before. She laid her hands over my tummy and mumbled some prayers, ending with "Praise the Lord." My baby and I survived. And because the last words I heard from my doctor before I gave birth was "Praise the Lord," my husband Ed and I chose a name for our newborn with a PL acronym. We named him Paolo Luis.
Little did we know that it would be through Paolo Luis that we would be praising the Lord to this day.
In Jesus' Name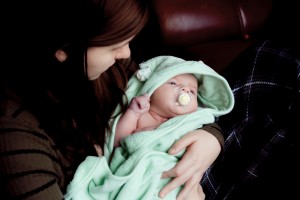 In August 1985, Paolo, then two, was confined in the hospital due to typhoid. He didn't seem to respond to his medications. I was desperate, afraid that we would lose him.
Then one evening, my sister May came to the hospital, bringing along her prayer group led by a 19-year-old guy named Bo Sanchez. Bo said, "Chay, I will pray over you and Paolo, but promise me you will attend our prayer meeting."
Who is this guy to pose such a demand on me? But he spoke with authority, as if so sure that it was the best thing that could ever happen to me and Paolo.
So I replied, "OK."
Bo then proceeded to do something I witnessed for the second time. He lay his hands over Paolo and me, mumbled prayers, and concluded with, "In Jesus' name."
The group members chorused, "Amen!"
Jesus. In His name, Paolo got healed. Ed and I joined the Light of Jesus Family and since then, none of us have been seriously sick. We've also been blessed with more than enough.
That's how Jesus came to me that one August evening. That's how He came into my life.
Again and Again
It's been 31 years since our spiritual renewal. Another thing I've learned is that nothing happens by accident. I believe every day, through every person and in every circumstance, Jesus keeps appearing to me. All I must do is be alert and be discerning, so I would see and feel Him, and bask in His unconditional love and saving grace — like that August Day, again and again.
E-mail Chay at cusantiago@gmail.com.
---
*This article originally appeared in Kerygma magazine August 2016 issue.
Kerygma. A Greek word meaning "Proclamation of the Gospel." It is a Catholic inspirational magazine known for having changed thousands of lives, and has been hailed as the "Publishing Miracle of Asia".  It chronicles real miracles experienced by real people. It features testimonies of God's unfailing love. Kerygma magazine has been in circulation for more than 25 years, and it will continue to do so for the next 25 more… and beyond.
Help us spread God's Word through print media. When you subscribe to Kerygma, you also give to the mercy ministries of the Light of Jesus Family.
Subscribe to Kerygma now! To subscribe, go to http://www.kerygmabooks.com/shop/product/kerygma-magazine/ or call us at 725-9999.
FREE SHIPPING within Metro Manila.
**Featured image via unsplash.com