Perhaps one of the most obvious signs that our passion for work has waned is when we start to feel the Monday morning blues. Most demotivated people do not look forward to Mondays.
An anonymous author aptly captures some people's least favorite day:
"Just once, I would like to wake up, turn on the news, and hear… 'Monday has been canceled, go back to sleep.'"
Another one quips:
"Monday is like a math problem. Add the irritation, subtract the sleep, multiply the problems, divide the happiness."
Our attitude towards Mondays reflects how we view our work. Do you feel it too? Perhaps you can relate to one of these Monday morning situations.
Situation 1: It's Just Another Manic Monday
You've been pressing the snooze button for the nth time on your cell phone alarm clock. It first sets o at 5:45 a.m. And now it's 6:30 a.m. You start to panic: "I'm late!" In frantic, you rise from your cozy bed, rush to the bathroom, and break the Guinness world record for the Fastest Bathing category.
As you put on your clothes and shoes in haste, you let out a heavy sigh and protest, "It's Monday again! I wish I didn't have to work today." You endure the tra c and get to your workplace 15 minutes late. As you sit at your desk, a pile of paperwork welcomes you and an in nite list of things to do under the folder called pending. You don't look forward to the week ahead.
Situation 2: A Hopeful-Turned-Melancholic Monday
It's Monday morning and you're waiting for a response from a client. You had a meeting last week and it went well. e discussion was light and positive. You explained and convinced, and answered all his questions like a well-defended thesis. You feel that there's a 90 percent chance he'll sign up and make the down payment. He promised to call you today for his final answer. At 10 a.m. you receive a text that says, "Can I call you?"
You feel excited and decide to call him yourself. He then breaks the news.
"I'm so sorry, something urgent came up. We decided not to buy as of this time." You reply, trying to hide your disappointment, " at's OK. I understand."
Sadness hits you. You start to feel depressed. It seems like every prospect you've had these past few months has had excuses not to proceed. You just want to lay low for a while and mend your heart. You go for your comfort food and to movies and binge watch until you feel better. But suddenly the mailman arrives and it hits you: " e bills!"
Situation 3: What's-Happening-to-the-World Kind of Monday
You've always dreamt of putting up a business and now you're living it. It was a struggle for the first few months, but now it's slowly picking up and stabilizing. You have a meeting with your sta , after all it's a Monday morning.
Your salesperson reports that your usual clients are not ordering from you. You do some investigating and you nd out there's a new competitor with a similar product, but a bit cheaper. is can potentially ruin your business. You get discouraged. To top it all, one of your trusted employees suddenly resigns. It's only Monday, but you're already having a crazy start on the rst day of the workweek.
Do you feel agitated and passionless on Monday mornings, and perhaps most mornings? Deep inside, you want to be excited with your work or business just like when you first started. You desire to be productive, to perform with excellence, but you simply can't bring yourself to eagerly accomplish your tasks. You seek for the right approach to motivate yourself because you are not getting enough inspiration.
Friend, you need to get red up again! But rst, you need to guard your heart from the passion killers that rob you of your re. Do you want to know what the rest are? Here are the signs and symptoms you need to be aware of so you can guard your re and make a 180-degree turn.
*This excerpt is taken from The Fired Up Life by Kirby S. Llaban.
Featured photo (c) Imani Clovis from Unsplashed.com.
---
Motivate Yourself and Reach Your Goals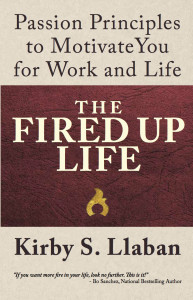 Often, we lack the drive and consistency to achieve our dreams. Our energies are sapped by worries, laziness, and fear. This book will help you motivate yourself and achieve success using the principles of the Christian faith. Specifically, this book will teach you how to:
Find Your God-given Passion and Purpose
Master Your Unique Gift
Make a Blueprint for Your Dreams
Keep Your Passion Burning
Scale Up Your Influence and Impact
Lead People with Passion
Spread Your Passion Like Wildfire
You are meant to set the world on fire. What are you waiting for? It's time to live the Fired Up Life!
"The Fired Up Life will help the reader live life to the full. We need more red-up Catholics to proclaim and live out the faith in our day-to-day life." –Joe Tale, Chairman, Couples for Christ
Available soon at www.KerygmaBooks.com/shop.
---

ARE YOU READY TO SET THE WORLD ON FIRE?
GET YOUR COPY OF KIRBY S. LLABAN'S,
THE FIRED UP LIFE: PASSION PRINCIPLES TO MOTIVATE YOU
FOR WORK AND LIFE
You don't even have to leave the comforts of your home.
You can buy your own copies online!
Here's how:
FOR PAPERBACK and DIGITAL versions:
Visit www.KerygmaBooks.com/shop and click on the titles that you want to order.
Choose PAPERBACK or DIGITAL and check out your order.
Choose your payment method.
Pay via bank deposit or PayPal.
a. For bank deposit: pay your balance and upload your deposit slip at the link we've e-mailed to you upon placing your order.
b. Pay directly via PayPal.
For PAPERBACK: Wait for the books to be delivered right to your home! (For orders P500.00 and up, FREE shipping within Metro Manila only. Standard shipping rates apply for orders below P500.00 or outside Metro Manila.)
For DIGITAL: Wait for the confirmation of receipt of payment. The download links to your books is included in the email.