When I first moved to the Philippines, it was the first Sunday of Advent, and the Gospel was about John the Baptist preparing the way for the coming of the Son of Man. "People will die of fright in anticipation of what is coming upon the world, for the powers of the heavens will be shaken… But when these signs begin to happen, stand erect and raise your heads because your redemption is at hand" (Luke 21:26, 28).
Back then, the Y2K bug was a main concern. Short for the year 2000, it was feared that computers would fail at the turn of the millennium and the world would ground to a halt because of how the date would reset to 1900 instead of 2000. Many books were written and people gathered items that they could store in their homes just in case the doomsday prediction would happen on New Year's Eve.
The Friday after that particular Gospel, on December 12, I was staying in an apartment on the fifteenth floor of a building across the street from Greenbelt Chapel in Makati where I served.
At 11:05 p.m., my room started shaking. I didn't know what it was at first. I thought, maybe something's wrong with the air conditioner. But the quakes increased and I heard people screaming. So I went out of my room and down fifteen floors faster than you could say, "Praise God!"
I stood on the street with everybody else until the earthquake subsided. We all waited for the guard to come and tell us it was safe to return to the building. At 2:00 a.m., he showed up.
The residents there knew I was a priest, so when the guard said, "OK, everyone, you can come in," they all looked at me and said, "Go ahead, Father, you go first."
I said, "Did you ever hear of a thing called aftershocks?"
I didn't go back as the earthquake scared the daylights out of me.
The next day was a Saturday and I would hear confessions forty-five minutes before the Mass. Usually, there would be maybe six or seven people in line for confession.
But that Saturday, there were at least 100 people in line for confession. They thought the earthquake was a preview of the Y2K bug and the world would be destroyed. People believed this, and they looked at the earthquake as a sign that said, "You better be prepared. Get ready!"
But the purpose of the Gospel is not to frighten us, but to help us to live in the present moment. Have you ever really lived in the now?
Many of us either look back or plan forward. In banking terms, yesterday is a canceled check. You can't spend that check anymore. Tomorrow is a promissory note. So, the truth is: the only day you can live is today, in the now.

Your Decision Now
In your present moment, you can go in a whole different direction than what you've planned or where you're heading.
That's what happened to Bro. Caloy Carcelar, one of our partners in Bibliakonia, The Feast Bay Area Liturgical Bible Study and Lectio Divina.
When he was in college in the seminary, taking up Philosophy, he received a cash gift from a woman who came from the United States. Brother Caloy had taken care of her when she visited so she gave me P5,000 to give to him on Christmas Eve.
He was stunned when I handed him the money. "Wow, I have P5,000. Now, I can go and buy presents for my family, ever my cousins," he said.
He immediately thought of the things he would buy. He was thinking ahead; he was not in the now.
So he went out. In Guadalupe, Makati, he crossed the foot bridge to the other side to go to Jollibee. He planned to get a couple of hamburgers and then go shopping. But he noticed a man in his mid-thirties. He was a double amputee and was seated on a board, playing the guitar and singing. He had a crowd around him, and when he finished his mini concert, everybody went their separate ways after putting some money in his guitar case.
All of a sudden, Caloy was in the moment. Touched by the life of this man, Caloy wasn't thinking about shopping, not thinking about his P5,000.
He approached the man and asked, "Hi! Ano ang pangalan mo?" (What's your name?)
"Edgy?"
"Ano'ng nangyari sa 'yo?" (What happened to you?)
He said that he lost both of his legs in an accident. "But I'm still able to sing. I'm still able to pray. I'm still able to make people happy on Christmas."
Caloy told Edgy, "How about we go into Jollibee here and have a nice meal?"
Edgy just said, "I can't do that. I have to make my boundary."
Again, staying in the moment, Caloy told Edgy, "Here's your boundary." He gave Edgy the money and then he asked the guards to help him bring Edgy to Jollibee. Edgy wasn't dressed well and people were staring at him. But it didn't bother him at all as he was happy to be with Brother Caloy. Edgy said his wife broke up with him. "She found someone taller than me," he said humorously.
Caloy, being a seminarian, got around the important question. "How about God? Do you have Him in your life?"
Edgy replied, "Of course, I pray. I go to Mass here in Guadalupe every Sunday. With the money that I make here, I make sure that my two children get a Catholic education. I use part of it to pay for their tuition, and the principal of the school pays for the rest. That's a miracle!"

Gift of the Present
If anybody had a reason not to be noticed except for a few minutes while he sang, it would be Edgy.
But Caloy was in the moment—not distracted by shopping, not distracted by the past, but singularly focused on Jesus disguised as a man with no legs, who goes to Mass, and prays.
Living in the present moment is a gift Jesus gives to you and me.
Don't waste it in the past because you can't bring it back. The future is uncertain. But you do have the moment, now. In that now, let your only focus be Jesus. He is with you. Stand upright in the moment and you will receive an unexpected gift, just as Caloy did. Our God is the God of the unexpected. He is the God of surprises. You want to discover the gift He gives you? Stay with Him in the present moment. So what will you do now?
*This excerpt was taken from STRONGER by Fr. Bob McConaghy, available in paperback and e-book copy at http://www.feastbooks.ph!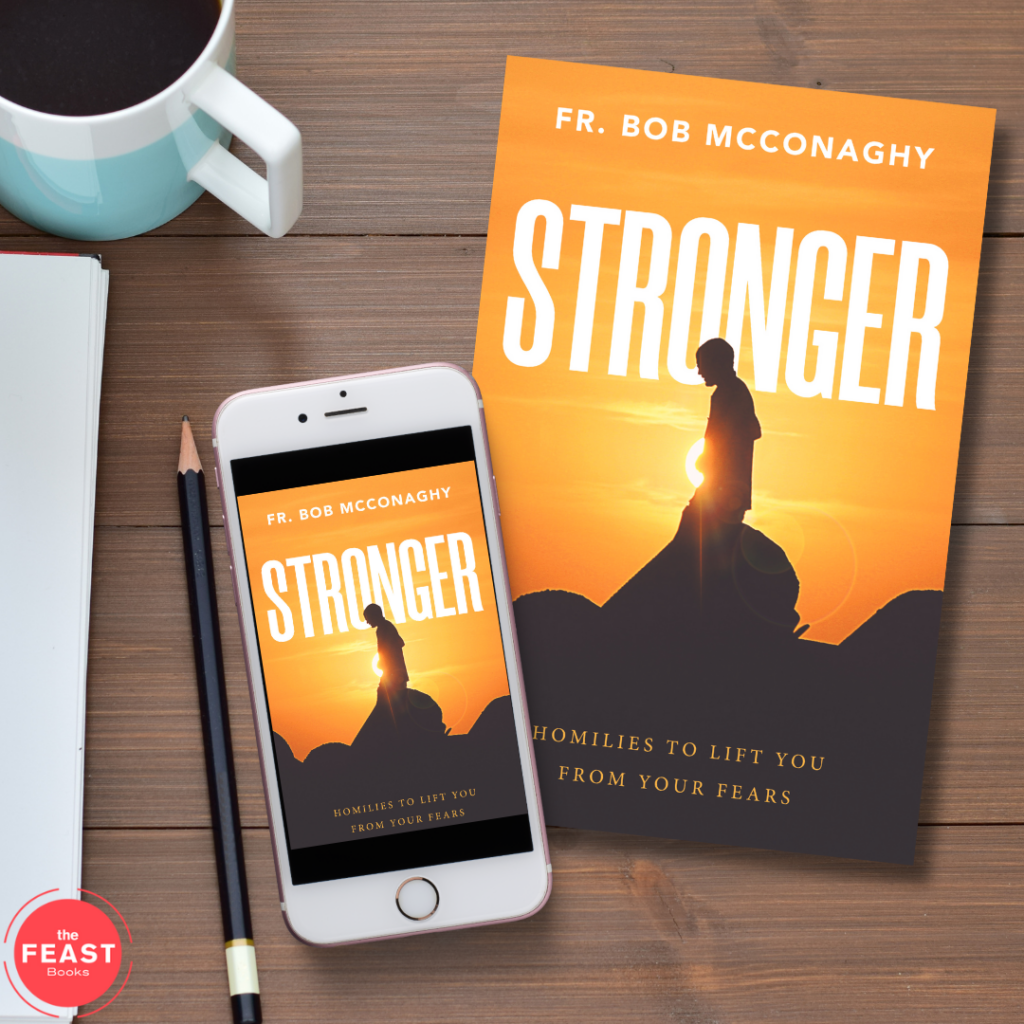 Also available at: