Overcoming Stress and Anxiety By Reng Morelos
Our four-year-old grandson, Joseph, has lately been praying for people's mental and physical health. Our family found it so cute that somebody his age would think of praying for that. But come to think of it, aren't people's mental and physical health today's primary concern? Our country and the rest of the world are still very much affected by the coronavirus. There seems to be no end in sight even with the rollout of vaccines. A lot of people have suffered from it and even died because of it. Many of us have lost loved ones and suffered due to the virus despite observing health protocols like social distancing, wearing of face mask and face shield, and handwashing. People's mental health has been severely affected. I heard from a sister-inlaw that in a span of one week, three persons have committed suicide in their neighborhood. How sad!
I must admit there were instances when I also got anxious about our situation. Fear of getting sick, worry over enough resources to see us through this pandemic, and sadness on hearing about people we know who are sick or dying from the virus crept into my heart. I had a lot of questions. When will these all end? How can I keep our family safe from being infected with COVID? When can we go out again to see our loved ones? Can we ever hug and kiss people we love again?
I'm not a doctor but I'd like to share with you some things that helped me get over anxiety or sadness.
1. When my mind is bothered by all these, I try to have a paradigm shift. I focus on other things or busy myself with stuff around the house like cooking, cleaning, and gardening. I also started sorting unused items in the kitchen, closets, and storage room to give away. It cleared my mind as well as the clutter in the house.
2. I dress up. Even if it's just a pair of shorts and T-shirt, I make sure I don't look like a loshyang (dowdy) housewife. I want to look good for my family. Since I don't go anywhere because of the pandemic, I have "demoted" the casual clothes I used to wear going out to stay-at-home clothes rather than let them just gather dust in the closet.
3. I bask in the sunlight. A friend shared that when we do so, we get serotonin, a hormone that stabilizes our mood and feeling of wellbeing and happiness.
4. Stay connected. Thank God for technology, I can catch up with family and friends through Facetime, Messenger, Viber, or Zoom. My husband and I try to call our children and grandchildren as often as we can. We've also started a bi-weekly Bible sharing with our children. Also, for more than a year now, we have been meeting daily with my husband's siblings for prayer, Bible reflection, sharing, and fellowship via Zoom.
5. Get out of the house—of course properly equipped with face mask, face shield, alcohol, etc. My husband and I would sometimes go out to drive around just to have a change of scenery.
6. Get nourished by God's Word. This has kept me anchored and is the most important for me. It has kept me resilient no matter what came my way. I nourish my soul by watching YouTube teachings of preachers and other videos I felt would help me. I learned to look with my eyes of faith and not with eyes of fear. I learned to trust God more that even in the midst of this seemingly unending pandemic, He is in control. In His time, this too will pass.
Let's not lose hope. There is a God who loves us and sees everything that's going on. Just call His name and put your trust in Him. He will see you through. Trust in His timing. He is never late.
*This excerpt is taken from Feast Magazine July 2021 issue*
Grab your e-copy here.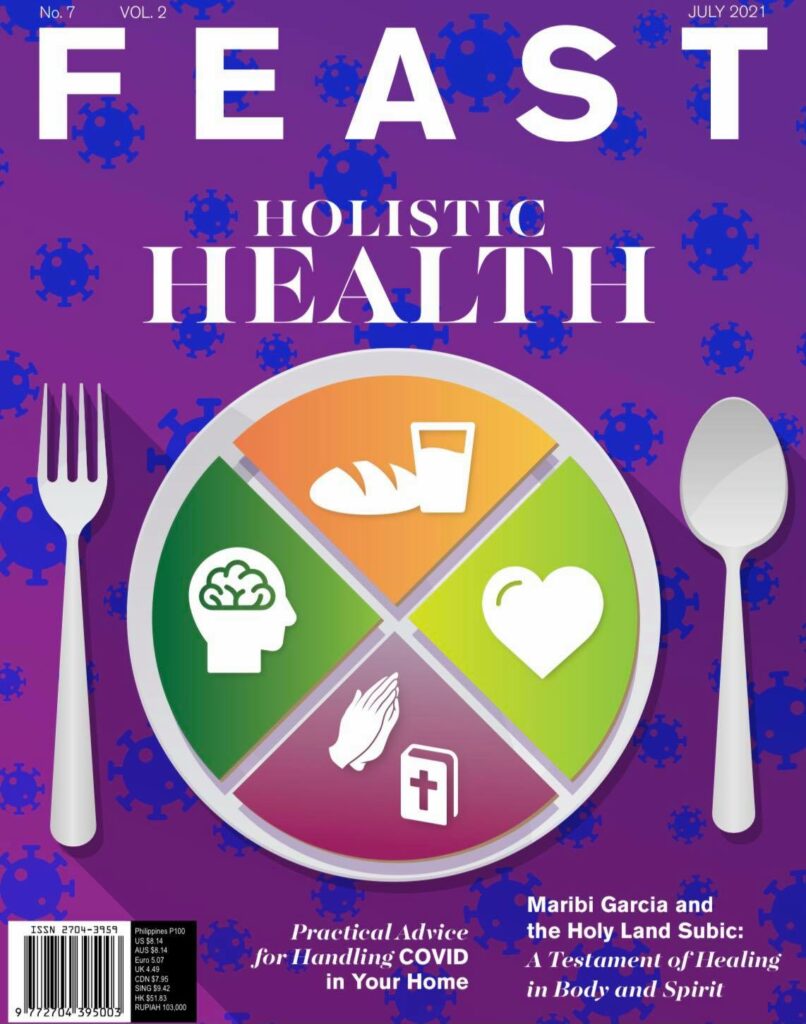 Featured image is from Unsplash.com.