Jesus: My Ultimate Weightlifter
By Hidilyn Diaz as told to Maymay R. Salvosa
I took a deep breath before lifting the 112-kilogram barbell. It was the second round of the 2016 Summer Olympics women's weightlifting category in Rio, Brazil — and my second attempt to secure a medal for our country. But I was starting to lose hope. Hsu Shu-Ching of Chinese-Taipei and Li Yajun of China listed a commanding lead after the first round, lifting 101 and 100 kilos respectively, while I lagged behind at 88 kilos along with the other contestants. I had to complete my next execution or I would go home emptyhanded — just as I did during my two previous Olympic stints. But as the pressure and anxiety threatened to fill me, one face came to mind: Jesus. That image wiped away all the fear from my heart. I smiled and calmed down. I was not alone in this fight. And this wasn't for me anymore. It was all for Him. Whispering one more prayer of surrender, I lifted the barbell in front of me, giving my best with Jesus' love as my strength. And my life was never the same again.
Pre-Lift Off
I am the fifth child in a brood of six. My family lives in a far-flung barrio in one of the known dangerous provinces in the Philippines. Even before our father drove away with his tricycle every morning, we would already hear about kidnapping incidents at a nearby area. Our mother took care of us while trying to budget every centavo that our father earned. Whenever we asked for something, the pained look in her eyes seemed to apologize for not being able to provide for what we needed. As a young girl, I dreamt of taking them away from the place we called home — the poverty that I grew up with.
Perhaps because of the environment, we were not an expressive family. A whole day could pass by without any of us chatting. We only talked to each other if we needed something. Our trials made me see life in a negative way. I was mad at our situation but I kept it to myself. I didn't notice that I was slowly building walls around me, blocking off other people who were reaching out to me. I became a snob, closed-minded and vengeful. I ended up having only a few friends back then.
When I was in grade six, I saw my male cousins lifting bamboo stems near our house. Intrigued, I asked them what they were doing. "We're training for weightlifting. Do you want to join us?" they responded.
After watching them for a few minutes, I gave in. I joined them in their "training" from that day on. We used improvised barbells made out of water pipes and tin cans filled with cement. And because we didn't have running water at home, pumping and fetching pails of water became part of my daily workout. Eventually, I enjoyed the sport not only because it was challenging but also because it required minimal interaction with other people.
Little did I know that weightlifting would be more than just a sport to me.
Adjustment Phase
I joined a summer barangay program where I trained along with my cousins. We practiced at the school gym during training hours and continued afterwards using our makeshift barbells out of concrete. For the first time in my life, I realized that something in my life could improve — that I could be better.
In 2003, I participated in the Mindanao Friendship Meet. Though I didn't win an award, it exposed me to a once-in-lifetime opportunity. A coach, Antonio Agustin, watched me perform and recognized my potential. He recommended me to the national team. It was a long and expensive process, considering our financial status, but it paid off. I got accepted! I was happy but I didn't see it as something to boast about. It didn't feel like an extraordinary blessing then but it turned out to be God's redirection for my life.
Weightlifting became my escape from the real challenges that I faced, even with people. Although I genuinely liked the sport, I played and trained for the sake of fulfilment I got out of it. I didn't aim to win. I simply went with the flow, letting life lead me wherever it wanted to take me.
But something that my coach said changed my outlook.
One day, he led us to a meditation activity. "Imagine that you are floating in the ocean, helplessly being carried by the waves," he said. "How does it feel? Now imagine yourself in a game, competing and winning. Which felt better?"
That day, a dream was born in my heart. I wanted to be at the top of the game. I wanted to win. I embraced weightlifting as my life's purpose. I gave my all competition after competition. I established my name in the world of sports. It was tough, especially when criticisms started to creep in. Every victory was accompanied by bigger challenges. It was exhausting both physically and emotionally. I missed my family during the trainings in Manila. I missed the quiet of my own space. I stepped into a bigger world without realizing that I had to carry something heavier than barbells and weight plates.
The Weight
In 2014, I sprained my ankle during one of my trainings in the national team. I didn't treat it right away, thinking that it was nothing to worry about. Eventually, the pain extended to my knee and the injury worsened. Because of my condition and bad performance on the selection day, I wasn't chosen to represent the country in the Asian Games. It was the first of other heart-breaking events that I didn't see coming.
Shortly after, my coach was pulled out of the national team. He was removed from the position due to several reasons — a few of which I couldn't accept. He was a great coach, a good person, and I couldn't understand why he had to suffer that fate. His dismissal opened my eyes to the painful reality of sports politics.
To make matters worse, my relationship of five years also ended around that time. It was a painful choice between the man I loved and my pursuit for growth. Our relationship had become unhealthy and I knew I had to decide. I chose to let him go. I felt stripped off everything, including my right to be happy. I was on the verge of giving up.
The Weightlifter
One day, somebody invited me to attend The Feast Bay Area, a Catholic prayer meeting. I had no idea what it was and I had no intimate relationship with God. I thought going to Mass every Sunday was enough. That's why I was shocked when I was surrounded by people who smiled at me from ear to ear, welcoming me to the "happiest place on Earth." They looked weird with their hospitality; they looked even weirder when they raised their hands while singing to Jesus. But the Word of God struck me to the core. I felt that God was real and He cares about me. I was moved by the preaching of Bo Sanchez. I found myself coming back to The Feast week after week.
During one Feast, unexplainable joy compelled me to sing my heart out and praise God. One worship song became my fervent declaration. It goes, "Christ is enough for me. Everything I need is in You." I cried a bucket of tears when I first heard this song. Just when I thought I had lost every reason to fight, I met Jesus, and I realized that He alone is enough to fill the emptiness in my heart. He put the broken pieces of my life together again. He lifted the weight off my chest. As my life song goes, "I have decided to follow Jesus. No turning back."
I became a faithful attendee of The Feast. I became hungry for God. I began to read the Scriptures and have my own prayer time. My moments with Him became my time to recharge in body, mind and spirit. I started to dream big dreams again. I scribbled in my Novena to God's Love, a booklet given to The Feast attendees where we can write our dreams: To win the 2016 Olympic medal in weightlifting.
I knew in my heart that God never fails. But He amazed me even more when He proved that He can do better than what I ever imagined.
The True Reward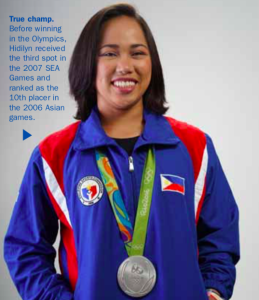 Before the national team headed to Brazil for the 2016 Summer Olympics, I trained in China for 58 days. Competitiveness was in the air we breathed and there were days when my determination faltered. Every time doubt flooded my heart, I would always turn to God and cry out to Him. I would tell Him that I was afraid, then surrender to Him. I held on to His promise that He's always at my side.
A day before my scheduled competition, I attended a Mass for the Olympians. It must have been God's grace because my anxiety melted away during the Eucharistic celebration. It's as if He was telling me to relax in His love. I experienced a kind of peace that I had never felt before. I stepped out of the chapel with a smiling heart and a confident spirit. I was ready for His surprises.
Then came the big day. After failing in my two attempts during the first event, I whispered a short prayer of surrender to God and focused on the game again. I poured out all my energy on the second round. As I lifted the 112- kilo barbell, I felt God taking away every bit of doubt in my heart that weighed me down. At the very moment when all eyes were on me, I fixed my gaze on the One who lifted all the weight from my burdened heart. I raised the bar high, lifting my hands in praise to the God who carried it with me.
I did it! With my performance, I was gunning for third based on the unofficial tally. I thanked God profusely — oblivious of what was going on around me.
I didn't notice that one of the frontrunners, China's Li Yajun, failed in all her attempts in the second round.
I didn't notice that my closest contender, South Korea's Yoon Jin Hee, scored 199 kilos, one point short of my own.
I didn't notice that everyone around me was already celebrating, while I remain seated, savoring the victory that I thought I already had.
I didn't notice that my name moved up the score board — until somebody told me what happened: I won second place! I nabbed the silver medal!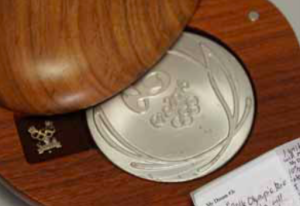 I was in a daze afterwards. All I could say was, "Thank You, Lord!" It was beyond my imagination! It was more than just a dream come true. It was a prayer He had answered in an amazing way. For the first time in 20 long years, the Philippines finally had another Olympic medal — a medal that I wore as I flew back home.
A lot of opportunities opened after that memorable evening. A million pesos worth of cash, a house and lot, scholarship grants, media exposures and several endorsements came my way. It still doesn't sink in until now. Everything is because of God. All that I have and I'm able to do is because of Him.
Jesus is the most priceless reward that I gained in this entire experience. Without Him, I won't be able to face life with a smile again. He is the reason why I am a different person now — optimistic in life, unafraid to give, unafraid to love. He lifted the weight off my chest, regardless of how heavy it was. With Jesus, I am assured that I can carry whatever life throws at me.
He's the Weightlifter who won't ever bring me down.
---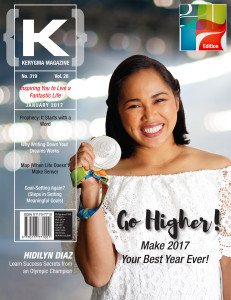 *This article originally appeared in Kerygma (now called Feast) magazine January 2017 issue.
Kerygma. A Greek word meaning "Proclamation of the Gospel." It is a Catholic inspirational magazine known for having changed thousands of lives, and has been hailed as the "Publishing Miracle of Asia".  It chronicles real miracles experienced by real people. It features testimonies of God's unfailing love. Kerygma magazine has been in circulation for more than 25 years, and it will continue to do so for the next 25 more… and beyond.
Help us spread God's Word through print media. When you subscribe to Kerygma, you also give to the mercy ministries of the Light of Jesus Family.
Subscribe to Feast Magazine now!
To subscribe, go to www.feastbooks.ph or call us at 8725-9999 and look for Sarah.