---
There is an appointed time for everything, and a time for every affair under the heavens.
— Ecclesiastes 3:1
---

TAKE YOUR TIME
By Marc Lopez
Cronus, in Greek mythology, was the Titan god of time. He was probably the worst dad ever. After hearing a prophecy that one of his sons would depose him, he devoured each of them when they were born.
The ancient Greeks had two concepts of time, chronos and kairos. Interestingly, they used the term chronos — from the "Dad who ate his kids" — to refer to clock time, or time measured in seconds, minutes or hours. This is why we call watches "chronometers." But kairos pertains to special moments with no given time span. We practice kairos when we "take time" to rest or "make time" for exercise. If chronos is "clock time," kairos is "chosen time."
Clock Time
When you use clock time you would say, "I will pray from7 to 7:15 a.m." Using chosen time, you might say, "Right now is a good time to pray." Your time of prayer can be 15 minutes or it can extend to over an hour. Clock time becomes unimportant.
If we do not control it, clock time controls us. True to its eponym, it eats us up. It devours our life.
Consider this: You take a job that could afford you the best in life. True, you have a lot of things — the best that money can buy. Your neighbors are envious of you, but you don't have a life.
You're tired as a dog when you come home from work. It's only Monday and you already wish it was Friday. In this example, clock time has eaten your life.
You say to your daughter, "How was your day?" She looks bothered but replies, "Uhm… OK, I guess." Beyond her words, you know what she meant to say was, "I need someone to talk to right now." But clock time tells you, "Talking to her will take 45 minutes off the time you need to complete your report." So you reply to her, "It's good you're OK. Let's talk tomorrow." Then you relieve your guilt by reasoning, "I love my daughter. That's why I work very hard. That way I can give her the best."
In this example, is it true that you really love her? Because if you did, you would choose to "make time" to listen to her. When you have become a "slave of the clock," your schedule becomes more important than your relationships. Your personal identity, motivated by the "need to achieve," has become more dominant than your spiritual identity.
Photo from pixabay.com
---
What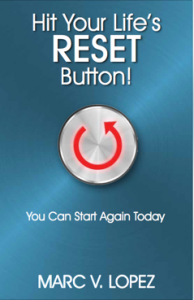 if there was a "life reset button" you
could press so you could start all over again?
Do you want to be given a clean slate? A chance to begin again? Maybe restore
a relationship? Re-ignite your zest for life? Live a richer, fuller life?
This book will show you three simple steps on how to "reset" your life — and
start again! Anytime, anywhere!
Learn:
What's holding you back and what you need to do to break through!
The simple secret of living life to the full!
Your authentic Christian identity!
"Warning: This book will bring you closer to God. Marc's words will penetrate yourheart and bless your soul."
– Bo Sanchez, bestselling author and lay preacher
---

DO YOU WANT TO HAVE A COPY OF THIS BOOK?
You don't even have to leave the comforts of your home. You can buy your online!
Here's how:
FOR PAPERBACK and DIGITAL versions:
Visit KerygmaBooks.com and click on the titles that you would want to order.
Choose PAPERBACK or DIGITAL and check out your order.
Choose your payment method.
Pay via bank deposit or PayPal.

For bank deposit: pay your balance and email your deposit slip to sales@blog.feastbooks.ph
Pay directly via PayPal.

For PAPERBACK: Wait for the books to be delivered right to your home! (For orders P300.00 and up, within Metro Manila only. Standard shipping rates apply for orders below P300.00 or are outside Metro Manila.)
For DIGITAL: Wait for the confirmation of receipt of payment. The download links to your books is included in the email.
---
NURTURE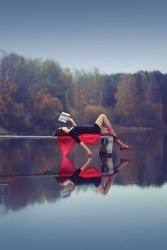 YOUR SOUL EVERY DAY!
Visit us at KerygmaBooks.com/kerygmaonline and read our online magazine. Enjoy fresh articles that will surely nourish, inspire, and empower you in all aspects of your life. Kerygma Online is updated weekly.
Email us at kerygmaonline@gmail.com for comments, suggestions and contributions.
Photo credit: http://piccsy.com/2011/05/reading-8ozcw6p11/ through vi.sualize.us